Just a quick post tonight. Wanted to show you what I spent the last 24 hours working on. For some reason, all that thread got to me and I needed a little break. (or could it be the desire for a gold medal in the
stashbusting CAL
this week?) Anyways, yesterday evening I decided to start another scrapghan. James goes to feed the homeless with the pastor and a couple of other people from the church every Monday evening and I thought it would be nice for them to take an afghan with them. So, here is what I whipped up.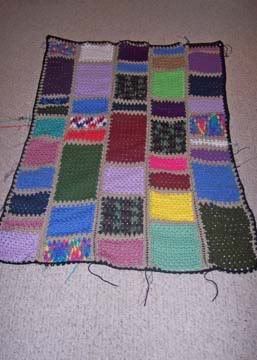 I used this
Stained Glass Window Afghan
pattern. I am not completely pleased with the results. If I hadn't been in such a hurry to get it done (so hubby could take it tonight) I would have redone the edgings on the panels. The way the pattern is written causes the edges to pucker up. I don't like it. Another reason it puckers so bad is because I used scraps. ALL scraps. I loved the idea of having different textures incorporated into the afghan, but now I am rethinking my decision. Oh well. It is done and its okay. It will keep someone warm.
The next time I do this pattern though, I think I will just do it in double crochets with a double crocheted edging. It will be thicker for one thing and it won't pucker so bad.
I wanted to post the link to the
Strawberry Shortcake recipe
I used for Chloe's birthday party. I have been asked to share the recipe but I don't feel comfortable posting it on the blog since I am unsure of copyrights on recipes. So, the recipe can be found
here
on the
all recipes
website.