I have found that whatever I try lately, I become quickly addicted to. Take my recent
addiction to books
. (okay, so I have always loved books but since when do I buy
20 books a week?
I can't get enough of them lately)So, is it any wonder that I have quickly become addicted to this whole stashbusting thing? Of course, you all remember
the coat that I am drooling over
and get to make just as soon as I destash my stash. I am very pleased to announce that I won a silver medal for my stashbusting efforts this last week. The week ended on Saturday evening and I had a total of something like 77. (I believe that's what it was...I forgot to write it down. I should have. Drats.)
Anyways, I promised last week to show you my stashbusting items and I never got around to it. I was so busy with the whole stashbusting thing that I didn't leave room for blogging. But, I am making myself do it today.
First I have a shawl I made for my friend
Debra
. It is my
Candy Lace Shawl
and I absolutely love this one. I have begun wearing my own to church and places and I get a TON of compliments on it. I made this one in Debra's favorite color (purple) which was also the color I had the most of.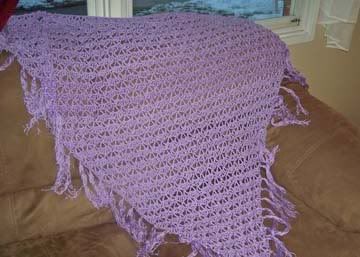 This shawl got me mega points since it took 8 balls of my beloved Paton's Grace which equaled 16 points. (I get 2 points for ever FULL skein of yarn I use from my stash) Now, I did cheat a little bit on this shawl. In my pattern (and in the original shawl) I used 4 strands of yarn to make my fringe and in this shawl I used 8. That was just so I could get another skein of yarn used up. Hey! Whatever works, right?
Well, I completed this shawl last Monday (it only took me a day...its a pretty easy shawl) and so that night I made this sweater set. (okay...I only did the sweater on Monday night. The pants were already complete.) This was one of
my WIPS
that I said I wanted to finish this year...so YAY for me! I got it done.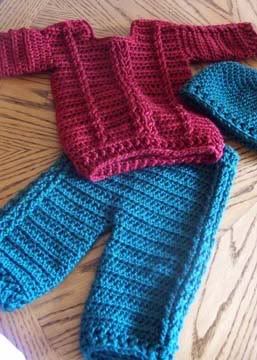 I am really liking it in those colors. It is so boyish without being TOO boyish. (if you know what I mean...the whole "light blue is for boys" thing.) I am glad it got done too, and I must say that it probably wouldn't have had it not been for this whole stashbusting spree I am on lately. (Did I show you the coat??? Oh yeah. I remember! It is so gorgeous though)
Well, Tuesday I thought it would be a wonderful idea to bust some thread stash. But I am a pretty smart person so I knew busting size 10 or higher thread wouldn't get me very many points and as you can see from the first couple of paragraphs, I was really aiming for that medal. (well, I really wanted the gold, but silver does look better with my complexion, so I won't complain) I decided to go with some size 3 thread...I have quite a bit of leftover from some of my other designs. I crocheted up this
Spring Blossom Hat
which I will be selling in
my Boutique
.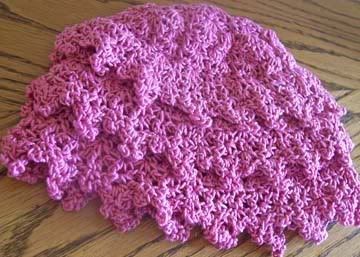 So, while I was trying to be quick and thought my idea was brilliant, it came back to kick me in the rear end. Yes it did. That little hat (which is a newborn size so it should have been a piece of cake to crochet) ended up taking me ALL day Tuesday to crochet. Man alive!!! I had plans to crochet up the whole Spring Blossom Ensemble in some pretty teal size 3 thread I have (since I have like 8 balls of the stuff) but decided that on a "medal-achieving" week, I would stick with yarn. Scraps of yarn to be precise. I got out this tub...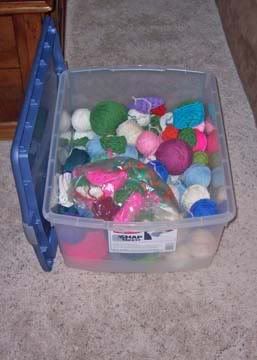 Now this tub is bigger than it looks in the photo. It is not one of those "shoebox" plastic tups that you can fit around 2 and 3/4 skeins of yarn in. No...this is like one of those big rubbermaid totes that people store their huge fur coats and old carburators in. That is alot of balls of yarn. It was given to me and is about as ancient as...well...let's just say that its really old. I do not enjoy working with really old yarn like this. For one thing...its not very soft. And for another thing...its giving me a burn mark on my finger where the yarn runs against the skin. (or it could be that I am just so speedily fast at crocheting that the yarn burns me. Smoking!!! Nah. That's not it. Its just horribly un-soft yarn.)
So, I am now working on a giant scrapghan of some kind. Okay. I know what it is. Its not just "some kind" but I don't want to give away too much of what it is since it is a surprise for a friend of mine. Let's just say that this thing is right up her alley. If I told her what I was making, I think she might just start drooling. (and if she
saw
what it was...well...that would just be the end of it for her. She would need a mop!)
Anyways, I didn't finish the afghan because I went somewhere very VERY special this weekend. James and I went on a marriage retreat. We even took Chloe with us. (since that was the only way we were going to go...by taking Chloe. I just started leaving her in the church nursery a few months ago. There is no WAY I would leave her for 3 days/2 nights. I don't even know anyone here well enough to leave her with them.) So, the church paid for us to have a babysitter while we went to the sessions and then we were with Chloe the rest of the time.
I must say that we have a delightful time. (aside from the sleepless nights since Chloe didn't get to bed until after midnight BOTH nights) I love our Pastor. He doesn't neccessarily "preach" at you. He speaks from the heart and you can really see this while you are listening to him. And he has such a witty personality...along the same lines as James humor so its one that I really like. (since I do like James' humor and all.) We were laughing the whole weekend. It was fun. Oh...and we did learn somethings too. If you ever get the chance, you should read the little booklet "My Heart, Christ's Home." Very good read. It will challange you deeply.
So, I have some pictures of the ocean. Wanna see?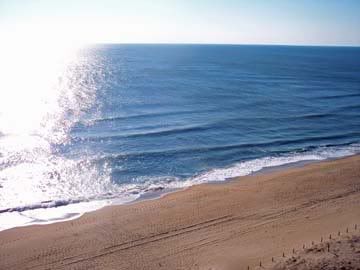 Every room in our hotel was on the beach. It was gorgeous.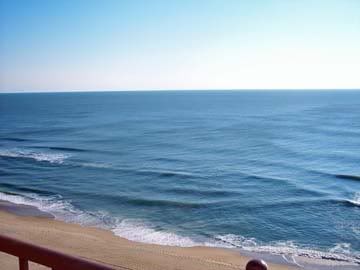 James wanted to get in the water and had been talking about it for days. Once we got there, he stood on the balcony and noticed that there was not a single person in the water. I could tell he was starting to change his mind. The next afternoon we saw some people getting into the water. James face lit up with excitement. Then he saw the wetsuits. And these wetsuits covered even thier heads. That's when James realized he would not be entering the ocean water on that trip. We went swimming in the indoor (hint: heated) pool. (which also had a hottub...notice the word "hot" before the word "tub". That is key.)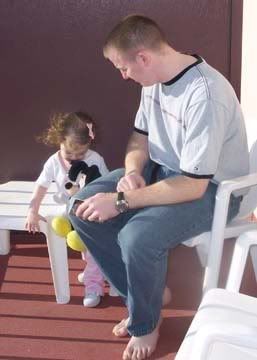 That Mickey Mouse doll is becoming quite the tag-along. We can't seem to go anywhere anymore without him. Anyways, it was a wonderful weekend. We are thoroughly drained and need a week to recoup but it was good for us. Really good for us. God spoke to both our hearts and we have grown in our marriage through this.
And just in time to welcome me home, I recieved the most delightful package from my Secret Pal yesterday. Ohhhh...she seems to know all my addictions and what is neccessary to feed them. Check this out.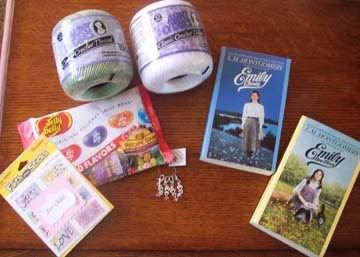 In this picture you will see books. Two of them. I have to be honest here and say that it was pretty high on my temptation list of things to do this week to run to the used bookstore and see if they had this series there. I know I have plenty of other books to read before that need comes...but I just enjoy buying books so much. Well, I had no sooner decided that I would wait (see...I can be a good girl sometimes. If I really want to) and I got this package with these two books in it. The very two books I was going to look for. Isn't that just the coolest??? I am working on Rilla of Ingelside right now (which I have the feeling is going to have some majorly sad parts to it...I am getting a foreboding) and then I think I will start on the Emily series. I don't think anything can be as endearing as Anne of Green Gables, but I will give it a try.
So...that is one addiction my SP fed. Another thing you will see in the picture is a package of Jelly Bellies. (which are completely gone, by the way. I adore Jelly Bellies) I think I am addicted to sugar. Correction: I KNOW I am addicted to sugar. It is not a fact I try to hide in any way. I shouldn't be so addicted to it. But I am. So, I enjoyed these Jelly Bellies to the fullest. I gave one (and only one) to Chloe who apparently does not share my same fondness for the delicacies because she spit it onto the recliner shortly after touching it to her tongue. Great! All the more for me. Now I don't have to share. (and believe me...I didn't.)
My SP must know how much I love pink. I am addicted to pink, I think. (hey. That sounds very much like a DR Suess book I have been reading about 10 times a day...everyday!) She sent me some very gorgeous stitch markers. These really are the most beautiful stitch markers I have ever seen. (and they match half my wardrobe. Isn't that cool? I will now be able to coordinate with my crocheting utensils. Now all I need is a pink crochet hook.)
Even little Chloe has an addiction. She loves stickers. And my SP must know this too because she sent some stickers for Chloe. Its amazing to me where a toddler will put stickers. Not at all in the normal places that most people would. (oh...say...paper, for instance?) She puts them on the carpet. I have yet to understand the fascination in this but it must hold some sort of appeal...because that is her favorite place to stick them. Somehow she understands what she is doing too because she will come back and pick up the sticker and restick it in another location. It is NOT random. She does this very methodically and with precision. It really is amazing to watch.
Now the thing that gets me about my SP's package is the inclusion of two balls of thread. She must know that I love thread. She must also know that I work alot with white and that I love sage green. (or she could have read these things off my questionnaire. Whatever.) But doesn't she know what this does for my stashbusting efforts? Balls of thread count the same as skeins of yarn. And just in case you didn't know this already, it takes quite a bit longer to get through a ball of thread than it does a skein of yarn. (trust me, it does) So, now...in a jiffy...I have negative 4 points to add to my score for this week. Schucks!!! I only had four points...which means I now have ZERO! And its Tuesday and there isn't going to be much stashbusting this week. I have to much "business" stuff to take care of. (thank goodness I got the website updated today.) I still have a few patterns to type up to get into testing and then I have a couple of designs to work on.
Nevermind that though. I am really thankful for each and everything my secret pal sent me. Thank you Secret Pal. I feel as though I have a new friend and sister in Christ. I really do love these Secret Pal things. I have met some really good friends through this.
Okay. It is getting late and I need to get to bed. Have a great evening everyone! Remember...we're partying this week!!