I can't believe the weather we had yesterday. It was absolutely gorgeous! This winter has been a little bit hard on me. I am not used to such cold weather. We lived for 2 years in Arizona (which is the land I love) and then spent a year in England. The weather in England could not be considered warm compared to Arizona but it is definately NOT "cold". We have spent the past 2 and a half years in Louisiana. (again...pretty warm) and now we are up north in the cold. And when I say cold, I do mean COLD!!! Snow. Ice. Cold.
I am a little tired of it and have been longing for spring since...oh...um...say about Novemeber. Well, I got it yesterday. It was warm enough for tank tops and barefeet. It was Chloe's first official day in barefeet. (besides in the house in Louisiana...but that doesn't count.) We ran around outside in barefeet and it was beautiful.
And what better thing to do on a lazy day basking in the warm sunshine than to blow bubbles. Ohhh...you should have heard the giggles. How can a little plastic tub of $1 bubbles entertain a toddler for so long? I don't know...but we had a blast.
Today was shopping day with the Pastor's wife. Chloe was a perfect little angel the entire time. (a good thing when this was our first shopping adventure with the pastor's wife. Did I mention it was the Pastor's wife???) She is a dear though. A real dear. And she knows how to bargain shop. Let me tell you. I wish I could show you what she helped me buy today...but alas...it is still at the store. I have to wait until tomorrow for James to pick it up. (maybe tonight. I forgot his school is cancelled today.) Once it gets home I will take a picture of it for you. It is a desk with a hutch on it for my sewing room and its perfect for storing all my books on. (well...more like
half
my books on) I can't wait. I will be sanding, priming and painting it white. Yum!!
So, let me show you what I bought and brought home today. Can you guess??? Need I even tell you???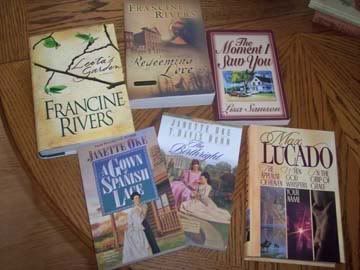 .
Okay. You can quit rolling your eyes now. First let me explain something to you. I got these at the Salvation Army thrift store. Okay? They were $1.99 each. Right? That is cheaper than even the used bookstore I frequently shop at. Second, I don't have any of these books in my collection and they are practically new. So, you don't need to roll your eyes and mutter under your breath. I admit it. I have an addiction to books. I like this addiction though and I highly doubt its going anywhere.
So, you know its pretty bad though when you buy books at an antique store. Aren't you supposed to buy things like old chairs and seaman's chests at antique stores??? Not me. I buy books.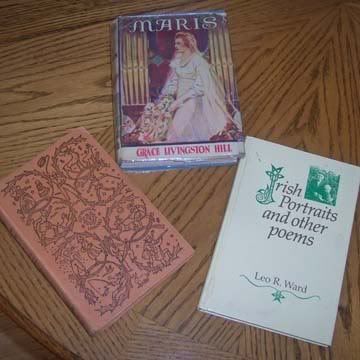 Okay now...really. You can knock it off with the eye rolling!!! (its getting on my nerves) You have to understand. I wasn't
planning
on buying any books when I entered the antique shop. They just kind of jumped out at me. First was the Irish poetry book. How cool is that??? Then it was an antique Louisa May Alcott book. I HAD to have it you see. I did! Then, as I was about to pay for my purchases, I noticed some Grace Livingston Hill books in a small corner of a large cabinet filled with antiquey porclain-like things. I HAD to buy at least
one
. I have quite a collection of Grace Livingston Hill books that my mother gave to me. I love them. I had to buy one. Don't you see it now? (I am sure it will make sense if you think about it long enough) I need books. I just need them. I see them and I immediately need them. Now if only I could explain it so rationally to James. He doesn't see it the way I do. I have tried the whole "computer" way...you know, the "your computer parts cost
this
much and my books cost
that
much so it equals out" but for some reason he doesn't get it. (maybe he doesn't
want
to get it???)
I didn't only buy books today though. Wednesday is half off day at the Salvation Army and so I found a little robe for Chloe to play dress up with.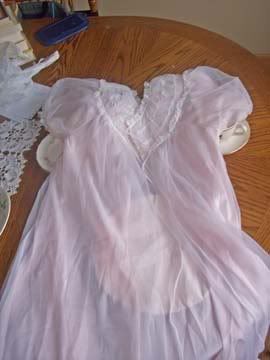 This will make a lovely addition to her dress up chest. (I was actually looking for said chest today at the antique store. Her dress up clothes are in a plastic storage tote that fits under the bed...well...used to fit under the bed but is now overflowing so it is sitting next to my bed.) I think it would be fun to have them in a chest.
I also bought a lovely little teacup and saucer at the antique store.
I can't wait to get that tea shelf finished so I can hang all my tea cups up. (well...not ALL of them...they won't all fit.) The pastor's wife is such a sweetie. She found out that I love pink. (more like adore it) She also found out that I love tea cups and china. So, look at all these things she gave me.
A beautiful set of teacups and a creamer bowl. Notice the pink flowers??? Gorgeous.
Two little saucers. I might use these for a tea party...or I may hang them on the wall above my window in the dining room/kitchen. Haven't made up my mind yet. And do you see the pink flowers????
And more pink flowers. Isn't it beautiful? I love it. It would be perfect to serve some petit fours or crumpets on. Ohhh...I really want to have a tea party. (gotta get my doily place settings done first. If this isn't motivation, I don't know what is)
And now...my favorite. This is the most gorgeous plate I have ever owned.
I love this one. I don't know what I am going to do with it yet...but it will be special whatever it is. I
told
you the pastor's wife is sweet. She really is. While at the Antique store, she asked me if I wanted to share a booth with her there to sell my purses and dresses at. I am so excited. We might have a booth there as soon as May. (I think she wants to aim for April 1 but I don't think I can be ready that soon. I still have to finish Chloe's Easter dress and a few last minute things for my secret pal) But how cool is that??? I am pretty excited about it. I will keep you all posted about that endeavor.
Well, I hear a conversation going on between Chloe and Mickey Mouse. Both of whom should be asleep right now but apparantly are not. I must intervene. Have a wonderful day everyone!