She cried as the crochet hook dropped from her weary fingers into her lap. Her last modicom of energy spent, she laid her head against the back of the couch and let out a sigh. "Thank goodness, it is finished" she muttered under her breath. The wretched yarn almost did her in. But she prevailed and for her efforts she now has an empty tote in which to store her precious daughter's outgrown clothes - which for a week have been stacked upon the floor in her bedroom.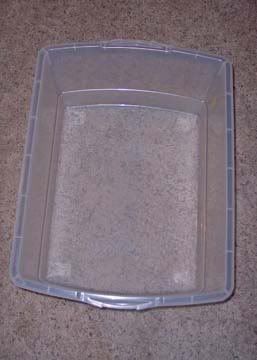 YAY!!! IT'S EMPTY!!!! So, I am happy to finally have this scrapghan finished. And now that it is done, I can tell you what I did. Nothing special really...just the most gigantic granny square you ever did see.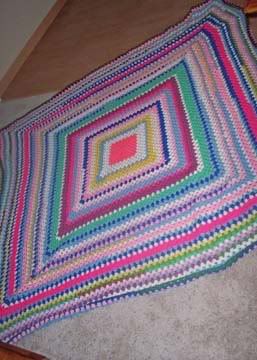 Like it??? I don't know whether this thing is hideously beautiful or gorgesouly grotesque. I haven't made up my mind whether I like it or not. One thing I can say about it though is that it is VERY warm. You would not be cold underneath this monstrosity of a blanket. Nope.
Speaking of being finished with things, let me show you what we finished this weekend. I can hardly wait to show this to you. It is something I have been dreaming about since we first bought our house. This has been in the works since Novemeber. First, let me show you what the house was like
before
this great and marvelous thing happened.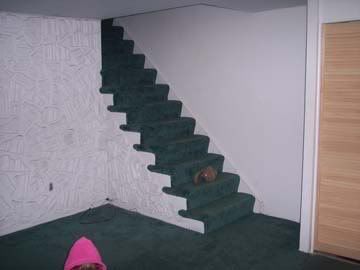 Not the safest thing in the world for a toddler, as you can see.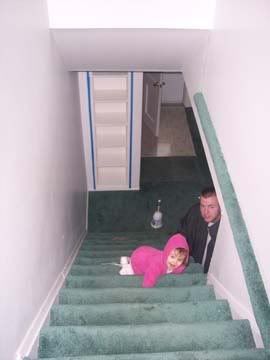 First we installed carpet. (as I already told you back in October, but I will tell you again. Just because I like to tell you things.)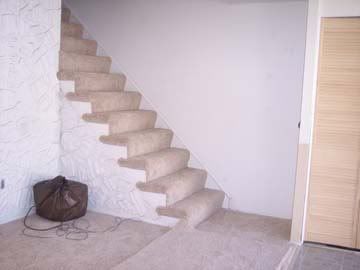 Then, my dearest husband built me the most beauitful piece of work there ever was. It took him 5 months but it is finally FINISHED!!!!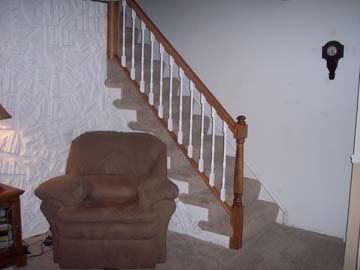 Isn't it the most beautiful banister you have ever seen??? I am so proud of my husband!!! I really am. He is becoming quite the handy man. (at least
I
think he's quite handy to have around.)
And while we were on the "finishing" rampage, James started in on this ugly piece of work.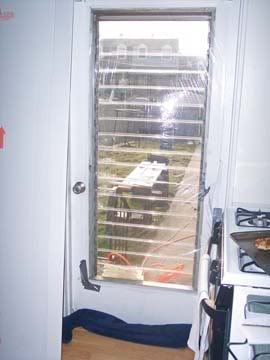 You don't know what that is??? Why its a door...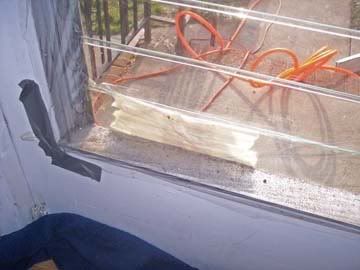 ...with broken panels of glass held together with masking tape. I asked James why they didn't just use scotch tape. At least then you would have been able to see
through
it. I will never cease to be amazed at what some people do.
Anyways, my wonderfully "handy" husband put in the new door me this weekend. He kept saying he was waiting for his brother to come out and help him, but I gave him encouragement and told him that I knew he could do it on his own. And guess who was right???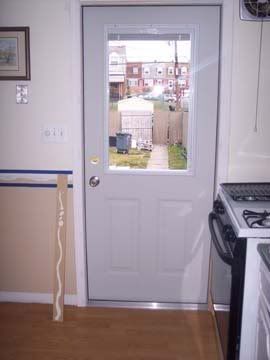 ME, of course! (and you had doubts. Ha!)
I am proud of my new door. I feel so much more secure (and warm) with it. Yes. A good door will actually keep the cold weather out. (those old plates of glass held in place with masking tape just didn't do the trick)
And I actually did some work this weekend too. (not like you were wondering or anything) I helped James install the chair rail in the living/dining room.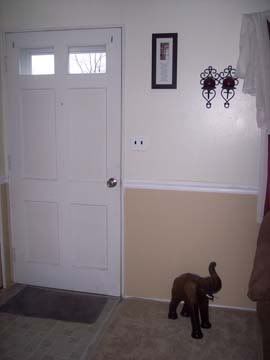 Ohhh...I adore chair rails. I think they add so much class to a house. It gives it a clean and finished look.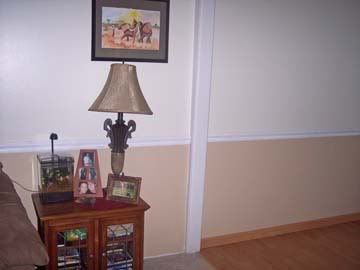 Well, I must be going for now. I have a child who has managed to completely empty the coffee table contents and to clutter from the dining room table in the time it took me to type this post. I also smell something and believe it is time for a diaper change. Check back in later this evening for my Tuesday Tackle Item. I believe I will tackle Chloe's hope chest today while I am prepping for her birthday (which is Thursday. Can you believe she is going to be 2??? Where does the time go?) Anyways, I am over halfway done with her birthday doily as well. I started it this morning while I was waiting for her to wake up. So, maybe I might show that to you later today as well. It isn't really helping with the whole stashbusting effort but I want to have it done anyways. Maybe someday I will brave the thread stashbusting. For now, I am sticking to yarn. It goes quicker.
Have a great day everyone!!!