The next section in my binder is my cleaning section. A very important section and one that mostly comes from Flylady. (with a few minor adjustments over the years)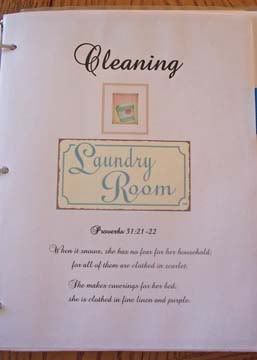 The verse I have for this section is from my favorite chapter of the Bible. Proverbs 31.
Proverbs 31:21-22

When it snows, she has no fear for her household;
for all of them are clothed in scarlet.

She makes coverings for her bed:
she is clothed in fine linen and purple.
I truly believe God has called me to be a mother and a housewife and that it is my duty to accomplish the tasks He has set before me in the best manner possible. For me, this means that I search for the most effective way to complete each task. (which is why I even have this binder. It is the way I can remember everything I need to do) From cleaning my floors to cooking healthy meals, I strive to do what I believe is best for my family. (even if its not the "popular" thing to do nowadays)
The first page I have in my Cleaning Section is my list of Daily Chores written out by day.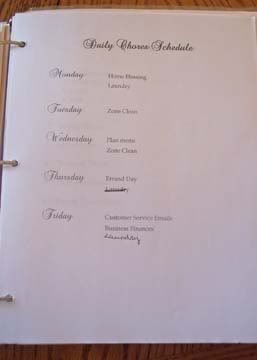 My Daily Chores Schedule
Monday ~ Weekly Home Blessing/Laundry
Tuesday
~ Tackle It Tuesday
Wednesday
~ Plan Menu/Write Grocery List
Thursday
~ Errand Day
Friday
~ Business Day (handling of finances, records and such)/Laundry
Saturday
~ Home Improvements (once a month we take a special outing)
Sunday
~ Church/Day of Rest
Next is my Home Blessing Routine written out so I can remember easier (since I have a terrible memory) and also so that if someone else is here to help me, they can know exactly what I do.)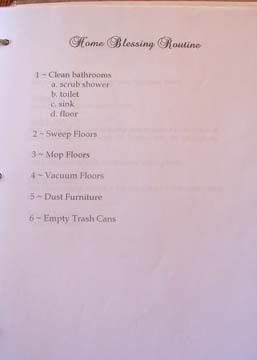 Home Blessing Routine
1 ~ Clean bathrooms
2 ~ Sweep Floors
3 ~ Mop Floors
4 ~ Vacumn Floors
5 ~ Dust Furniture
6 ~ Empty Trash
The Weekly Home blessing is an idea I got from Flylady. It is important to call it a "Home Blessing" time as opposed to "House Cleaning" simply because who on earth wants to clean house. But if we are "blessing our homes"...ahhhh...that just sounds so much nicer and makes the job that much easier.
The thing with the Home Blessing is that it only takes an hour. I spend 10 minutes for each item on that list. I used to set my timer for it but I have gotten most of those items down to less than 10 minutes and so now I just do it without the timer. It is amazing what you can get accomplished once you set your mind to it. I love blessing my home every Monday morning. My house just sort of cleans itself. (how nice)
Also in this section I have listed some homemade cleaning products. I have yet to use any of them but I aim to as soon as my store bought stuff runs out. I think it will be much safer with little toddler hands roaming the house.
The next thing in this section are my zones. (another Flylady idea) I have my house seperated into 5 zones, each of which I devote a week each month to cleaning in.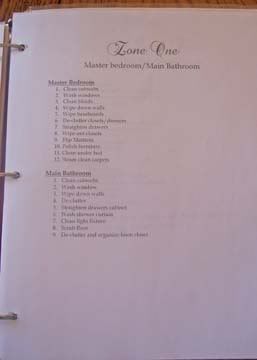 My Zones
Zone 1
~ Master Bedroom/Main Bathroom
Zone 2
~ Kitchen/Dining Room
Zone 3
~ Living Room/Front Porch
Zone 4
~ Nursery/Sewing Room
Zone 4
~ Laundry/Family Room/Spare Bathroom
I will go into more detail about these zones and what I do next week. I hope you all are enjoying my binder and getting at least a little something from it. Have a wonderful day everyone. I am off to sweep my floor and the rest of my "Home Blessing".