The next tab in my management binder contains everything food related. A very important part of "keeping house".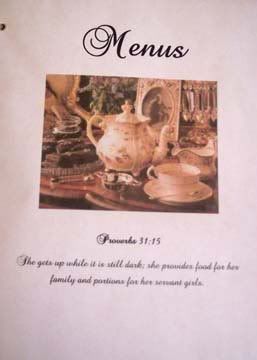 As you can see, I found a lovely picture of a tea set for my tab picture. I really do feel that personalizing your binder so that you LOVE it will help you do those chores you would rather not do. My verse on this tab is another one from my favorite chapter of the Bible. Proverbs 31.
Proverbs 31:15

"She gets up while it is still dark;
she provides food forher family and portions for her servant girls."
I love this verse. Even though I don't have a human girl as my servant (although I strongly wish I had one or two...just to warm my pajamas for me at night and comb my hair in the morning. Wouldn't that be wonderful? Breakfast in bed every morning????) I consider my dishwasher one of my servants...and the washing machine...and the vacuum. Can you imagine what it would be like to beat your rugs with a broom every spring??? Talk about spring cleaning!!! I much prefer my vacuum a couple times a week.
Anyway, this is about food...not floors. So, the first thing in this section is my menu plan. Sometimes I do this a week at a time...sometimes a month. (depending on how venturesome I feel while working on it) I plan out the main meals only. I don't get into all the details of each and every meal. I keep rice, veggies and other little side dishes on hand all the time so I just throw some things together depending on how we feel that evening.
Lunches consist of veggies and sandwhiches most days. (except weekends) We also eat the same thing for breakfast every morning. Oatmeal or Cream of Wheat. (or lately we had some Honey Nut Cheerios that we ate a couple of mornings) I also keep tons of fresh fruit and veggies on hand for snacks and a quick side dish.
The next page is my current list. When I sit down to plan my menu, I also write the items I need for that menu on my list. Throughout the week as I run out of things, I jot them down onto this list. Then, when Thursday (errand day) comes along, I have my list all ready to go.
The next few pages are very important to me in the meal planning stage. I have a list of our favorite recipes so that I know at a glance at least one or two things I can cook that week that I KNOW we like.
This is my Dinner List. I also have one for breakfasts, lunches and desserts. If I ever am asked to bring a dessert to church, I do not have to rack my forgetful brain for a good recipe that I like and know how to cook well. I have it written down on my Dessert List. It comes in very handy. One thing I am planning on adding to these lists is the page number and the cookbook that each recipe comes from. I know what they are but if someone were here to help me out after a baby or something, they would need to know where to find our favorite recipes.
I also use this section for planning out party menus and such. I keep all food related items in this section. That is all I have for this week. I hope I have been able to give you some ideas. I love my "management binder". It saves my life time and time again. When in doubt, I check my binder and it tells me where I need to be and what I need to be doing.