If you would like to earn major points for your
stashbusting efforts
, then I would highly recommend you NOT bust your thread stash. I doubt you will get many points. You see...for me it all started a couple of days ago. I receieved a lovely 50% off coupon from AC Moore. Not the normal 40% off, but a whole 50! What a glorious day. Dreams started forming in my head of all the things I could buy with this treasure.
But then it hit me. I knew what I had to get. PURSE HANDLES. So, after James took me out to eat, I asked him if we could stop by AC Moore on the way home. (he seems to have this idea that I finagled him into this. As if I had only suggested "dinner out" as a ploy to get him to drive me to the craft store. What?
Me
? No! Don't be silly!)
He dropped me off at the front door and I knew my time was limited.
Very
limited. (for some reason, he thinks I take too long in craft stores. I wonder where he would get such an idea?) I hurried to the only department I thought would carry such an item as purse handles. The YARN department. I was on a mission. (and time was running out.)
Alas, no handles could be found. I searched up and down all five aisles in the yarn department without even stopping to pet one single skein. Not
one
!!! How could they not have any? What was I too do? I didn't have much more time. I stopped the nearest sales store associate and asked him. He took me to the one and only handle they carried. ONE! That was it. And time ran out.
As I turned to leave, a book sitting with all the other books behind me caught my eye. I gingerly picked it up (looking around me to make sure hubby couldn't see me from the car) and thumbed through it. What would it hurt? Nothing. Nobody. I did have a coupon that needed to be used (one cannot waste such a precious treasure as 50% off) and I already had the book in my hand. The generously alloted time was up so the wonderful book came home with me.
Do you know what that is? Why its only a book of the cutest little doilies but the worlds BEST designer. Patricia Kristofferson. (only the BEST!!!!) I love this book. I came home and immediately commensed crocheting some. Three that evening and two the next morning.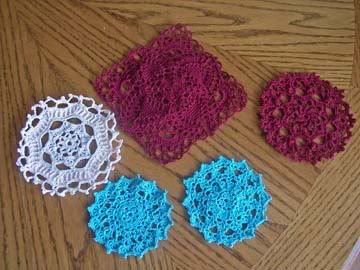 I am in love with this book. They are so quick and easy. Only thing is that some of them are actually too small to even be a coaster. (maybe I need to adjust my gauge a tad to make them larger) Anyways, a few of these might even become RAOK's over at the
ville
.
In other
ville
type news I joined a new CAL this week. (crochet along for all you non-crochet forum message board lingo type people) The
Crinoline Lady CAL
. I love Crinoline Ladies. I bought a few from Cylinda over at
Crochet Memories
last summer (a wonderful website by a truly sweet lady) and I even made one. I never got around to making the other two until this new CAL popped up. Now, all of a sudden, I needed to make them. I couldn't resist the urge. (who can?)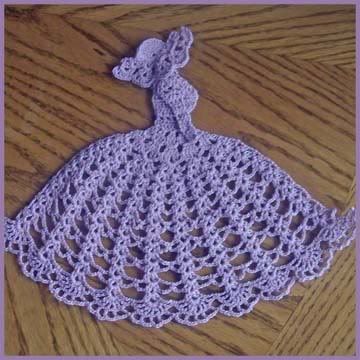 Isn't she gorgeous? I thought so too. So much so that I went back and bought 4 more ladies from Cylinda. They don't really help in the stashbusting efforts though. I mean, I didn't get a single point for the lady and the doilies up above only got me two points. So, in a week of stashbusting thread, I got TWO POINTS! This is my reason for not recommeding busting thread stashes if you wish to acquire many points. It won't work.
Its time for an abrupt subject change. Do you know what yesterday was??? FRIDAY!!! Do you know what that means??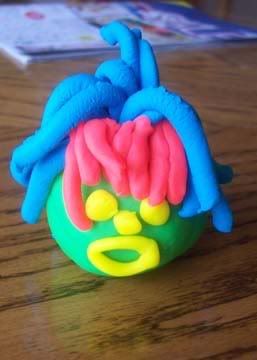 Yup! That's right! Playdoh day! I have missed playdoh day something fierce. A few weeks ago my darling husband did a really nice thing. He got out the playdoh for Chloe to play with. Only he left the room shortly after doing so. (I don't know...phone call or something like that) Apparantly Chloe soon tired of playing with it by herself (since I only let her play with it if I am playing too. Its one of those mommy and Chloe playthings) and she got down to find something else to do. I walked onto the scene about 3 hours later to find dead plahydoh. Oh. I know I could have resuscitated the poor stuff with a "few drops of water and mashing it around and a few more drops of water and mashing it around again" for about 20 minutes but I just didn't feel like it. Plus I knew what I got Chloe for her birthday.
So, yesterday I got out all these nifty little playdoh tools. Aren't they great???
They have helped our sculptures advance dramatically to the next level. I never knew we had it in us. Check out what Chloe made.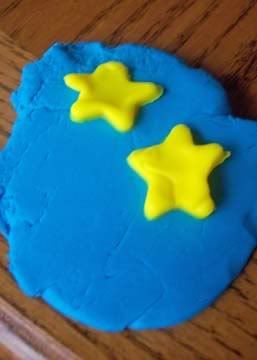 We call it "midnight sky." Yes! She DID make that. I helped, of course. But its amazing what you can do with a good set of tools.
Well, today is the day. The BIG day! We will be taking apart Chloe's crib and making it a toddler bed. Oh...I don't know but that I will shed a few tears over this. Motherhood is so bittersweet. I love it that my darling little girl is growing up, but I hate it that my darling little girl is growing up. Each new day brings new joys but it also means that old days are left behind. Bittersweet. I look forward to the new days but I miss the old days. All I can say is that Chloe is the sweetest little girl and I have never had so much fun in my whole life.
I must go for now. Have a wonderful day everyone!