Tackling Website Updates
Does getting out of bed count as a "tackle"? I suppose it does not. Drats. I did manage to get out of bed...but then I lounged around in my pajamas until noon. Is that so terrible? (note to self: stop waiting up for hubby on "feed the homeless" nights. They like
really
late night dinners.)
I considered many things for my "tackle" today instead of only "rolling out of bed" (which really WAS a tackle in and of itself, but I doubt anyone else will let me slide with that one) So, in my mind I tossed around a couple of ideas. I could fold the laundry and put it away...but then, I am supposed to do that every Tuesday anyways, so that doesn't really count. I could re-organize my hall linen/medicine closet, but that is just a stalling technique for other tackles I need to get done. I oould sand and stain Chloe's hope chest, but that is one of those tackles mentioned above. (the one I am stalling on) I could finish cleaning up the heirloom trunk my daddy gave me, but then I have been stalling on that for a year now and so why should I do it today? So, where does that leave me? In a pickle...that's where. (and although I enjoy eating pickles, I don't very much like being IN them.)
So, I spent the whole morning in my pajamas, stalling. Debating what it was I would tackle today. I almost decided that getting out of bed was good enough when a brilliant idea came to me. I love those kind of ideas. It really shows just how smart I am. (if you can forget the fact that I had, just a few seconds earlier, been talking to myself - we won't discuss that though. Unimportant detail)
Why don't I update my website today! See? I told you. Sheer brilliancy at its finest. I didn't update in February because I had just rebuilt the entire site in January and I was a little sick of "dreamweaving" codes. So, I skipped it. Now, here I am stalling again this month. Uggg....but the updating
does
need done. So, I did it.
Check out all the
new patterns
I added this month. I will post some pictures here for those of you too lazy to click on the link taking you to my website.
First I have this darling little cradle purse I made for Chloe for Christmas. I saw one on the internet a few years ago and thought I would love to have one for Chloe. I didn't remember liking the one I saw very much so I came up with my own pattern. (designers can do that, you know.) I have named this purse
A Delicate Cradle Purse
. I love the little picot scallops. (I am a lover of picots...I know...I am wierd, what can I say? I just love the daintiness of them)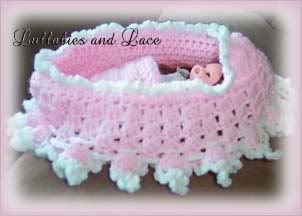 And here is the purse closed up.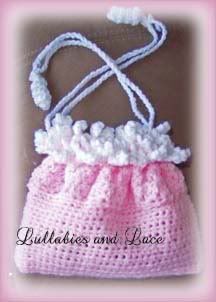 Chloe hasn't really taken much interest in this yet. It could be that she is a tad too young for the concept. Or it could be that this little tinket of a gift was overshadowed by Daddy's Mickey and Minnie Mouse dolls. We had decided that we each would get Chloe a seperate gift at Christmastime for her...something a little more special just from mommy or just from daddy. Little did I know when I suggested this that James would run out and get Chloe her utmost
favorite
thing in the world. Oh well, maybe next year, eh? I'll get it right!
Next we have a little jumper set that I crocheted for Chloe. I call it my
Sugar and Spice Jumper Set
and it belongs to my Nursery Rhyme Collection. I love the stitch technique for this. It is one I created myself. I have never seen anything like it anywhere. I used it on my
Snips and Snails Overalls set
last summer and I have been wanting to do something with it ever since.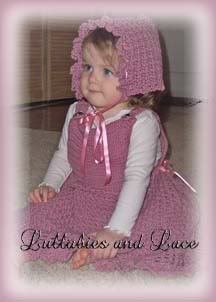 I used Red Heart Lustersheen for this. I am really falling in love with this yarn. (okay...sorry..."have fallen" is more like it.) It rates up there almost as good as Paton's Grace. (which happens to be my favorite yarn in the whole wide world) I love it. Chloe wears this jumper quite a bit. I do wish now that I had made it a little bit shorter. She wears it to church and now that she stays in the nursery, it is too hard for her to get around in such a long dress. She can do it, but when she climbs up the ladder to the slide I notice that she steps on the hem and stretches the dress out. By the time I pick her up, the dress is all out of shape and I have to wash it just to get its shape back. Oh well...Live and learn.
Now this next item is not one I would have normally thought of to design. It came as an inspiration for my friend
Debra
as part of one of her packages for doing my website updates. (which she is no longer doing due to my host changes) She loves bright and bold colors and also collects afghans. So, the idea for this afghan was born.
I can honestly say that this afghan grew on me. I really started liking it. I think if I did it all in shades of pink (the color of perfection, of course) or purple, I would really like it alot...maybe even love it.
I used Red Heart Soft worsted weight yarn for this. I saw it as AC Moore one day and thought I would give it a try. It is really soft. More expensive than Caron Simply Soft but I feel that it is better. It doesn't split near as much (if it splits at all) and it really is soft. (did I mention that it is soft?) I hate Red Heart Super Saver. If ever there was a yarn I hated with all my heart, that would be it. I think if that were the only yarn available to me, I would give up crocheting and take up yodeling.
My goal is to release a free pattern every time I do an update. So this is my free pattern for this month. My
Simple Teapot Cozy
. I am quite pleased with it. I took my
Cabled Teapot Cozy
and simplified it for those who might be a little intimidated by all those cables. (which are actually pretty easy. They just look hard.)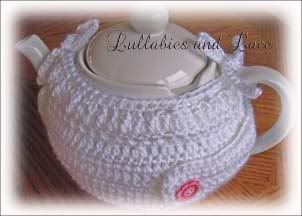 So, I got it tackled and I feel much better about myself. I took a shower and got dressed before I did that and I even put the laundry away. So, today is a day full of tackles for me.
Now I am off to do some more blog hopping for the big party! See you all around.