Tackling Doilies
I cheated again this week. I didn't feel like tackling Chloe's hope chest. I fully understand what Tackle It Tuesday is all about. The point is to tackle the items on your to-do list that seem to never come
off
the to-do list. But I just didn't feel like it today.
You see...I am behind on things once again. (I know, I know. *shaking head sadly* When am I NOT behind???) But Chloe's birthday is Thursday...meaning her party is Friday (lucky for me that gives me an extra day to get things done) and I don't have her outfit done. I was meaning to make something in pink kind of sweet and indulgency but that is not going to happen. At least not this year. So, I am opting to finish another outfit I started last week. I know I can get it done tomorrow. I only have a portion of the skirt left and then the top and I know exactly what I am going to to.
But, I also had to crochet her doily this week for her hope chest. I crochet her a doily every year for her birthday and so I needed to get that done as well. So, I cheated and called this my tackle for the day.
Here is Chloe's doily. (not blocked)
It is a PK Mini doily from the book "Dainty Little Doilies" and is called Cosomos. Many of you might recognize this doily. I made one for a Christmas gift for 2006. Anyways...it is quick and fun and gorgeous in that peach thread - which was a scrap ball of leftover thread so I was stashbusting at the same time. Hooray! And since I decided to stashbust while crocheting her doily, I used up the rest of the ball and made another doily.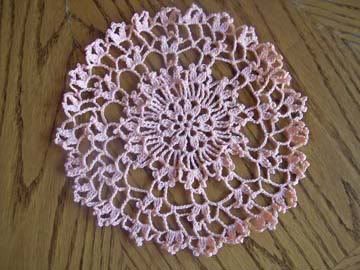 This one is from the same book...different designer and is called Perpetual Petals. Another quick and fun doily. I have yet to decide if I am keeping this one for myself or giving it to Chloe or maybe my Secret Pal??? Hmmm....too many decisions.
But, the whole thread stashbusting spree was not over. I completed a third "Dainty Little Doily". Yes!!! 3 doilies in
one day
!!! I was on a roll...I just couldn't stop myself. Would you have quit if you had a hook that was practically flying? I think not!
From the same book yet again, this doily is called Kalidescope. (not a PK doily either) I actually ran out of thread on this one so the last round used up another tiny amount of leftover thread. So, this doily actually got me two points.
Once I get these doilies blocked I will take better pictures of them (including my famous...or not so famous...fun shots) and I will also add them to the appropriate galleries in my side bar for future visitors.
Some of you are wondering why I am getting points and what all that means??? I am part of a stashbusting crochet along at the ville and we get 2 points for every full skein or ball of yarn we use up and 1 point for every used skein or ball we use. The opposite rings true too...for every skein or ball we buy or inherit we lose one or two points. So, I am not allowed to buy any more yarn or thread until I "bust my stash". (which is going quite well. I have almost 200 points and have only been stashbusting for 3 weeks.) My reward will be that I get to buy more yarn. So, I am going to buy the yarn to make this coat. Okay...there are two coats there. That is because I have yet to decide which one I am going to make. They both are to die for...but I am leaning toward the knee length one. I have been dreaming of a knee length coat for quite some time now.
Anyways. I have another item to show you. I forgot to show you all this a couple of weeks ago when I made it so I will show you now. It is a gift for Chloe for her birthday. I am hoping to get at least two more outfits done by Friday. (think I can do it??? I doubt it)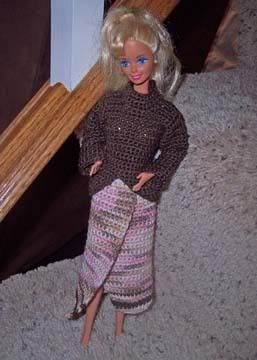 I used Bernat Cool crochet for this outfit. It turned out darling. I am having a hard time finding good yarn to use with the patterns in my Crochet for Barbie book. They all call for expensive yarns that I would have to order off the internet. Oh well...maybe someday Barbie can afford the cashmere/silk blend...but for now she will have to do with the cotton/nylon blend. I really do like this yarn though. Not as nice as Paton's Grace but it is now pretty high up on my list. I do like Red Heart Lustersheen better than this as well. Bernat Cool crochet is a tad bit thicker and I like the thinner yarns. But it has a nice feel and kind of glides through my fingers. (a very important thing to me.)
Well, I must be off. I am off to scrapbook with the Pastor's wife. What fun! I am a little nervous and excited at the same time. I will let you know how it goes.