Tackling the Tea Shelf
My dear pastor's wife bought me this tea shelf. It is to hang all my teacups up for display. You see...they currently reside in a brown cardboard box in the basement shower. (which isn't working at this time)
So I will attempt to sand this thing, prime it and adhere a coat of white paint to it. Think it will look good??? Check back later for the after picture.
And now...a few hours later, I have gotten the first coat of primer on. Silly me decided to sand this thing in the basement. *shaking head* I don't know where I get my brilliant ideas...but now I have a weird taste in my throat. (not my mouth...it was closed. Can't very well close your nose) Anyways, I got smarter as time went on and I moved outside to prime the shelf.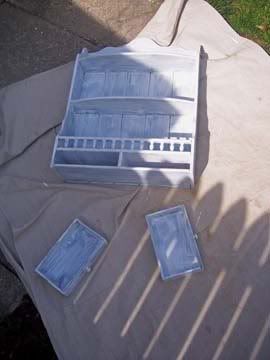 I am posting this picture while it is drying and by the time I am done, it should be completely dry. It is HOT out there. Not just warm...but hot. James claims it is going to hit 80 degrees today. YAY!!! I only hope we don't have an ice storm tomorrow. (since that is what happened last time it got warm like this) But this heat is nice for drying paint.
Check back later to see more results.