Thirteen Favorite Books of Chloe's



As many of you already know...I have a keen fascination of books. I love them...what can I say. When I read a good book I am able to travel to times and places I would otherwise be unable to. There are so many times in my life when I wished I had been born about 100 years ago. (I told you I was a romantic) When I read books from that era, its almost like living there for me. I love it.

What many of you probably don't know (although it would be pretty easy to assume) was that my love of books all started with my mother. She encouraged me to read any chance I could. At 8 or 9 I was reading books like "Charlotte's Web". At the age of 12 I was already reading books written by Janette Oak and Grace Livingston Hill. A little beyond my years, I know. But she fostered that love of reading in me.

This is now something I have tried to foster in Chloe. And I think I succeeded. I have read to her since the day she was born. Okay...not actually ON the day she was born because I didn't have any books with me in the hospital. I had my crocheting, of course, so I crocheted her a hat. But thats a story for another time. We are talking about books today.

Chloe loves to have me read to her. We have a little ritual we do about 5-6 times a day. I will sit in the rocking chair and she will go to the bookshelf and pull out a book and bring it to me. I read it to her and off she goes to grab another book.

The funny thing is...she grabs the same exact books every single time. This kid is smart. (she must take after me.) So, today I will list her favorite books in the order that she pulls them off the shelf. Because there is order to this too. She will search the entire bookshelf looking for just the right book...and its the same one everytime. (of course, by now you all know me pretty well and probably could have assumed correctly that the books in Chloe's shelf are grouped together by kind. ie...Dr. Suess, Little Golden Books, Board books...and so on and so forth.

Without further ado I present to you Chloe's 13 Mostest Favoritist Books.

1. "Oh the Thinks You Can Think" by Dr Suess - This one and the next one always come together as a set. She will bring both these books at the same time...every time.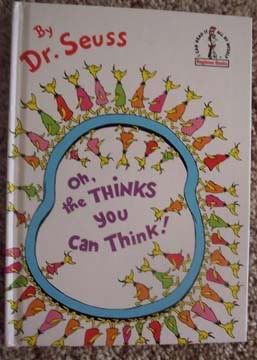 2. "Put Me in the Zoo" by Robert Lopshire - I can vaguely remember this book from when I was a child and it brought back some nostalic feelings. I just had to get it for Chloe. Little did I know that it would become top of her list.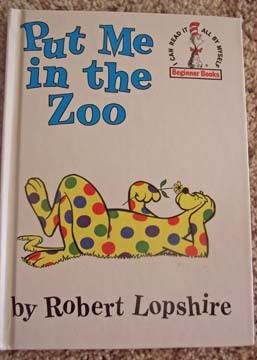 3. "Brown Bear, Brown Bear" by Eric Carle - This one and the next one always come as a set too. I love these books because they are fast!!! (when you read the same books 6 times a day every day, you just want to get through them. She has a whole bookshelf full of books and yet she picks the same ones every time.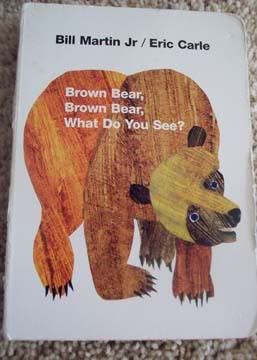 4. "Jane's Animal Expedition" by Baby Einstein - Every flap must be opened in this book. She notices if I try to skip one. (told you she was smart)




5. "Love you Forever" by Robert Munsch - Okay. I am sick of this one. It has been her favorite since she was 6 months old (or thereabouts) and I am tired of reading it every day. I used to cry while I would read it...now I just groan. (inwardly of course. I tell Chloe its a good choice, as I do with every book she chooses) I even made up a little tune to sing the song. I guess thats why Chloe loves it. Or, it could be because I give her snuggly tickles in her neck while I read certain portions of the books. Anyway, try as I might to hide this book in the shelf, she manages to find it everytime. She will pull ALL the books off the shelf looking for this one. So, I quit hiding it. Didn't do any good.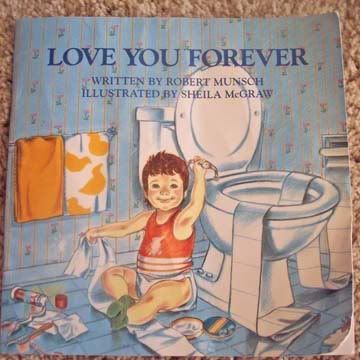 6. "Slide and Find ABC" - I have no feelings about this book whatsoever. Chloe loves it though because at different points we do different things. I ask her the sign for ball, or we point out her shoes in the room. She enjoys that.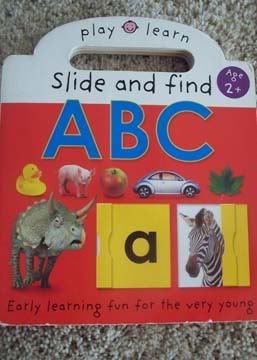 7. "Who's Hiding in the Jungle" by Ana Martin-Larranaga - I started giving Chloe a little "bump" while reading the "thump, thump" in this book and its the cutest thing to watch her do this while she is reading the book to herself. I also give her snuggly tickles when I "growl and roar" with the lions. She loves it.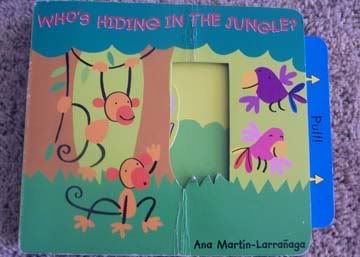 8. "Bible Promises" by Stephen Elkins - I don't really know why Chloe keeps choosing this book. I read one page to her every morning for our little "devotions" so I guess she has taken a liking to it. I don't do anything special like bumpity bumps or snuggly tickles so it must just be the relaxation of reading God's Word that she enjoys. We always pray together after reading it too. She likes to pray.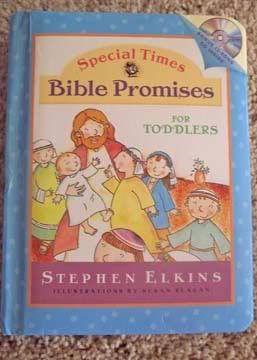 9. "Razzle Dazzle Colors" by Chuck Murphey - We received this book from a dear friend at a baby shower before Chloe was born so this is one of those books I have read to her since she was born. It is a quick read. Chloe has learned to point at the items on each page so I can say what they are. (I love her chubby little finger...not too chubby...just baby fat chubby.)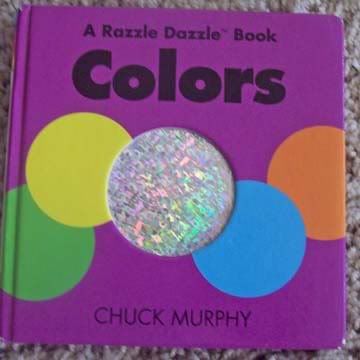 10. "Good Night Moon" by Margaret Wise Brown - Ahhh. A classic for children. Every child's bookshelf needs this book. And the funny thing is...I never get tired of reading it to her. I love this book as much as she does.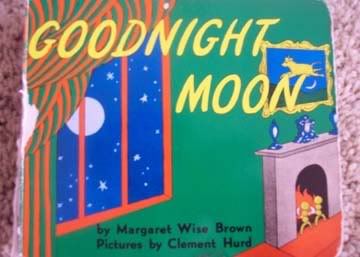 11. "Just in Case You Ever Wonder" by Max Lucado - Its books like this that I always hope will become one of her favorites. I am so pleased that this one has. Such a great book and I really have to hold back the tears each time I read it. It is powerful.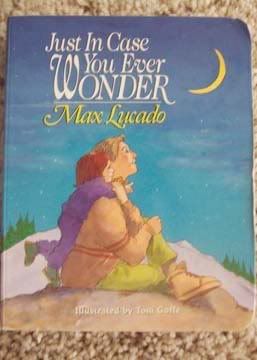 12. "Catapillar Hides Away" - This is a book that I wish I had not bought. Chloe loves the colors though and that is why I keep it. (and it is one of her favorites) But I do come pretty close to throwing it out every so often. The catapillar is not happy with her color and she grumbles the whole way through the book until she turns into a butterfly. Maybe I will get rid of it.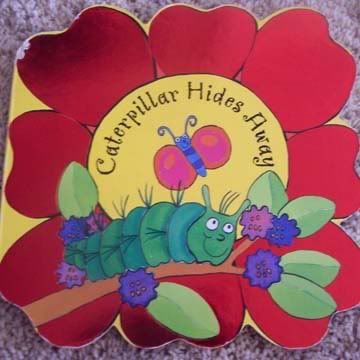 13. "Millie Moo" - This is a book that I wish were up higher on her list. At least it made the list, right? I love this book. It is wacky and fun and I just love it.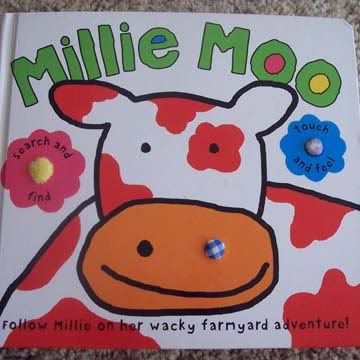 Okay, I can now hear Chloe in her room turning pages of books and ohhing and ahhing and saying "book" which sounds more like "bao" so that is my que. Reading Time. Go read a book with your kids today. You won't regret it!

Links to other Thursday Thirteens!1. (leave your link in comments, I'll add you here!)

Get the Thursday Thirteen code here!
The purpose of the meme is to get to know everyone who participates a little bit better every Thursday. I will link to everyone who participates and leaves a link to their 13 things. Trackbacks, pings, comment links accepted!
View More Thursday Thirteen Participants