Do you recall that song? It goes something like..."tiiiiiime...is on my side. Yes it is!" Well, obviously, time is
NOT
on
my
side. I don't think it ever was. Yesterday, I gave birth to a beautiful baby girl and all of a sudden last Thursday she turned 2 years old. TWO YEARS OLD! Somehow, she grew when I blinked. I don't know how this happened. I am sitting here literally shaking my head. I can't figure this one out.
The past two years have been some of the best in my life though. I have grown so much and learned more than I ever thought a person could learn. I have loved more than I ever thought possible. I never knew a person could love another person with so much abandon. So much "unconditional" love.
Chloe's birthday party last Friday was so much fun. She opened every single gift with awe and excitement. I loved watching her. I have promised pictures and here they are. (better late than never...right?)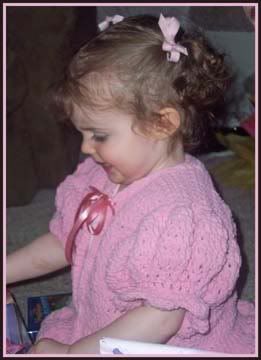 My darling girl in the outfit I made for her birthday. It is my Sweet Indulgence Set. The hat for this set (not pictured) was the very first item I ever designed. I crocheted this skirt in one day and the sweater the afternoon before the party.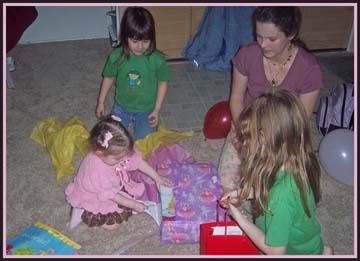 Here is Chloe opening her gifts. See? I told you she was a pro at it.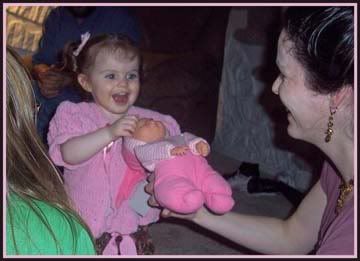 Our pastor and his wife came and gave Chloe some books and this doll. She is a sweet little doll who can suck her thumb. Ahhhhhhh!!! (I typed that since I know many of you are saying it at this point. Thought I would help you out.)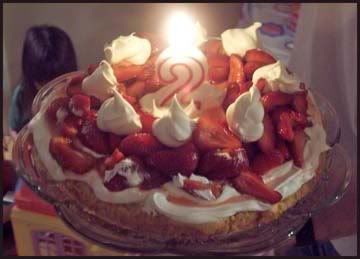 The theme of her party was strawberry shortcake and so you know I had to make a strawberry shortcake. It is a real shortcake. (need you ask???) I always have to make my cakes from scratch. (almost always) This was no angel food cake type cake. No...it was the good old fashioned shortcake. YUM!!! (I even got a request to make this for Easter Dinner at the pastor's house)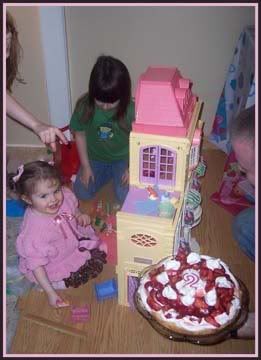 Okay...I know you can see the cake in this picture, but I really wanted you to see Chloe and her dollhouse. This was the most exciting thing for me. And guess what!!!! Do I know my daughter, or what? She adored the dollhouse. She plays with it every chance she gets. (and she even gets her daddy to play with her with it.)
I won't bore you to death with more pictures. I just wanted to tell you something else that has struck me lately. A friend of mine was telling me just how much Chloe looks like both James and I. I never really noticed it much before. She has always looked like James so much. But the past week, ever since she turned two, I have noticed that she looks like me when I was her age. I was adopted when I was two so I don't know what I looked like before that. But she looks like I did when I was two. I looked at her today and I could have sworn I was looking in a mirror. (the whole "time" thing again.) Nothing can replace that feeling. To have someone look like you. Those of you who aren't adopted will not know what this feels like. It is amazing to me. Simply amazing.
Well, I need to run. Have a blessed evening everyone!