I'm only 4 days late. But I am keeping it. I haven't posted the preview of the Easter Dress yet simply because my contankerous computer believed it unneccessary to retrive the desired picture from my memory card. Well, I finally talked the thing into doing its job and now I present to you...Chloe's Easter Dress. (the name of which remains a secret until the "full release" takes place - sometime in June I am guessing)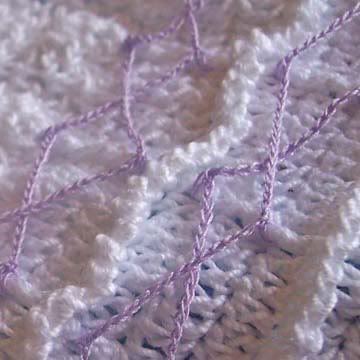 Yes...that is size 80 thread you see before you. Yes...I am a little crazy. But, I like myself that way. (it
does
get so boring around here when I am not crazy) But don't worry. This dress uses quite simple stitches so the size 80 thread should not intimidate you. It CAN be done!
I took a break from the dress today though. Not because I needed a break from the size 80 thread. Nope. Not that. Have you ever heard of writer's block? I sometimes get that. (which could be why you don't see a post from me in a few days...or else I am stalling on something...or else I have too many things to write about and I can't get it all down) Anyways...I have something similar to writer's block - only its crochet-related. I call it "Designer's Block". I am stuck. I have an idea in my head, but when I crochet it...it doesn't work. So, I am stuck. The bad news is...I only have 4 more days to get this ensemble done. The dress is almost complete but then I have the hat and bloomers to do. Ahhhh!!! Can I do it? I could quite feasibly accomplish this mission had I not incorporated the size 80 thread into the mess. Oh well. I like a challenge, right?
So, for my break today...I worked on stashbusting. I crocheted up a couple of scarves for Chloe's "dress-up" chest with some yarn in my stash that I was at a complete loss for projects to complete with it. This yarn wasn't even speaking to me. What to do? What to do...hmmm...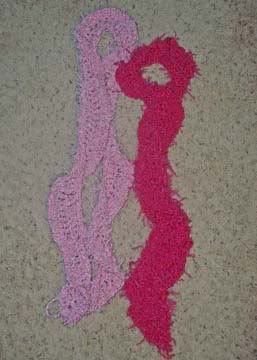 So, this is what I whipped up. And I got 4 points for these. Not bad, if I do say so myself. Well, now hubby is waiting in bed for me and it is getting quite late. So, I am off. I will try my best to write an interesting post tomorrow. (no promises though. NO PROMISES! We all see what happens when I make promises) Good night all!