We have already figured out that I am crazy. Why? Only a crazy lady would attempt to incorporate size 80 thread into a toddler's Easter dress AND give herself a little over a week to get the thing done. But, I have full confidence in myself that I will get it done. What I don't think I will be able to get done is the typing up of...oh...say about 7 patterns by Monday. And also the designing of a couple more items (not including the bloomers and hat for the Easter Dress) all by Monday. I have delegated certain things to each day in hopes that I can accomplish such a feat. We will soon see if I have it in me!!!
I wanted to jump on real quick to show you something quite small. I don't think you can get any smaller than this. It is amazing to me. Simply amazing. (as if size 80 thread weren't small enough) I think an addiction to small things has begun growing in my heart. (or was it there all along??? Quite possibly. Yes. Quite possibly it was.)
I ordered on Friday or Saturday two very small hooks from this teddy bear website.
Threads for Teds
. A friend of mine pointed me there to find the teensy weensy hooks. I already possessed a Susan Bates size 13/14 hook (which I am currently using with my size 80 thread) and I didn't realize that you could get smaller than that. Well, you can...and upon finding this treasure, I immediately proceeded in ordering them for my hook collection.
Well, the lady of Thread for Teds is a wonderfully nice lady. I recieved my hooks on Monday. Talk about quick!!! I was amazed! Check out how small these things are.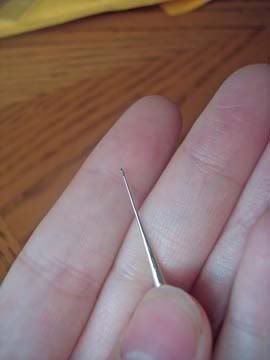 That is the smallest...a #16 steel hook. I can't wait to try it. I may use some size 80 thread and make a miniature doily, or I may look around for some size 100 thread. (didn't I already mention I was quickly becoming addicted to small things??? Told you! Sheer craziness abounds in this house!)
Anyways, check out the neat little packaging she sent the hooks to me in.
All I bought was two little hooks for $3 each. I was blown away by the thought and care that went into the packaging for these little hooks. They were inserted into that cute little cellophane bag with little "bear paws" printed all over it. Then the bag was closed with a cute little bear sticker. Then...on top of that...the package was wrapped with a cute little white ribbon that also had black "bear paws" walking along it. And if that weren't enough already, she included a business card with all her information on it. Do you wanna know what was on this business card? She had a tiny little cellophane bag on it with the teensiest little buttons you have ever seen. I assume people use these when crocheting the tiny thread bears. Now I am going to have to crochet up one or two of these little bears just to see what all the fuss is about. Oh no!! Might we have yet another addiction coming soon? We shall see...we shall see. I can promise you this...I will do my best to make sure it does not become so. I will
only
do my best at
trying
though. I cannot promise you that I will NOT become addicted. These things are out of my control. But I MUST try these bears. I
MUST
! (you understand, right?)
Well, now. I must be off. I have some emails to send and chores to do and then an Easter Dress to finish. I also have to go shopping for some jewelry. I need something to go with my Easter outfit. I have nothing that will suit it. Maybe I will show you it later. (no promises though. Remember??? I refuse to make any more promises.) Have a wonderful day everyone!