If not, let me tell you. Its Friday!!! Hooray!!! That means James will be home tomorrow and we can do fun things together...like finish the banister upstairs that is a gaping hole right now (and poses an endangerment risk to impulsive toddlers who find such things curiously delightful) or mowing the yard (always fun) or gardening or watching movies.
Anyways, James is not yet home because it is only Friday, not Saturday. So, what do we do on Fridays to prepare for the merriment of the weekend? Why we scuplt, that's what we do. (come on...you all should know me by now.)
This was my very own sculpture of the day. I had no help what-so-ever from Chloe on this piece. I am quite proud of it. Little fingers were sure to spoilate my work of art but I managed to shield it against the foe. I call this "
The Hunt
". I'll let you guess why I call it that.
Now for Chloe's work of the day. I must warn you that she did have help from me on this one. I let her pick the colors and the cutters and this is what I made from her choices.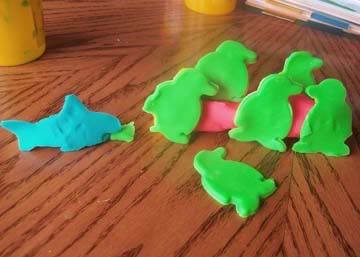 I was torn between two names for this one. (I can't wait until Chloe is old enough to start naming her own works of art. That should prove amusing) The first name is "
Attack on the Penquins
" and the second name is "
Penguin Attack
". I went with the first one though, since the second one implies that it is the penguins doing the attacking and that, as you can see, is simply NOT the case.
I am sorry that I had to show you something as gory as that on this sweet little blog of mine. I don't know what got into my child's head today. Why we created a work of art pertaining to shark annihilation I will never know. Something about "artistic license" I believe. Anyways, I will mollify this post by showing you what I bought for myself on Wednesday. (told you I would use that new word. I like it) I told you all I was going shopping for my Easter jewelry. Here is what I found.
I even found that purse on sale for $11 and it matches my new sandels I bought for Easter. I have been wanting a brown purse for a while now but can never bring myself to go "purse shopping". I am pleased. I will get unveil the whole ensemble on Sunday. (or quite possibly Monday since we are going to the pastor's house for dinner on Sunday and I probably won't get on the computer. I like to take Sunday's off from internet related things.)
Well then, as my reward for leaving the house to buy my jewelry and purse (it was FAR away from my house...okay? Took me 20 minutes to drive there AND there was traffic. I think I deserved a reward for
that
!) I stopped by the used bookstore. (it was on the way home. Geesh!)
Check out what I got for Chloe.
What alot of books! We collect Little Golden books. I should take a picture of all our Little Golden books on the shelf. There is quite a bit...almost a whole shelf full. I don't buy the Disney ones though. I stick mainly to the "old" ones. I have found some new ones in the stores recently that are horrible. I always believed Little Golden books to be "safe" but 1 1/2 years ago I brought one home that was full to the brim with evolution. I returned that book immediately (with quite a fight from the sales lady) and now I read through each book I buy before I buy it. I won't be making
that
mistake again.
And here are the books I bought myself.
Seeing as how I loved "The Scarlet Letter" so much, I thought I would read a couple more of Nathanial Hawthorne's books. I found two. I also found the BIG book of Winnie the Pooh. Upon seeing this book memories flooded my mind of my own childhood. I had to buy it for that sake alone. I also collect Grace Livingston Hill books and they had one not currently in my collection so I got it.
And what do you think was next on the drive home??? AC Moore, of course. AND I had a coupon that I needed to use. This was the full 50% off instead of the usual 40% so I HAD to stop. Here is what I got with my coupon.
Okay, I think I have enough doily patterns to fullfull my
Doily Challenge
at least 7 times. (more like 7 times 7) At least I didn't buy the tablecloth pattern book I was looking at.
THAT
would have been over the top. (so what if I have plans to buy it next week...we won't mention that yet)
And then I picked up a couple of magazines. I am not normally a magazine purchaser...of any sort of magazines...but both of these caught my eye.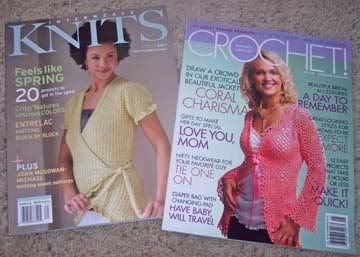 Crochet happens to be my favorite crochet magazine if I am going to purchase one and this one had some nice things in it that I may make someday. (someday far off in the distant future...so distant I can't even see it...but there will be a someday.) Now I have to say this...if all
Interweave Knits
issues are as packed as this one with gorgeous patterns that are quite "usuable" then I forsee myself buying
every
issue of this one. If I could only knit as fast I can crochet...we wouldn't have any issues.
Well, I have rambled quite enough. I need to get working on a little ensemble for Chloe. You all know what I am talking about here so there is no need to mention it. Let me just tell you this. The dress is complete and I have started on the hat. This outfit is going to blow you away. Now if only my size 80 thread will arrive in the mail today I will be set.
Have a wonderful day everyone!!!