Every day with Chloe offers up new and exciting adventures for me to join with her in or laugh with her at or smile at. She literally changes overnight. This is the most amazing thing to watch. The other day she learned how to open up the "snack" drawer where Mommy keeps her stash of "sugar" and "chocolate". (shhhh!!! Don't tell anyone that I have candy in the house!) Now, she is able to reach in there and grab whatever her little fingers find to grab - a new feat. She can't
see
in the drawer yet...not quite tall enough...but she stands on her tippy toes and reaches in as far as her little hand will reach and grabs a hold of whatever feels interesting to her little hand.
One day she grabbed my baggie full of those little hard, strawberry candies. Its not that she wanted to eat them nor was she trying to open the baggie. Nope. She just carried that baggie of strawberry sweets around with her all day.
ALL DAY!
The next day her wandering fingers found delight in a packaged fortune cookie left over from our Sunday night dinner at the Chinese Restaurant. Again, she wasn't trying to eat the cookie. She was perfectly content to walk around all day carrying the bag in her hand. I wonder what all this is about? I let her carry it around. Its not really hurting anything. If she started setting up a fuss about getting into the fortune cookie, I would then step in and stop this...but for now...she may carry her "treasures" around as long as she likes. Its cute.
Speaking of little packages, it has been over a week since my birthday and I haven't shown you a lick of what I got. Shame on me. Neither did I show you what my sweet Secret Pal sent me for my reveal package. Double shame on me. So, I give you a ton of Little Packages. (some are a little bit larger than "little" but oh well...I liked that title for this post and it shall stay)
First package I want to show you is from one of my dear testers. She has been a tester for me since...I think since about last summer or somewhere close to there. I love having her around on
my forum
and getting to know her. She obviously knows a bit about me and my love of books because she sent me a very old book. She grew up reading this book and that makes it even more dear to me. The book is Bambi. I never even knew this was a book but now I will be reading it. Maybe even for my
50 book challenge
this year. You never know.
She even sent me some buttons she has collected from thrift stores and such. I love buttons. I don't have an extensive collection...YET!!! I am only beginning, but this will help me along greatly. Yay!!! Thank you dear. I appreciate it very much.
Next up is my secret pal reveal package. WOW! That's all I can say. I was blown away by this package. I even cried a bit. I sure felt spoiled and special by this package.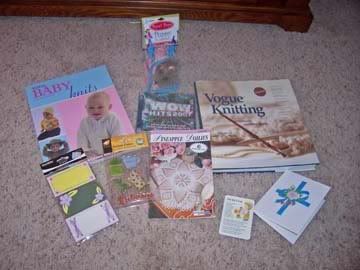 Do you see everything there??? There is a marvelous book titled Vogue Knitting with all sorts of stitches, tips and articles in it. I have thumbed through it a bit but I can't wait until I have time to sit down with a yummy cup of tea and read it in depth. WHooo HOooo!!! There is also a knitting book for babies with some delicious patterns in it. Gosh I wish I could knit faster. There are so many things in this book I would love to make. Also included was a doily pattern book I didn't have in my collection (I need to get to making some doilies again soon...I am going through doily withdrawel) and some scrapbooking stickers, a WOW 2007 cd (this is great, I didn't have this one yet...I love the WOW cds) and even a little doggie with a doggie house for Chloe. (which she loved, by the way....) Wanna see Chloe receiving her new doggie??? Well, of course you do...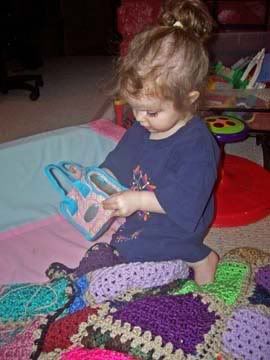 The most special thing to me about this package was the TOTC hook. My secret pal was asking about my hook collection and the fact that I do indeed collect hooks. So, she bought me my first ever TOTC hook. I am in heaven. I can see these things becoming an addiction quite quickly. I need to have hubby build me a little something to hang on the wall to display my new hook in. (and the many more that I will be acquiring in the next few years. (he he he)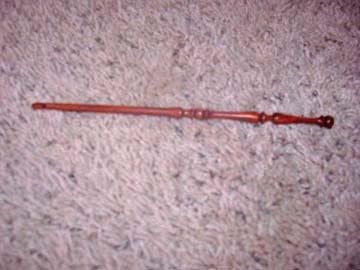 (sorry for the blurry picture above. Guess I still haven't mastered the whole "holding the camera still while snapping the picture" skill. I must work on that.) Thank you so much Jeanie for being such a delightful secret pal. I appreciate all you were able to do for me in the past two months. You are such a dear.
Next up is a delightful little package I received from none other than my own secret pal,
Heart
. I spoiled her (at least I attempted to spoil her) over the past two months and what does she do??? She goes and spoils me right back.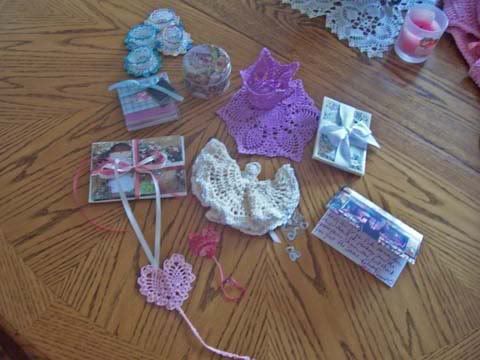 I can't believe everything in this little "Thank You" package. Boy oh boy. She made me a doily teacup and saucer. Soooooo cute and dainty and "ladylike". *
wink to Heart
*.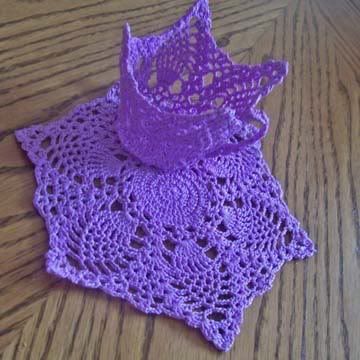 It really makes me want to drink a real cup of tea in it. It is sooo cute. When I have my tea party with some girlfriends, I will have to set this out as part of my decorations. Wouldn't that be sweet??? Not only did she spoil me with delightful little things but she sent along the cutest little teacup set for Chloe. (who adores this set by the way.)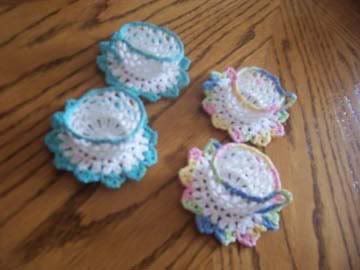 See how much she loves it???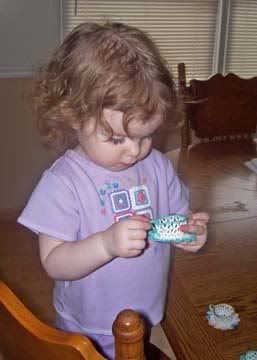 And she knew immediately what to do with it too...I have trained her well.
She walked around saying "T" the rest of the afternoon. ("T" meaning "tea" in toddler talk) Now I had sent
Heart
some size 80 thread for her to try. I know she loves thread and that she hadn't tried anything that small. Well, what does she do but turn around and make me something from it. (talk about a sweetheart)
The light pink one is size 10 thread and the dark pink varigated is size 80 thread. Same pattern, different thread. I love them. I am going to treasure these forever. The size 80 one will be in my Bible so I can remember to pray for Heart whenever I see it and the size 10 one will be in one of the books I am currently reading. Thank you so much dear for being such a sweet and genuine friend. I couldn't have asked for a better secret pal and I am honored to have you for a friend.
This next little package I am thrilled about! I am ecstatic!! Elated!!! Overjoyed! Do you know that I actually jumped up in the air and danced around the room for a few minutes before I opened it??? I knew exactly what it was and oh boy was I excited!!! Check this out and you will see for yourself why I was so happy.
My order from the
English Tea Store
came!!!! Do you see what that is in the picture??? Do you??? DO YOU??? That is my PG TIps!!! I am so elated...comepletely and thouroughly! Can you believe that I have yet to sip a cup of this delightful tea??? I bet you never could believe that...but its true. I am sort of in awe of it. You see...I haven't seen this packaging since I lived in England. I have had some of the tea because my friends from England brought me some when they came a year and a half ago...but I didn't "see" the package. Now that I see it...its almost like I am living in a dream. I go touch it every so often just to make sure its real.
Anyways, I will be making myself a cup this afternoon. I have reveled in the the radiance of this tea for a whole day now and its time I enjoyed the taste of it too. I can't wait.
I had better get going now. Chloe is climbing something in the kitchen from the sounds of it and it doesn't sound like something I would like her to be climbing. Also, I need to get to working on her dress (which is coming along quite nicely, I might add. Maybe I'll show you an update later on. Note the word "maybe". I am a busy lady, you know and very forgetful on top of that...so maybe is the KEY) Have a wonderful morning everyone!