It is due time I posted about this fantastic swap we had over on
my forum
and the wonderful things I recieved from Around74. The fabulous Magic Ball Swap. I have to tell you...this was the most fun swap I have ever been a part of. I have found an evil twin residing somewhere within my being during this swap. She cackled and he-hawed while winding the
Elephant Egg
for
Angeleyes
, but I put her in her place and made
Angeleyes
a second ball to hopefully make up for my naughty twin's misdemeanor.
So, without further ado, I present to you not one but TWO magic balls. (and some other equally exciting things not contained within the "magical" realm.)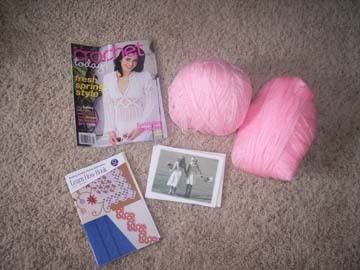 First, let me say...isn't that the cutest card??? Around74 always sends the cutest cards. I love this one....
Anyways, I waited for Chloe to wake up from her nap the other day before we began the unwinding of the magic. I thought she would particularly enjoy that part. I was right...a little bit. Daddy helped her for a minute or two and she thought it was neat.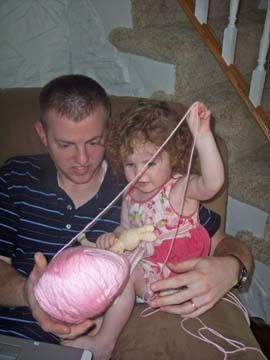 I even got this cute picture of the two of them...and I am going to do something special with it but more on that later.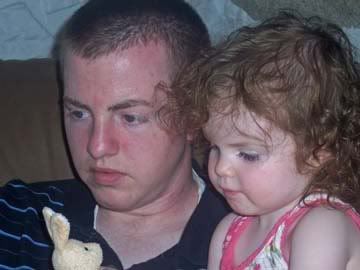 She got tired of pulling the yarn and started playing with her bunny in that picture. Then off she ran until I finish unwinding her ball. Toward the end I called her over and showed her that there was indeed something of interest in this yarn. As soon as she saw Ariel, that was it! She HAD to have it!!.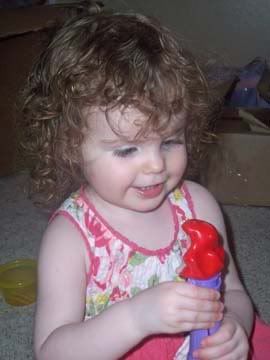 This is eveything that was in her magical yarn ball. (with the new yarn ball beside it)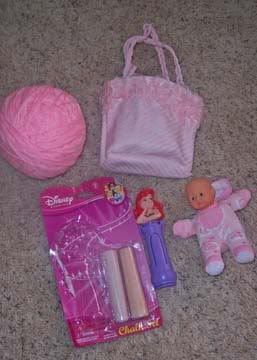 And now for my ball.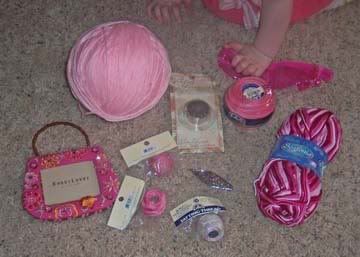 It is so fun to unwind the yarn and find treasures inside. Around72 sent me some size 80 thread in different colors (gonna maybe try a doily in this??? Think I can do it???) and a tatting shuttle (or what I believe to be a tatting shuttle since I have never seen one in person. This will go great with the "learn to" book she sent in the package. It has a learn to tat section!!), and some "normal" pink thread, some pink and red varigated Sinfonia Cotton yarn (YUM!!! Have I ever mentioned that I adore Sinfonia yarn? Oh, I Did??? Okay. Nevermind.)and a Vintage inspired measuring tape (just gorgeous...just gorgeous. And the perfect size too) and a little pink vinyl bag (perfect for Barbie sunglasses and shoes, I think) and last but not least...the cutest little pink picture frame with beadwork around it. I would like to put that picture of Chloe and James (up above) into it for my sewing room. Wouldn't that be just so sweet? I could look at them for my inspiration whenever I am in there working.
Thank you so much Around74. You are such a dear. I appreciate everything you sent me. (and that sweater thing on the front of that cover is now on my WIM list. Yes it is. Don't know when I will get to it, but I can see myself wearing that)
Today I am off to decorate the church for the Spring Banquet on Saturday. This is going to be the best Spring banquet ever. I am almost done with Chloe's dress too. I think I can get it done today and then start on my skirt tomorrow. The skirt shouldn't take me too long. It actually says "Easy" on the pattern. Now if only this dress didn't have a zipper. I am not looking forward to
that
.
Have a wonderful day everyone!