Today is a day full of emotion. I am angry. I am sad. I am irked. I am perturbed. I am disheartened. I am dismayed. But most of all I am just plain disappointed. Mostly in myself, I guess. For its my own fault, really.
Last night I started sewing on my matching skirt to Chloe's dress. It was coming along nicely. (and quite quickly, I might add) It was beautiful. I loved it. The fabric was gorgeous. The design of the skirt was perfect. (flouncy, to be precise) I envisioned all the places and times I would wear this skirt. I was in a dream. Ohhh...
But then, as I was sewing the seams of the skirt, a horrific knowledge crept into my consciousness. The skirt appeared small. I paused. As I began recalling certain things I had learned about patterns while making Chloe's dress I knew I was in trouble. Deep and serious trouble. I looked at the pattern and it said "Misses sizes 8-18". Quite understandably I thought myself to be a size 8, since that is what I wear at the store. I am a Misses size 8. Well, it would appear that the good people at Simplicity think the word "Misses" means something entirely different than I do. Apparantly a "Misses" size 8 fits around my thigh. Would that mean "Misses" actually means "child"? Because this dress would probably fit a child size 8...not an adult.
I measured my waist and it would appear that I am a size 20!!! Now I know there is no way on God's green earth that I am a size 20!!!! I may not be the same size I was before I had Chloe but there is no way I am a size 20! Something is seriously amiss with usage of the word "misses". Either the department stores have it wrong...or the Simplicity pattern people.
I took a picture of the skirt.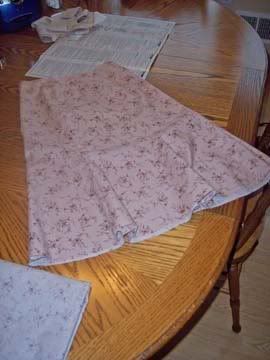 See?? It really is a beautiful skirt. I went ahead and sewed in the zipper. (which I did a very good job for my first zipper, if I do say so myself) I am debating giving this away to someone with a girl this size...or putting it in Chloe's dress up chest...or even saving it for Chloe to wear someday. What should I do with this? I hate to not finish it. I do NOT need another WIP around here.
It looks as though I will be heading out to Jo-Ann's again this morning. Because when I get an idea in my head, it must be carried out, right? I MUST have a matching skirt for Chloe's dress. Who could go to the Ladies Spring Banquet and not have matching skirts??? (everyone else but Anna...that's who!) So let's hope they have enough of the fabric I need and that I can find a reasonably priced pattern that I like.
So, off I go. We will venture out in the rain and wet slicky muck that is outside to get the correct size of pattern. (it would really have helped if they had a picture of the pattern on the size of person it was intended for. They shouldn't rely on me to measure myself. No. That is unreliable)