I am pleased to announce that my dear Bernadette is home. Yes. She came home on Saturday evening after a phone call told me that there was absolutely nothing wrong with her. The lady I spoke with tried to tell me that I had been threading the bobbin wrong. I gently explained to her that I had tried for hours (literally hours...probably a total of like 10-15...somewhere around there) to thread this thing. Also, the lady I dropped the machine off to threaded it the way I had and told me it was
indeed
the correct way to thread it. Simply put... it was broken.
Well, lucky for me...the same lady I dropped Bernadette off to was the same lady I picked her up from and she took a look at the machine for me. She says they had to have changed something because it was working now. Weird, huh? Anyways... Yay!!! I have bobbin tension. I am so excited. I will be able to get my dress done this week. Hooray!
I have another little snag though. I picked out the perfect dress that I wanted for the wedding. It is gorgeous. Simple...well...maybe not entirely simple, but it LOOKS simple. Its
not
one of those with a ton of pleats and lace and stuff. Its a clean looking dress. Anyways. That's besides the point. I went to get the pattern out from the drawers and lo and behold the largest size they had for this divine dress was a size 12. We have already established that I need a size 14 or preferably 16 for me to be comfortable in it. So, do you think if I substitute a 1/4" seam allowance instead of the 5/8" the pattern calls for that the dress will fit me??? I am hoping so because I am cutting it out tonight before I go to bed.
In other news, many of you know this...but I have been working outside quite a bit lately. I never realized how much a person suffers from "cabin fever" while in the north. I spent practically the WHOLE winter indoors and by about March I was
so
ready to be outside. Every single nice day since, I have been outside for at least 15 minutes. I am already acquiring a little tan that will be a nice golden brown by about June if I keep this up.
Anyways, the back garden is done. I finally finished digging it out. James had to help me rotatill it.
Man alive
that rotatiller thing. It pulled me around like I was a feather bobbing around in a thunderstorm. James is much stronger than I so he was able to get the garden tilled much better (and quicker) than I ever could.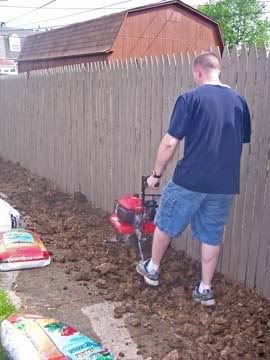 The came the work of getting the MiracleGro into the dirt. Those bags are
heavy
!! But it was worth it. Just look at that garden. Still quite a bit of clay in there but hopefully over the next couple of years I can turn this clay-sod into some real, nice dirt.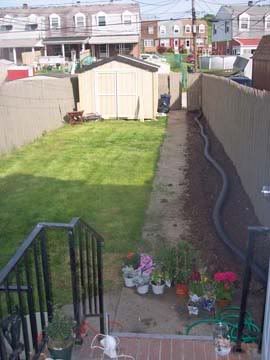 I envisioned this extremely long and narrow garden as a sectioned garden. My hope is that it will resemble a cottage garden of sorts. I measure off nine sections the length of my rake. Each section will have something different in it. The section closest to the kitchen door will have my herbs. Then next to that I planted some daisy seeds that my dear friend Heart sent along to me. Next (I haven't planted yet) will be my lettuce section. I love lettuce and growing different sorts of lettuces. I plan to have at least some green leaf lettuce and red leaf lettuce. I am hoping to find this kind of lettuce I used to grow in England. It was an assortment of leafy lettuces that all grew together so all you had to do was cut a swipe and you had a mixed leaf salad right there. That was way cool.
After the lettuce section I planted my roses. No garden is complete without roses. I only have three so far but I plan on getting at least two more bushes in there. I am thinking maybe a climbing rose with a trellis behind all the roses so that she can climb all over that fence and produce a wonderful aroma for me. I can't wait to start smelling my garden. Its going to be great.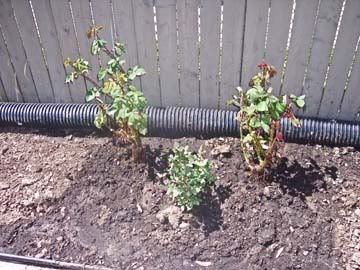 The next section will be my carrot and potato section. I can't think of anything else to include in this section and quite frankly, I don't think anything else will fit. I really need to get to Home Depot this week and get these things planted if I want a harvest this year. The next section will be my tomato section. I have heard from the neighbors around here that this city has the best tomatoes in the US. I aim to test that claim. I plan on having some regular size tomatoes and some cherry tomatoes. The next section is my little flower section. Here is where I planted my heather, dusty miller, snapdragons, verdana, and some others that I can't think of off the top of my head.
Next will be my pea and green bean sections. I love to come outside in the middle of summer and pick my peas and eat them raw. I grow peas for no other reason than this. (and the size of this particular garden dictates that I will not be changing this habit any time soon). At the trail end of my garden (by the back gate) I planted my gorgeous Clematis. I need to get a trellis in there so she can climb all around and be the beauty she is. I would like to plant a few other little flowers down there with her to keep her company too.
Today I worked on the front garden. I had bought a few flowers to put in my giant flowerpots and so I got one pot planted today. I also weeded my front flower garden and got my rhodonderan planted and some miraclegro put down to make the garden "pretty". Somehow...miraculously over the winter months, sand appeared in my front garden bit. I have no clue where this sand came from, nor how it got into my garden. It used to be grass. I dug out the grass and planted my bulbs there...but now there is sand. Oh well. The Miraclegro should take care of that...if not, then it is hiding it for now.
At this point in time, I don't think my hands can get dirty enough for me. I could spend all day planting flowers. I adore it so much. My dream is to create a little oasis here in the middle of the city. I look out my window and I see clutter and choas. I see cement and bricks. I see rubbish and refuse. I hear vulgarity and filth. But...soon my dream is to have a bit of paradise in my own little backyard. A place where I can feel at home. A place where the birds and bees and butterflies come.
Well, I have some crocheting news for you today. It may appear to everyone that I have given up crocheting. I mean...I rarely talk about it anymore. All I seem to write about is gardening and sewing. But I still crochet from time to time. I was stalling a bit because I had two patterns that still needed typed up for my Spring Round of testing on my forum...which opened up...oh...say...almost 3 weeks ago. Well, I am happy to say that I finished typing them up today. They are done! That is a load of my shoulders. (and something crossed of my to do list. Yay!) So, I hope to get a bit of crocheting done this week. I probably can't get alot done. I have to sew this dress, pack for our trip (we leave Sunday) and get some veggies planted in my garden. I also have an order for a name doily that needs to be graphed and crocheted by Saturday and then I got an order from another friend for a hat and bootie set that also must be completed by Saturday. (since I won't be here when she goes to the baby shower) SO...I will be busy busy busy. But come on...when am I
not
busy???
Okay...back to the crocheting news. One of my dear testers and friends over on my forum recently lost a loved one and she has been deeply saddened and hurt by this loss. So, some of us on my forum got togther (not in person...just through email) and made up squares which I, in turn, joined together to make this comfortghan for her.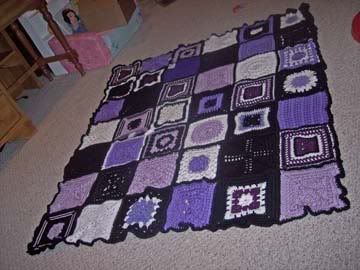 I wasn't sure what colors to specify for this comfortghan and I was really sure how asking for black would turn out but it turned out beautiful. Simply beautiful. I love this afghan. I really do. (now if ya'll can make me one...just kidding) I asked for purple, black and white. I think it is a strikingly modern looking afghan that still possesses that touch of "old-fashioned" beauty, grace and elegance that I do so much love. I am always amazed at how these afghans come together. You take a hodgepodge of squares made by different people in different designs and different shades and it becomes a work of art. A masterpiece that could never be duplicated anywhere else.
I hope our friend feels the love of all of us each time she wraps herself in this afghan. We love you very much and are praying for you hon. God bless you and keep you and draw you close to His heart. Seek Him out hon, for He can offer you the comfort you need in His Loving Embrace.
Have a good evening everyone!