Its about time. That's all I can say. (and I know you all are rolling your eyes right about now. You can just stop..okay? I have been extremely busy. Just read yesterdays post.) But, I can't put it off any longer. I have no more excuses. Oh. I guess I could say that I need to shower...get to the post office...get to the sewing machine store...paint Chloe's wall that I didn't paint yesterday...type up patterns...design new patterns...and the list could go on and on (believe me! Mine DOES!)but I won't. It might bore you to tears. Or else remind you that you too have a "to-do" list a mile long and you really shouldn't be reading this blog. But why would I want to do that??? I want you to read my blog.
So, I won't list my entire "to-do" list. Instead I will show you all something you have been dying to see since last week. Yes! That's right. THE DRESS!!! (and skirt). TA-DA!!! (I say "ta-da" because this doesn't really need any other introduction. You have been waiting so patiently for the pictures, I might as well just go ahead and show them to you.)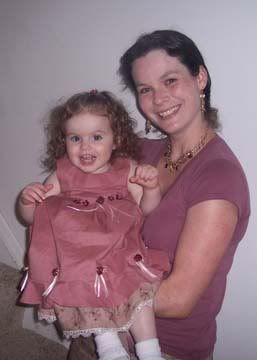 It was torture getting Chloe to sit still in my arms. We got some cute pictures of us on the stairs...but I didn't want to bore you with them. Maybe I will later. Anyways, James isn't very good with the camera so we didn't get any really good pictures. Except this one...(but it doesn't have Chloe in it)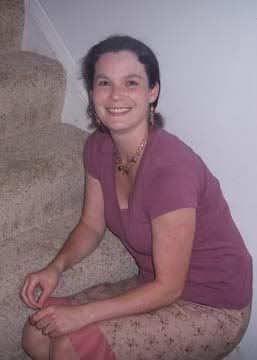 I tried telling him to get my skirt in the picture and this was the best he could do. (Hey! It was at 9:30 at night...give him a break. He wanted to finish putting shingles on the shed and I wanted him to take my picture. You can imagine how enthusiastic he was about
that
.)
So, this skirt was wayyyyyyy to short for my taste. James said it was fine, but I knew I wouldn't be comfortable wearing it so I added that little bit of flounce on the bottom in the same color as Chloe's dress. Here is the pattern I used.
I thought I was making the skirt in the picture for length but I ended up making the shorter one. So, I took the flounce from the middle skirt length and added it to mine. Took a little bit of work and a touch of ingenuity but I pulled it off. Then I realized the the color of my flounce didn't match the shirt I had to wear with the skirt. Drats! Oh well. It was okay. Maybe I will get myself a brown shirt to wear with this skirt in the future.
I took the camera back and released James to his late night shingling project and took some pictures of Chloe myself. It proved harder than I thought. (James had a leg to stand on with his poor picture taking excuses) Chloe was in a playful, weird mood that night and would not pose nor would she stay still for more than .009 seconds. Here is the best picture I could snap.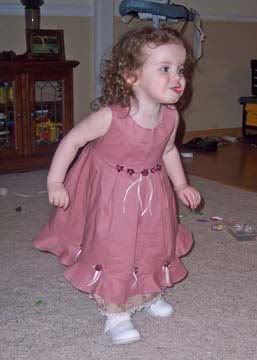 (She was dancing)
Well, the day I went back to Jo-Ann's, I couldn't resist buying a couple more patterns in addition to the new skirt pattern. They were on sale for $1.99 and I knew I would want to do some sewing again soon. So, I splurged and allowed myself to buy a few.
I can't wait to make that dress one for Chloe. The one I made for the banquet turned out to be a bit more formal that I envisioned. This pattern I bought some fun fabric to use for it and these will be some everyday type dresses. Can I do everyday type dresses?? I sure will try. Nothing I do seems to be an everyday type thing...but that can change.
While I was there, I stopped by the scissor aisle (yes...this particular Jo-Ann's has a whole aisle devoated to scissors...this is the BIGGEST Jo-Ann's I have ever seen in my life.) and picked out a pair of really nice scissors for myself. They were on sale for 40% off and I couldn't pass up a deal like that.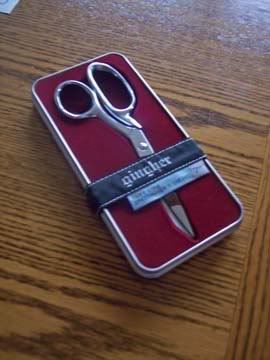 Notice they are "gingher" scissors. My dear and seamstressy sort of friend
LadySnow
recommended me to get this kind. I plan on sewing quite a bit in the future and so I felt that I needed some good tools. Hey! James buys the best quality
DeWalt
tablesaws and such for
his
equipment. Why should I settle for sub-par for my own tools?
And then, I remembered that we are going to a wedding in a couple of weeks and wouldn't it be cool if I made my own dress??? I can't ever seem to find a dress in the stores that I love and that suits my style and that isn't too low cut or revealing. All the dresses I like reveal too much "stuff" below the neckline. Or else they are in a color that doesn't please me...or they are just hideous. So...what better way to solve this issue than to pick my own pattern...pick my own fabric and make my own dress? Well, this was actually alot harder than I imagined. You should have seen all the fabric in this particular Jo-Ann's. Boy oh Boy! Just the calico cotton was enough to fill any other Jo-Ann store I had been in. But I managed to pick the fabric after browsing for about an hour and wa-la. Here you are...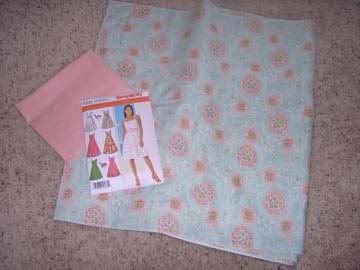 Okay. So I must admit...this fabric will not look the best on me...but I really liked it. So, I bought it. It will probably make me look washed out but that's okay. the focus should be on the bride anyways, right??? No one will notice little ol me. And Chloe is going to be the flower girl...and her dress is gorgeous too. So, as usual, everyone is going to notice Chloe and I will be able to slip by unseen. (as this is how it usually goes) Wanna know something funny? You would not believe how many times people stop us and ask where Chloe gets her curly hair. I am shocked whenever someone asks this. I just kind of flip my hair about and say, "Oh, I don't know. Maybe her mother???" Needless to say, they don't say anything other than to go on about how cute she is.
Don't get me wrong here. I love it when people think my daughter is cute. And I love to hear it. (what mother wouldn't) But the thing that worries me is the fact that I don't want Chloe growing up thinking she is the world's beauty, you know? I mean, I happen to think she is the world's beauty...but its not all about her. I want her to have a sweet spirit. I want her to have some inner character that shines through. I want people to see her beautiful and compassionate spirit and not her curly hair and sweet cheeks and big blue eyes and long eyelashes and giant smile. How can I teach her that this is not all that matters? How can I teach her to have the inner qualities of a beautiful woman? For a truly beautiful woman does not need to have outwardly beauty. No. If she is truly beautiful, it will shine from the inside.
These are the things I worry about at a mother. I need wisdom, grace and loads and loads of prayer if I am going to do right by my daughter. (and maybe a few helpful books??) Well, have a wonderful day everyone. I hope you enjoyed seeing my sewing blunders and final products. I am pleased over all but know I could do so much better. Now I am off to tackle more things on my "to-do" list. It is currently less than two pages. YAY!!! Maybe I can get it down to one page today. Let's see.