Tackling MORE of the "TO-DO" List
It has been a long journey the past week and a half. I have shortened my to-do list considerably since I first wrote it out on that blessed Sunday just one week and two days ago. It has changed my life. Okay...not really, but I have been getting things done that I would have continued to put off for another 15 years or so.
My list is still almost two pages long since every day I have to add new things to it. Today I plan to get some of the little things on the list tackled as well as a BIG thing. Let me show you what I aim to tackle.
First, I cut out the dress I am sewing for the wedding last night. I ran into some problems. The cutting instructions, again, were written in greek. They wanted me to fold the fabric crosswise and then cut the crosswise fold. Then somehow all the pieces were supposed to fit on it??? I don't know how that would have been possible so I winged it and layed out the pattern my own way. I even had a bit of fabric left over that might make some Barbie clothes in the future. We'll see. Anyways...the pattern is cut out. Today I will attempt to sew this dress together. (this is my biggest tackle of the day...okay...maybe tied for first place. You will have to see the next tackle to understand why)
BEFORE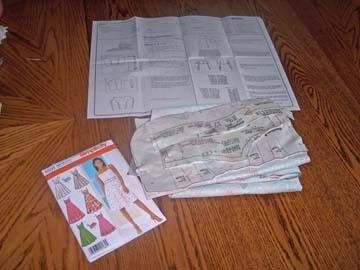 I was asked about a week ago if I could crochet a filet name doily for a friend of mine. She is going to a bridal shower and wanted this for a gift. Golly!!! I have never done filet before...and to top it all off I have to graph this particular doily myself since I am quite positive the name will not be already graphed on a website for me. Schucks!! Today I plan to tackle that graph. (and hope and pray that I can get it crocheted by Saturday since that is when she needs it by)
BEFORE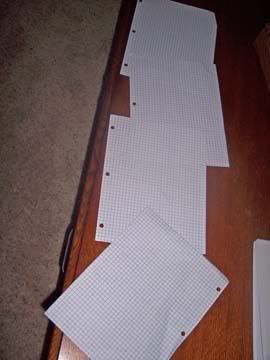 Now for the little tackles. I noticed this morning that the mirror in my bedroom has not been cleaned in a LOOOONNNNGGGGGG time. I will wash it straight away since that is such an easy tackle. (and if I don't get anything else done today at least I will be able to say I got
something
tackled, right?)
BEFORE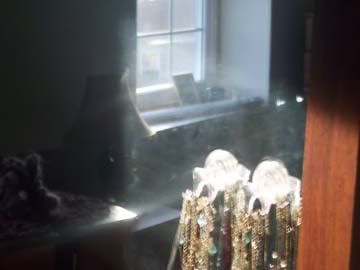 I made the mistake last week of allowing Chloe to go to bed for her nap in just a diaper. BAD mistake. Shame on mommy. I should have known better. When I entered the room to get her out the crib I saw pooh and pee all over the place. Poor Minnie was soaked...drenched...drowing in the pee. Poor little dear. (needless to say Chloe now goes to bed with pants on...no more mistakes like that one...it was gross to clean up) Today...somehow...I don't quite know yet...I will attempt to clean Minnie. This is my reason for stalling and why I need to "tackle" it. I have no clue how I am going to clean Minnie, the poor, dear little mouse.

BEFORE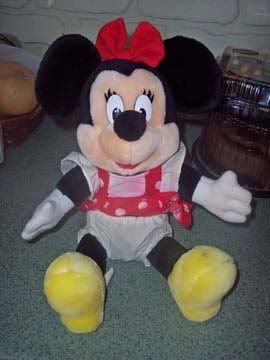 And last but not least, I aim to wash Chloe's Christmas dress. We don't know what happened but it got this black spot on the front of it. Looks sort of like charcoal or grease or something. Anyways, this dress has been sitting in the bottom of my dirty clothes hamper for the past 4 months and I think it is time I washed it, don't you????
BEFORE
So check back later tonight to see if I can get all this done in one day. I better get going if I think I can do it. That dress and the graph is going to prove challenging. (did I mention the dress has darts??? Never done one of those before...hope its not too hard)
I'M BACK!!!!!!!!!
I will start with the least of my tackles today and go up to the biggest. (the one you all are waiting with batted breath for...I just know you are.) First, I tackled the mirror. It looks much better. (to be perfectly honest here...because I don't want to give the wrong impression or anything, nor would I like to be known as a liar...I just wanted to let you know that this mirror got tackled approximately 6 1/2 minutes ago.)
AFTER
Right before I washed the mirror (which would make it approximately 13 minutes ago) I washed the spot off Chloe's dress. Not that you could notice the spot on it before....but I could. And not that you can tell its gone in this picture but I am including an after picture anyways. Just for my sheer satisfaction of a job well done. (and quicly done too)
AFTER
The next thing on my list was actually quite easy and quick to do. I was pleasantly surprised at how quickly I got it done. Really. I was. I thought it would take me at least 2 hours but it only took about 15 minutes...tops. Yay!!! I know its going to take me much longer than that to crochet it, but hey. At least now I have hopes that I can get it done by Saturday. Here is my graphed name doily.
AFTER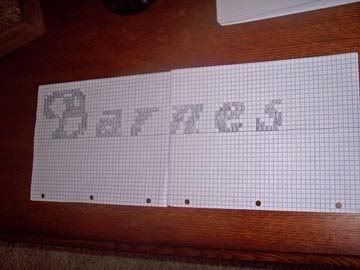 I must confess, before I move on to show you all my special and exciting tackle, that I have not washed Minnie Mouse today. Alas! She must sit in her pee drenched dress for another day or two (or however long it takes me to get around to washing her) I still have no clue how I am going to accomplish this which could very well be the reason I didn't get to that tackle today.
But NOW!!! Without further ado...I show you
MY DRESS
!!!!!!!!
AFTER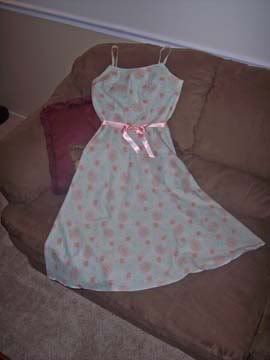 OHHHHHH!!!!! AHHHHHHH!!!! WOWOWOW!!!!!
Words cannot describe how happy I am at this very moment in time. The dress is perfect. Simply Percect. Okay. I admit, not a good color for me, but I love it none-the-less. And guess what!!!! IT FITS!!!! The dress fits like it was made for me! Do you have any idea how happy this makes me? If I weren't so cotton-picking tired I would think of a word to describe this elation I feel. But I am tired and will not put my mind to that task. I will go to bed instead.
But not before I show you another picture of my lovely dress. I can't wait to wear it!!!! (in public. I have already tried it on twice tonight in private. I even got a smile out of Chloe the second time. I don't think she was too impressed with it though...it wasn't for her. Most of them are, you know.)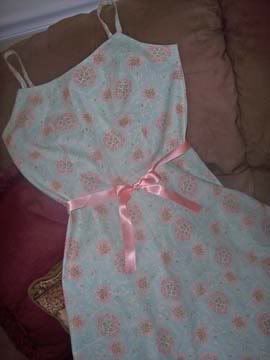 I might just add that now that my bobbin tension issue is solved, sewing on my little Bernadette is a dream. My seams are almost perfect. (if I do say so myself) I am very pleased with my sewing abilities. After all...this is like my third wearable I have ever made. Probably something like my 7th sewing project in my entire life...so I have every right to be pleased in my opinion.
Well, I am off to bed now. Have a great evening. (and maybe you might see a matching handbag tomorrow. You never know what I will find time for...)