Are you sure? I don't remember going to a wedding. Was it
us
that went to a wedding? Oh wait...its starting to come back to me now. Gosh...that was a LONG time ago. I can't believe I didn't post about it. Let's see...it would have been about a week and a half ago or thereabouts. Ah Yes. I remember flying into Dallas and driving to Louisiana. Boy that was fun (not). Three hours in a plane and then another three hours in a rental car. (but that rental car was sure nice. Think: Giant! Luxery! FORD!!!)
But where was I? Oh yes. Something about a wedding. I recall somewhere along the way we were at this place...doing this game, of sorts. I remember it was fun. What was it??? Oh yeah. Golf. We golfed.
It was Chloe's first time golfing. And as you can tell...she wasn't really into the whole "golfing" aspect of golfing.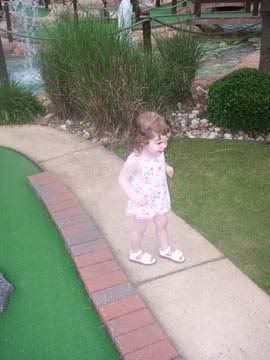 Ahhhh...but she enjoyed the car ride. (it was a couple of days after the 6 hour plane and car ride. I think she forgot that she did NOT like it.)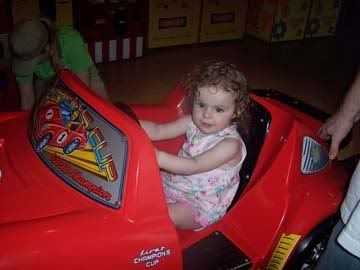 And of course, no golf session is complete without a slide ride.
Okay. So what does the above have to do with a wedding? Absolutely nothing aside from the fact that we golfed while waiting for a wedding to take place. I think this is the last time we go a week early for a wedding. I was bored out of my mind. (hence the 2 hours spent in a miniature golf facility. You would not believe how many times a toddler can slide down a 2 foot slide!)
Something tells me that we were at a wedding. A real wedding. Not one in a golfing establishement either. So, without further ado, I show you wedding pictures. (just so you all can get off my back about it - just kidding)
So, Chloe was the flower girl in this wedding. She had the cutest little dress. And she did very well being her first wedding and all.
For the wedding rehearsal she was able to walk down the aisle by herself but when it came time for the wedding, she had to walk with the junior bride. Something about her screaming from lack of sleep/food for the 3 hours we had to wait before the actual ceremony while preparing to walk down the aisle. I don't know. I wasn't there, although I did hear her from my seat in the front of the sanctuary.
The sad thing about this wedding was the as soon as we arrived in Louisiana, we noticed that the batteries in my camera were almost dead.
And we forgot to bring the charger!
Who travels halfway across the country to a wedding and doesn't charge the camera battery before they leave? Who, I ask??? (us...that's who) So, in an effort to make sure I got at least one photo of everything for the entire week, I skimped on the pictures. (and in the process of "skimping" the quality of the pictures got lost. I am afraid that I didn't get very many decent pictures to show you all and I am sorry. I know you were expecting more.)
So, I got one halfway decent picture of my little family at the wedding reception. Only one. You can't see my dress very well in this picture and Chloe is turned the wrong way but it is the only picture (of the three we took) where I didn't look like a deer in the headlights or like I was in a drug-induced stupor.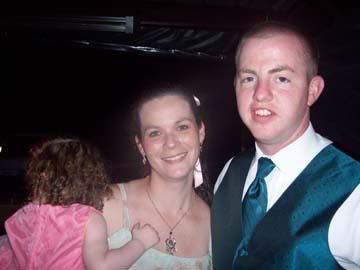 But at least you can see all the adorable ringlets on the back of Chloe's head. (they
are
adorable, aren't they? I think so.)
And here is the bride and groom with all the groom's friends. (James was a groomsman, by the way.)
And because I know how to hold a baby facing frontways and I felt the need to prove it, we got a picture of just Chloe and I. (I love this kid)
And I leave you with a picture of my darling, dancing the night away under the stars. She had a ball and recieved loads of "ohhhh's" and "ahhhhh's" and "How Sweet's" during her dance. I wish I could let myself go and be as free as she is. Someday. Someday. She is teaching me to be myself. (and at least I can dance to my heart's content in my own house with my baby girl giggling and dancing beside me, even if I can never bring myself to dance freely in public)