It is official! I am completely and thouroughly addicted to books. But...many of you probably already know this fact. I have come to a dawning realization of this over the past couple of months. I have more books now than I have ever had in my lifetime with no signs of quitting any time soon. I have a dream of someday owning a much larger house with a library of my own. You know those old libraries in old houses? Like in the movie Beauty and the Beast? (Disney's) I love that library. I want one like it. Minus the ladders...I don't want it to be that tall. Just loads of books and a nice comfy chair to curl up in. Maybe even a cozy fireplace with a roaring fire and a soft crocheted afghan. Wouldn't that be lovely? I could have my pick of any book in the world right from my own room. Ahhh...such a dream.
Anyways, I added some books to my collection the other day. I have a few books that are on my
50 Book Challenge
reading list that I didn't own and lucky me! I found a couple at the used bookstore. Yay!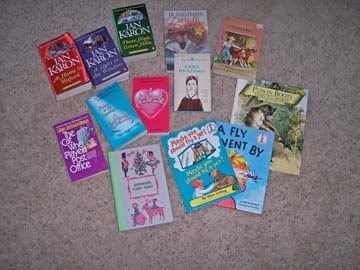 Speaking of the challenge, I have finished a few more books I thought I would tell you all about. I finally finished reading
Prarie Avenue
by Arthur Meeker. Sadly I must admit, after the first section of this book (the book was broken up into four different sections of the lads life) the plot of this book and the story line became completely boring and it was a chore for me to finish the book. Towards the end, the morals of the characters came into question too and I was disappointed in it. I would not recommend this book and I am sorry I read it.
The next book I read was
The Cat Who Came to Breakfast
by Lilian Jackson Braun. I love her books but I think I need to take a little break from them. I have read so many of them that I am getting a little bored with them. I did enjoy this book though. It was a nice, light read as are all her books.
The next book I read was
Dare to Disclipline
by Dr. James Dobson. I love Dr. Dobson. His insights into parenting come from a biblical perspective and they give me the "why's" behind why I do the things I do. I needed to read this book as a refresher for some things and also to encourage me not to give up or give in. It is becoming increasingly difficult to not give into Chloe when she starts with the tantrums. So often I just want to give her the darned cookie...or the doll or whatever it is she is screaming for just to get her to stop. I can't do this though. I can't let her get away with it or else she will have learned that if she screams loud enough or long enough, she will eventually get her way and then I am no longer the parent. She is. So, this book was great for me to read and refresh things in my mind. I highly recommend this book to ALL parents.
I also read
Emily Climbs
by LM Montgomery after I read Prarie Avenue. I love any and all books by LM Montgomery. (author of Anne of Green Gables) Emily reminds me so much of myself. Reading this book has inspired me and encouraged me to reach for my dreams, no matter how far out of reach they may seem. I am contemplating a few things in the near future that have me a tad bit scared and really excited. I can't wait to tell you all about them but for now, they are just treasured secrets within my heart that I daydream about often. Someday I will divulge them to you...someday. Maybe soon.
In other news, I have been longing for a Bike seat for Chloe. Ever since I got pregnant with her, we have been unable to ride our bikes. Something I have loved doing. James, being a very physical sort of person loves sports and physical things of that nature. I, on the other hand, being a "sit-around-on-my-tush" sort of person, enjoy things that involve sitting on my tush. So, bike-riding is the perfect compromise. (it beats tackle football or jogging up a 6-mile hill any day).
I have been missing my bike for over 2 years now and buying a bike seat for the baby just wasn't very high on the "need-to-purchase" list. Well, we finally broke down and bought something the other day. Its not a bike seat. No. Its better. Its a bike trailer! I can't believe this thing. Check it out.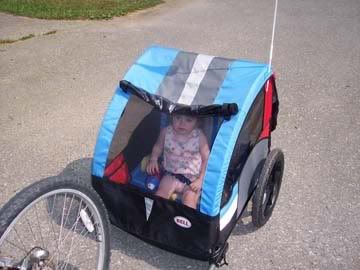 The cool thing is two kids can fit in there. (for when...IF...we have any more kids.) This thing is so cool. Chloe loves it. Well, she loves MOST of it. When we set it up Saturday, she climbed right in. The crazy kid wanted to eat her
breakfast
in this. (I made her get out and sit at the table, cruel mother that I am) She spent a good portion of the next hour and a half climbing in and out of it. We had it in the kitchen and then moved it out to the yard and the whole time she enjoyed it.
We finally got the bikes ready from the move last fall and spending the winter in the basement and set off to the park for our bike ride.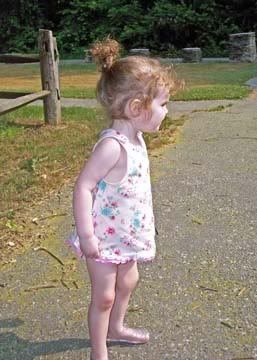 (just so you don't think I'm just throwing random pictures in there...that's Chloe at the park)
When we went to put Chloe into the bike trailer and strap her down, she decided that she did NOT like being in there any more. I think it had something to do with the "strapping down" part of the process. (weird, toddler-like behavior...not to like being confined. Hmmfph) Anyways, we finally settled on letting her get by with the lap belt and a banana because I
really
wanted to go on that bike ride. So, a banana and a full sippy cup of water later, we had the happiest, little baby in the world, riding along behind daddy. We rode for about an hour and a half and boy was it fun. I think we'll do it again this Saturday!
Many of you might already know this, but the summer round of secret pals is going on over at the
ville
this month. We started about 3 weeks ago with our "camp" theme and things have really taken off. I think people are enjoying this theme for the most part. Someone...and I don't know who...sent me a care package since I am a counselor (swap coordinator) at camp. This person claims to NOT be my secret pal but wanted to help me out in my counseling duties. I appreciate her thoughtfulness very much.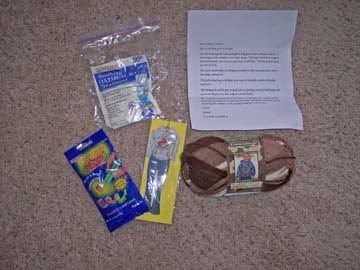 In the package she sent a note that reads:
Dear Camp Counselor,
This is not from your secret pal.
You are receiving this care package to help protect you and give you an advantage inthe Summer Secret Pals Swap. The large humber of campers involved requires you to be on your toes at all times. You have your work cut out for you.
The camo should help you disguise yourself so tha tyou may move about the camps unnoticed.
The lightening bugs will light your way in the dark without drawing suspicion.
The bookmark will be put to good use as you keep track of what page you are on in the good vs. bad camper's record book.
The soothing oatmeal bath treatment should take care of most of hte nasty things found in and around the camp. Probably will take care of anythign the campers could possibly think of to do to you.
Enjoy!
Signed,
A GOOD CAMPER
What a dear camper! How did she know all these things about me??? About my work, about the sneaking around at night (opps...I don't really do that. HONEST!) All these things will be put to great use as I prepare for week 4 of camp. Thank you Good Camper who sent me this wonderful package! It was very thoughtful of you!
Now I am off to type patterns and work on some new designs. I have some neat things up my sleeve I hope you all will enjoy. (of course, it will be a few months before I am able to show them to you...but I do enjoy building up anticipation...)