Ever since James and I were first married, I have tried to be creative in our weekly menu plan by cooking food from different countries. Seeing as how we have traveled and lived in a few different countries since we have been married, this comes a bit easier to us. Lately though, our "ethnic" night has become a bit drab since we resort to Mexican or Italian. (and the italian isn't "real" italian either...more like spahgetti or pasta of some sort)
I decided that we needed to liven things up around here. I wrote down names of some different countries and James draws out a new country each week. I then scour the internet (okay...narrow that down a bit...I scour
www.allrecipes.com
) for new recipes to try based on that countries cuisine.
Last week was Japanese. As soon as James drew it he stated that he didn't want to eat Japanese that week. I asked why and upon further probing I found out that he doesn't like Sushi. Well, I laughed (more like chuckled slightly so as not to offend him) and proceeded to inform him that Sushi is not ALL the Japanese eat. Here is what I found for last week.
Yakisoba Chicken
.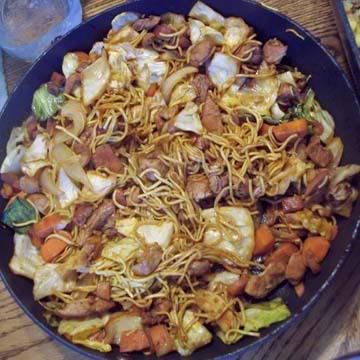 Ummmm...that was delicious. And there was no raw fish in it anywhere. I also made
Sausage Fried Rice
.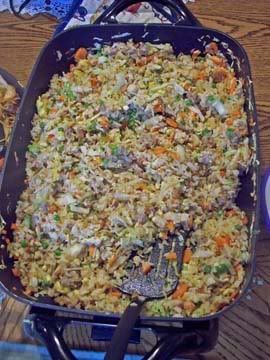 That was good too. The next time I make these recipes I will leave out the cabbage though. Neither one of us like cabbage at all and this was just way too much. Both dishes had tons of it. YUCK. But I do have to say that the chicken was to die for. We will be making that again and again. (and maybe we won't wait for the next round of Japanese night...it was that good)
I made a
Japanese Fruitcake
for dessert and the actual cake portion was pretty good but then I had to make this filling with oranges and lemons and it ruined the cake. Totally and completely ruined it. I may use the recipe again and make a sugar glaze frosting for it. Ummm...it would be good. I didn't get a picture of the cake though. I should have but I didn't. So sorry.
So, this past week was English night. You would think with us having lived in England for a year that I would be a pro at English cooking but that is simply not the case. For one, we expected to live there for 3 years instead of 1 so we put alot of stuff off until it was too late. For two, our neighbour was going to school to be a chef so he cooked all the time for us. We didn't need to learn. He was wonderful. Anyways, we had our "ethnic night" on Saturday this past weekend due to my having a terrible headache on Friday.
Cottage Pie
I always wanted to try this while we were living there and I never got the chance. I knew James probably wasn't going to like it but I made it anyways. For myself. And I have to be honest with you. I LOVED it! I really did. I could have done without the two whole pie tins full that the recipe made though since James only ate one spoonful of it. Oh well. We will see how tired I get of it by the week's end.
I also made some
English Pasties
, but this recipe is nothing like the pasties we had while we were there. I think next time I will look for a more authentic recipe. I didn't photograph them because James ate both of them before I could and also because they weren't very good to me. After all was said and done, James informed me that they weren't all that bad and he wouldn't mind having them again. I couldn't tell that from the look on his face while he was eating them. He wasn't very enthusiastic...let's put it that way.
Anyways, the best part of the meal, in my opinion was the English Trifle. If you have never had an English Trifle then you haven't tasted perfection in pudding. Ummmm...summer's delightful dessert. It has everything in it except ice cream! (does whipping cream count? No. Its not cold enough)
English Trifle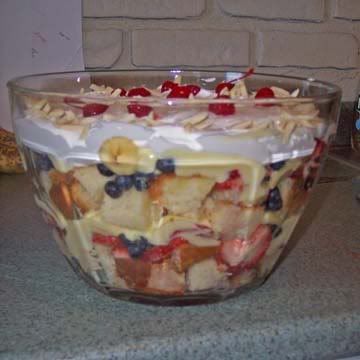 There are so many English Trifle recipes to choose from that I could probably make a new one each week and they would all be different. I might try a new one next time and let you know how it turns out.
Yesterday was Father's day. And what a Father's day it was too. James decided he wanted to stay home from church. So we did. Then he decided he wanted to paint the shed outside. So, do you know who actually painted most of the shed yesterday while she was supposed to be in church??? NOT JAMES! Nope. You would think it would have been James since he is the one who wanted to paint the shed in the first place. But nope. Wasn't him. Somehow, he suckered me into doing most of it. Well, I considered it my father's day gift to him. Then we went out to dinner at Outback Steakhouse. I am not one who normally likes to skip church on Sunday's. Nor am I one who supports businesses who are open on Sundays by shopping (or eating) at them on Sundays, but since it was a day to honor James, I did as he requested. There was one thing I did behind his back though. He doesn't like to get gifts for birthdays, anniversaries or Father's day. He thinks its a silly holiday (but not silly enough to make a bunch of "father's day" requests...) But I made him a little gift anyways.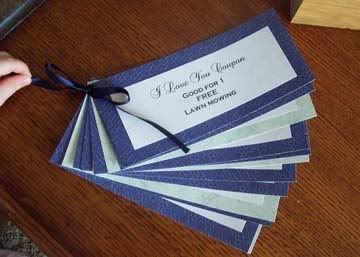 That is a little coupon book I made by printing out items he can recieve by presenting the coupon and then glueing them to some cardstock I had. I cut a hole in the corner and added a bit of ribbon to keep them together. Some of the items redeemable are a free lawn mowing (I will mow the lawn...not to include edging, weed whacking or trimming...just the mow) a free truck wash (he noticed that I put "truck" and not "car". I knew he would notice and I always wash the car anyways) a get out of dinner free card (in case he really doesn't feel like musseling down the burnt green beans for supper), a free backrub and some other things. There were 12 in all, some of which I cannot post here...keeping this blog clean and all. Anyways, it was a huge hit. He loved it. Last time I made him a coupon book like this, he lost it after having redeemed only one coupon. Not my fault. I told him he better keep track of this one so he doesn't miss out on some of these opportunities. I know he wants to "win an argument" or "get out of diaper duty" or "choose the movie for date night".
I hope you all have a wonderful evening. I am off to bed. Good night.