I finally did it. I splurged on myself and finished my garden. The only problem with buying a house with absolutely NO garden to speak of whatsoever is that I must start from scratch and that can be quite costly. All that dirt, the mulch, the actual flowers. That doesn't even cover the back-breaking work it takes to dig out all the grass and get the dirt rotatilled and the flowers into the ground. Thank goodness I did that last month. But I couldn't stand the sight of my garden not even halfway full.
So, today I ventured out to Home Depot and splurged. Now before you all lose control here, please know that I used my hard earned money from my business for this. James did NOT lose a penny of his money on my garden. (I don't know if I mentioned it on my blog or not but the last time I bought flowers - last month - he banned me from buying any more because it took me over a week to get them into the ground and they almost died) So, needless to say, the flowers I bought today got put into the ground today.
Here is my before picture.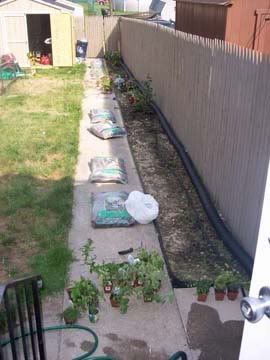 And here is the after.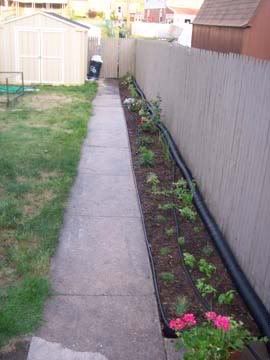 It took alot of work but the end effect was so worth it. You probably can't see a huge difference in the pictures but there is a huge difference. And just you wait until all this starts growing in. I can hardly wait. Look and see what all I planted today. I went with an eclectic sort of garden. You can't really call it a cottage garden because I don't really think there are "cottage" flowers in the garden. Its just a hodge podge of stuff all mixed together. (but seperated...if that makes any sense).
First is my herb section. This became much bigger than I had originally intended but I am glad it did. I love herbs. Here is my basil and chives.
Next is my thyme and rosemary. I can't wait for the rosemary to grow. It can get to be up to 4 feet tall. I remember having a bunch of this throughout the garden in England including a huge pot by the front door that was almost the size of a shrub. I loved using it in my kitchen. I made pork roasts with it that were simply scrumptious.
Next is my French Tarragon, catnip, peppermint and sage. I can't wait to try my hand at making my own tea with the peppermint and the catnip. Did you know you can make tea with catnip? I must look for a recipe for it and try it. That would be interesting. I wonder if it would have the same effect on me that is has on Pattycakes. (who goes completely nuts if she smells any within a ten mile radius. This should prove entertaining with it in our garden)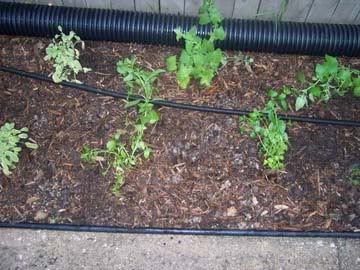 Next I planted some grasses and some asparagus ferns. I just love those. They are so...umm....funky, I guess you could say. I love adding texture to the garden and these are a beautiful color of green.
Next are my roses that you saw before. (because I planted them last month)
The roses aren't doing very well. Okay. The patio rose bush is okay since it is blooming. But look at these leaves...
Do you see what I see??? Holes. The leaves are riddled with holes. I have no clue why. I think I may have to locate a gardening forum similar to the ville (a crochet forum) so I can get some help with my garden. I have no clue what I am doing most of the time. I just see flowers I like and I plant them and somehow, the grow. I do know that we have spiders in the garden. Gross!! I hate spiders. What can I do to get rid of them? Also there are some roly polys. I wonder if they eat rose leaves? I don't know, but that would be a very good question to ask the gardening forum I find. (if I can find one...if not, I guess I will have to go find a local nursery around here)
Now let me show you the beautiful roses up close.
Isn't it gorgeous??? I simply adore roses. Now this particular rose bush puzzles me. It is a patio rose and I always thought patio roses were miniature. This one is miniature but its blooms are full size. I love the full size blooms - in fact I like them better than the teeny ones - but I just assumed they were all small. Oh well. I am not going to complain. It might change its mind and start producing smaller blooms and then where would I be?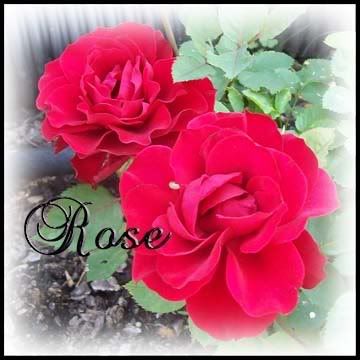 And another picture because I was having fun editing them.
Okay, onto the next portion of the garden. Here I planted a honeydew melon and a cucumber plant. I planted these just for the sheer thrill of seeing what would happen. I have never grown either one before and I am curious to see if I can do it and if they will turn out any good.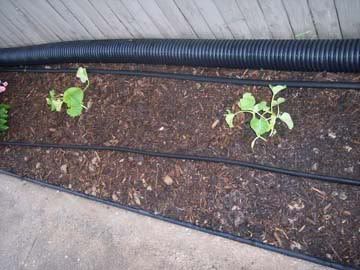 Next are my flowers that I planted last month. They sure are growing. I think I may have planted them too close together though. As you can very well see...they are NOT dead, as James claimed they were. They are thriving and growing and doing well. I am pleased.
Next I planted a bunch of tomatoes. What garden is complete without tomatoes? I just love sitting out in the garden in the evening and snacking on some juicy, ripe, sweet tomatoes. I don't think they ever make it into the house. Hmmm. This time I bought a ton of plants though so maybe it will be different this time. Opps. Almost forgot to mention the two sweet bell pepper plants. Gotta try those out too.
And last, but not least is my shade section of the garden clear at the back. I already showed you the Clematis last month but I added some hostas and coleus.
And that is the end. I hope you enjoyed seeing the fruits of my hard labour today. Boy oh boy. I am ready for a cup of tea and a crochet hook. And maybe some banana bread. I made some today.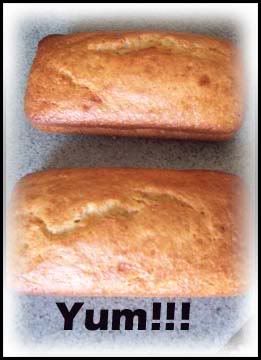 I always think its slightly weird when people post pictures of food on thier blogs although I have been known to do so a time or two myself. But have you seen anyone edit thier food photo and then post it? Probably not. I figure if I was going to post a picture of my banana bread I made today, I might as well make it look as attractive as possible, right?
And now, I must be off. My delightful tea (won't name the brand or
someone
might get jealous) is calling me. I leave you with a picture of Chloe. She was a big helper today in the garden. She picked some gorgeous leaves off my dusty milller, uprooted my coleus shortly after I planted it, de-petaled a rose and then carried tomato plants for me, setting them in the garden at precise locations. She wanted to help so badly. But the swimming pool soon beckoned to her and she answered. Have a good night everyone.