I had a little problem. HAD. Let me explain. I love to use thread and I go through a lot of it with my various projects, from doilies to dresses and everything in between. Well, the problem is...I can't waste thread. I just can't. But what, might I ask, can you do with the tail end of a ball of thread? (which I can't throw away?)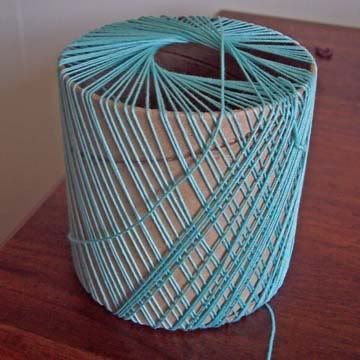 Pitiful, isn't it? Just pitiful. You would start to feel sorry for my dilemma if you saw just how many of these useless leftovers I have in my craft room. I have already made quite a few of PK's dainty little doilies. (I still need her book, "99 Little Doilies". That would help too) But I doubt there is even enough of this thread to make a mini doily.
So, what do I do? I keep the leftovers around until....TODAY! Inspiration struck. I always have ideas for new stitch techniques and I never get around to working them out in a sample and so they either sit on a bench somewhere in my brain or they leave from sheer boredom, never to be heard from again. (which leaves me stuck using the same stitch patterns over and over.) Well, today I took out the small ball of leftover thread you see above and I made up some samples with it. I played around with some different ideas that popped into my head and waaa-la! We have something.
Oh boy, Oh boy, Oh boy! I can't wait to work this into a new design. But what? I don't know yet. I've got a few weeks left before I can start on some new designs. I have to finish up the ones I am currently working on. Almost there...almost there. Anyways, I am totally stoked about my new "inspiration". I can see many more samples coming along soon as new stitch technique ideas pop into my head. (And I am not lacking in the leftover thread department either.)