I am currently reading
"The Postcard"
by Beverly Lewis. I have to admit that I am not too far into this book because I found myself weeping so hard from the first few chapters I had to put it down for a couple of days. I wanted to read some more yesterday afternoon, in fact, that was my plan...but I somehow managed to get a headache and then spent the next 5 and a half hours sleeping. Boy did that feel good! It only meant I didn't get any reading done. Oh well.
But back to this book. It is set in Lancaster, PA. (Amish country.) I have to tell you that ever since I can remember I have fantasized about being Amish. I think I read a book about an amish girl when I was in the fourth or fifth grade or somewhere around there and that is when my amish dream was born. I can't say that I think about it ALL the time or anything. It just crosses my mind every now and then. (especially when I am baking bread or scrubbing my floor on my hands and knees)
My mother always told me that I was too romantic. That life back in the 1700's or in Amish country is not really as romantic as I make it out to be. And I do make it out to be very romantic. I fantasize about churning butter and growing a huge garden. I fantasize about canning all my own food and eating it all winter. I fantasize about evenings spent with a brood of children around my feet, playing games and reading books by the light of an oil lamp. Reading this book
"The Postcard"
really has these romantic notions coming back up in my mind again. Could I? Would I want to? What would one have to do to become amish? Can you convert? Or do you have to be born amish? I don't know. But I am intriguied.
Maybe my mother is right though. Maybe I DO romanticize it up too much. I mean, what on earth would I do without my electric stove? And I would have to give up my Lullabies and Lace business. (no electricity means no computer either) And I highly doubt that my ornate dresses for Chloe would suit the attire of the plain amish. What would I do if I ran out of thread and needed more? I couldn't just pop into my horse and buggy for a quick jaunt up the street to the local yarn store. I have so many internet friends as well. How could I possibly say goodbye to them? I can't. I guess that means I can only dream about being amish. I enjoy my life as it is though. I don't think I want to change it.
So, speaking of internet friends. I recieved in the mail today the most lovely and unexpected package. A dear tester of mine sent me a little "thank you" gift. I guess you could call it a thank you gift. She was saying "thank you" for allowing her to test for me. I think it should have been reversed though. I should be the one sending
her
the thank you package for testing for me.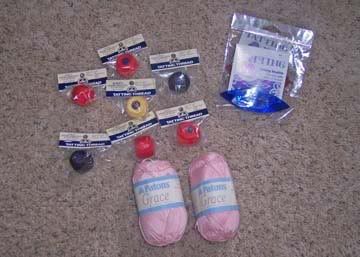 Now I have one question. How horrible is this package when I am in the midst of a stashbusting attempt? I mean, look at all those little size 80 threads!!! Come on!!!! Now I have to minus 18 points from my score and I only have 2 points for this week. I left last week with a negative as well since I had to buy some threads to finish some projects. My oh my. *shaking head* What's a girl to do?? But, I guess I can forgive her since she
did
send along two skeins of my utmost favorite yarn in the entire world. (the Paton's Grace, in case you couldn't see that) I adore this yarn. I also adore size 80 thread, even though it takes me pretty much forever to use up a little ball of it. I guess I won't be stashbusting my size 80 thread stash for a while now. Does anyone want any chunky weight yarn? I might be getting rid of a bunch this week now just to get my numbers back into the positive. I really want
my coat
by winter. (although I KNOW I cannot possibly knit that fast. Maybe next winter???)
Anyways, jokes aside...thank you sallenlouise for such a lovely package. It warmed my heart and brough a smile to my face. (and to the face of Chloe who adores playing with little things.) But the next item I have to show you really got Chloe going. (don't ask me why. She's a toddler. Who understands the ways of a toddler???)
As soon as that book came out of the package, Chloe pounced on it and giggled. She held it up for me to take the picture and then she ran around the room with it yelling "book" and giggling. (told you! typical toddler-like behaivor that has yet to be understood by reasoning adults)
Its almost time for the Holidays in July swap thingie over at the
ville
and I posted my wishlist there the other day. One of the things on my wishlist was the book you see above from
Crochet N Beads
. I had seen this absolutely gorgeous doily by Kathryn White and I just had to have it. When I went to her site, I saw that it was in a
book
and I knew that I had to have it. I wasn't really expecting it for my Holidays in July gift (nor was I expecting it so soon...I didn't realize it had started already) but lo and behold, it arrived today from a special Fairy Godmother! Thank you so much Fairy Godmother! I love this book. I really appreciate your thoughtfulness and generosity. I can't wait to start on these doilies. Each one of them is so beautiful and different; I want to make all of them!!!
I did get a doily done this weekend though. Nothing for myself though. This doily was for a friend who had always wanted a doily with her married name on it. She had seen something like this done when she was first married and so she ordered one from me when she found out I knew how to crochet.
This is actually the second filet project I have ever crocheted. The first was another name doily I made for the same lady about a month ago. She had asked for one for her sister who was getting married. I learned quite a bit about filet with these doilies. First I learned that you need two spaces for each block and not one. Opps. Had to frog the first doily for that. (and it was completed too. So it was a HUGE frog.) Second I learned that the letters need to be spaced closer together instead of far apart. Opps. Instead of frogging it again (because once again it was complete) I just started an entirely new doily. The old one is in my workbasket waiting until my anger dies down enough that I can frog the thread to use for a different project) So, three times is a charm. I got it completed and sent off. This second doily went alot smoother, I must say. But once again, I have learned something. ONE, my tension is actually getting looser as I get older and crochet more. I have been crocheting non-stop for about 8 years now. I have crocheted on and off since I was 8 years old, but ever since I got married I can't stop. Its something in my blood. TWO, I think I need to use smaller thread. Even though the above doily was only 4 letters long, it ended up being way too wide. Maybe next time I will use some size 30 thread instead of size 10. I want to make one now for Chloe so that will be the perfect opportunity to play around.
I need to get going. I have spent the past hour typing this post when I should have been crocheting. I came downstairs to get a lamp for my craft room and here I am sitting and posting to my blog instead. Silly me. I hope you all had a wonderful weekend. God bless your week ahead and may you have many reasons to smile!