"Here we go again. She's going to say it. She's going to mention something about her beloved PG Tips tea, isn't she? I mean, the title of her post has the word tea in it. What can you expect from someone who flaunts her wonderful PG Tips tea around for everyone to swoon over?"
Okay. So I know that's what you all were thinking in your heads. But no. I am not going to mention my lovely PG Tips tea (which I have just had a delightful cup of, by the way) I would not do that to you. I am not cruel. What I am going to do is show you a little gadget I have decided I would like to own.
A
teastick
!
Yes. I took one look at this thing and knew immediately that I would like one of them. But check out the price!!! Egads!!! Maybe Santa will bring me one in my stocking for Christmas. I can beg and beg and beg some more can't I?
I just really wanted to show this to you because I think its clever. That is the coolest little tea infuser I have ever seen. I will tell you the moment I receive mine from Santa.
In other news, we had our swim today. It was lovely. Simply perfect. The weather was wretchedly hot and the pool was refreshingly cold. Not cool. Not frigid cold. Refreshingly cold. It was wonderful. I even got some photos of little Chloe. (as I promised I would. I actually almost forgot so you are very lucky I have some)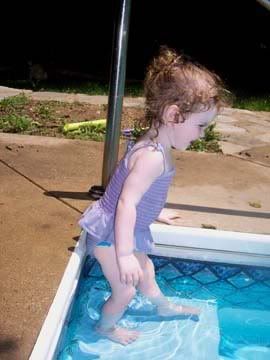 Chloe instantly loved the water. We stepped right in toghther...no fussing...no screaming...no fear. I guess alot of kids are afraid of the pool? Chloe isn't. She loves water...bath water, sink water, cat bowl water. ALL water. Anyways, I put her on the steps so she could play by herself without me holding her the whole time. She loved it. I think next time I will take her lifejacket though so she can learn to swim without me holding her the whole time.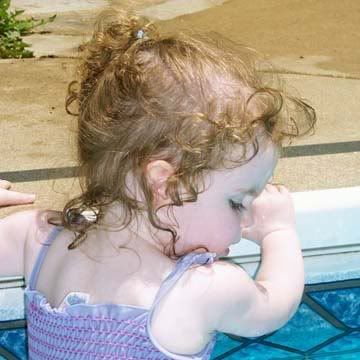 And another one just because she's one cute kid.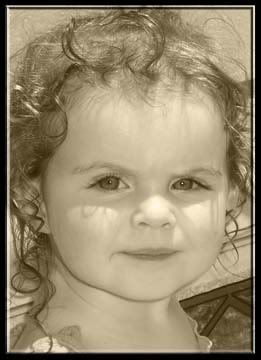 Guess what! I haven't finished my extensive to do list and I went and added another major project to the list yesterday. Here's the scoop. I really want a dream sewing/craft room. I want it to be a place where I can go for inspiration and to relax with a nice cup of PG Tips tea. (okay. honestly, I didn't need to mention that part, did I Ladysnow??? So sorry) Anyways, I am in need of something to sit on in this room. I found just the something yesterday at the Salvation Army. It was perfect. AND it was on sale for half off. Can you get much better than that? I don't think so. I got this lovely chair for $12.50.
Actually, I find it quite hideous. Revolting. I can't even bring myself to sit in it. BUT...I see the potential. I want to recover it and have the most wonderful little crocheting cuddly chair ever. I love my recliner but I find it hard to crochet in. The arms are too big and cuddly. It is perfect for typing on the computer (like I am doing now) but for crocheting, it just doesn't cut it. This chair will be perfect. But now for my dilemma which I will need as much help with as possible.
What color should I cover it in? Of course, I will have to be able to FIND the colors you all choose for me from Joann's but I want to go in with a general idea. So, here are your choices. I will be taking a vote in my comments section to this post. Please vote for any of the following choices. (bear in mind that pink is my favorite color)
1. Solid Pink (a lighter shade...I am thinking something soft here like a velvety type fabric that would be oh so nice to cuddle up in)
2. Pink and brown. (dark brown...I am thinking maybe stripes of some sort. With some pink floral throw pillows because this chair is just crying out for some pillows)
3. Pink Floral (of some sort or another...very shabby chic type)
4. Blue floral (again...think shabby chic)
5. Pink and Maroon. (this is my least favorite option but I had to come up with something for you all to choose from.)
So, there you have it. The walls in my sewing room are pink. I like pink. The curtain is black toile. I don't neccessarily want toile fabric but maybe something that would go with it?? Not sure here. Also, for those of you who are experienced in this recovering of chairs thing, I am going to be making a "makeshift" cover that quite possibly will involve a little bit of sewing but I am NOT re-doing the entire chair. Just making a cover of sorts. So, with that being said...what type of fabric do you think would be best for this kind of project? I have never dreamed of attempting this type of thing before.
Before I go, I want to show you all a doily I made a few weeks ago for my secret pal. I am sending this in her reveal package so I don't have to worry about whether or not she reads my blog. I just know that if I don't show it to you now I will forget. I am sure you already think I don't crochet any more because I haven't had anything substantial to show you all in quite some time. Have no fear though. Have no fear. I have been busy designing and getting some patterns through testing and give me about 3 weeks and I should have a ton of projects to show you. Some are things I even crocheted back in December!!! (wow...that was half a year ago)
Without further ado, here is a doily. (I forget the name)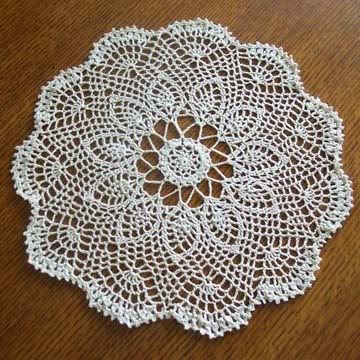 And don't you all miss my fun shots??? I know you do. So just for you here is a fun shot.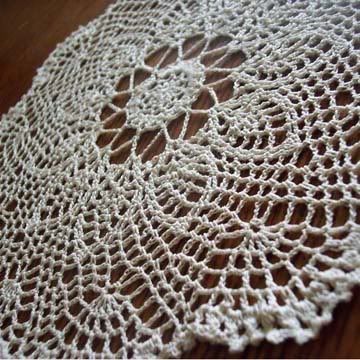 That doily is crocheted with some old Clarks thread that someone was kind enough to send me last summer as part of the Holidays in July over on the
ville
. It is size 30. I loved it. I think I need to make this doily for myself too. (but then I say that for
every
doily I make for someone else.)
I gotta run now. Date night is starting soon and I have the feeling we might have dinner out!! (and I didn't even plan it.)