Tackling the Dreaded Basement
Our basement was really bad. REALLY bad. It used to house our lawnmower, weed whacker, bikes and anything "shed" related. I couldn't stand going down there. I only went into the room twice a week to do laundry and other than that, the door remained shut so I wouldn't have to look at it.
After this weekend (the one when we painted the shed and transferred most of the "shed" stuff out to the shed) the basement looked a little bit better. Sort of like a tornado came through. Perfect for a tackle.
Here is a before picture of the corner of the basement.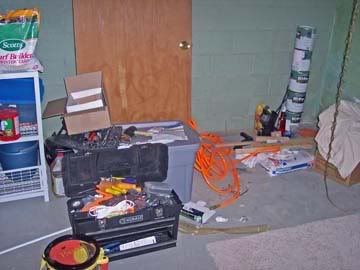 Junk, junk and more junk. This place is just full of junk. I am not even sure but that some of this stuff was left by the previous owners because I simply don't remember owning junk like this.
Here is the before of our shelving area.
Horrible, I tell you. As I was sweeping, I noticed tons of dead spiders everywhere. GROSS! (at least they were dead though...that bug killer is good for something)
And the before picture of the dryer area.
You can't really tell from this picture but the top of that dryer was completely covered in junk. JUNK!!!! Loose screws, nails, driver bits...you name it...it was on there. That took me a while just to clean off the top of the dryer.
But, after an hour worth of work, we have clean surfaces.
The after of the basement corner.
And the after of the shelving area.
And then the after of the dryer.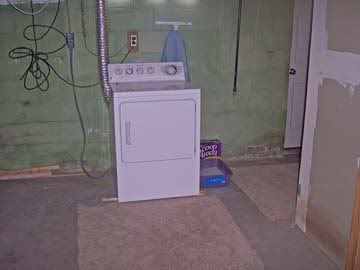 I also cleaned the bathroom out completely but I forgot to take any pictures so it does no good to show you the afters. You didn't see the befores. I am now completely and thoroughly filthy and just as soon as I get this PB&J faced kid cleaned up and off to naptime, I will be taking a delightful shower. (which will feel sooooo good...I'm telling you.)
Have a wonderful day everyone!