I am issuing this warning first before I get into this post.
BEWARE!
There are
many
pictures in this post so consider yourself forewarned. Maybe
(just maybe)
this large amount of pictures might mean less amount of rambling. We will have to see. Okay. Now on to the post.
You have got to see this little angel and what she got herself into on Sunday morning while I was dressing for church. I walked into the room and found her like this.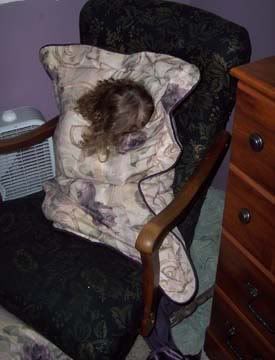 We even got video of this because she was acting so silly, but alas, I am still not quite sure how to get it onto this blog. (actually, the problem lies in getting it
off
the video camera)
And speaking of angels, I made one.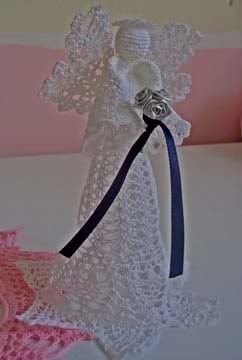 Its kinda funny about this angel. I got out my size 20 ball of used thread to make her and as I was crocheting, I kept thinking to myself that the thread was awfully small. I plodded on, however, despite the circumstances. Well, after I was about halfway done with her (and now noticing how small she was becoming) I decided to look at the wrapper for the thread. Lo and behold it was size 30.
Not 20!!!
She turned out cute though. Here is a close-up of her wings and head.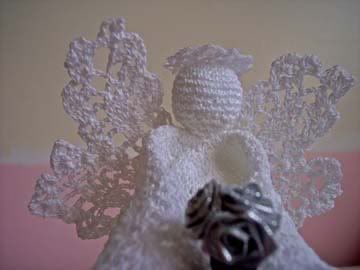 I got the pattern from
Crochet Memories
, a wonderful site run by a lovely lady. This particular angel is called Royal Pineapple Seraphim.
This weekend I made up more jam. YUMMY! We even broke into a jar and boy...it was the most delicious jam I have ever tasted. I don't think I can go back to store bought jam. There is something about eating the "fruits" of your labor that make it taste so much more heavenly. YUM!!! Someday I would love to have a farm with a huge garden so I can grow all my own food. Ahhhhh...what a dream.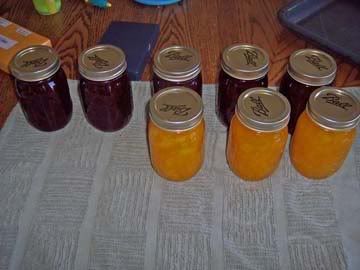 The red jam is plum jam (which was fun to make. I even have a blister on my finger as proof of that fun.) The yellow jam is mango jam and I am a little nervous to try it. I sure hope it turned out good. Maybe we will break into that one next. I'll let you know how that goes.
So, with my website updated (for the most part...still got some little "tweaks" to do) and all my patterns into testing, I decided to take a little break from things. As you all know I have been making cards like crazy lately. Sunday I made even more. I got some new stamps from Miss A (that I bought) and so I played around for a couple of hours. My friends birthday was yesterday so I made her a card first.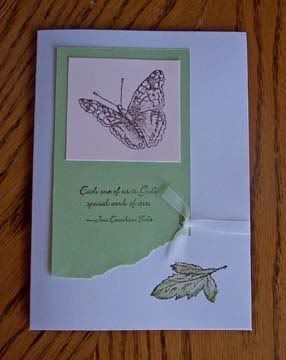 I have so much scrap paper left over from scrapbooking but I don't even come close to using it up making these cards. I can see that I will be making TONS of cards in the next few weeks just to bust my scrap stash. (because I am not getting very far on the yarn stashbusting lately)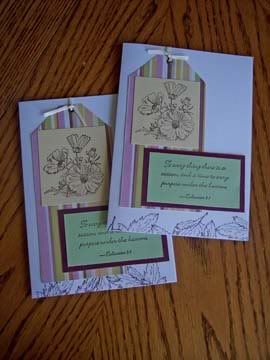 This next card was alot of fun to make. I whipped out all the creativity I had withen me and this is what came out. I used pop-dots to get the butterflies to stick up from the card.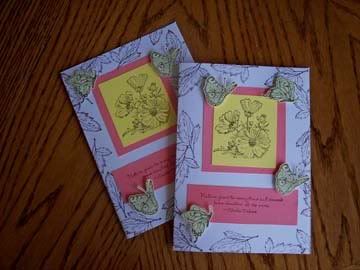 While making this card I came to two conclusions. ONE. I really need to get some different colored ink pads. I only have four and they don't work for everything so I need more. (like sage green, light purple, pink and such.) TWO. I need to get some stamps that say things like "Happy Birthday" or "Get Well Soon" or something along those lines. Stamping Up has a couple of sets I am looking at.
This next card was fun to make but took me a long time. I even did something slightly different on each card. (I made two of each card except the birthday card...only made one of those)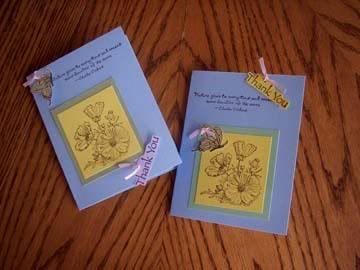 I used my nifty little crop-a-dile and attached the butterflies and thank you with ribbon. I think the ribbon adds such a nice touch to the cards. A little dimension and texture.
That is all I have for today. I hope to make more cards sometime this week but you all are probably getting so bored looking at them I might not show them all to you. I did want to show you all something I recieved in the mail on Saturday. I was so happy to find a nice little package addressed to me. Inside were four Janette Oak books. A lovely little fairy godmother from the ville sent me these books as a Holidays in July gift.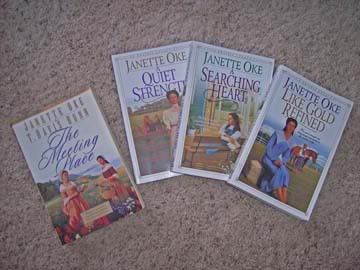 I can't wait to read these. I haven't read any of them before so this will be fun. Thank you very much fairy godmomther. I really appreciate your thoughtfulness. Speaking of books, I just finished reading another book last night. "
Out To Canaan
" by Jan Karon. Ahhh...what a delightful book. If you haven't started reading the Mitford Series then you are missing out on some the nicest books you ever could read. (not quite the same as Anne of Green Gables but nice just the same) I love these books and have already started the next one. "
A New Song
".
Well, have a wonderful evening everyone. Tune in next time to hear about some sort of WIP I have pulled out of the workbasket. Its gonna be gorgeous!!! And if anyone knows this blog like the back of you hand, you can read my sidebar and figure out just what WIP I pulled out...because a little something has been updated. But more on that later. I am off to eat Greek food tonight. (my own cooking, of course)