I just finished another book. One that I have been reading for my devotions for the past month or so.
"Beautiful in God's Eyes"
by Elizabeth George. I have to tell you...the way this woman writes is right up my alley. This is the third book of hers that I have read and each and every time she challanges me and my heart changes. (for the better) Now I have always loved Proverbs 31:10-the end. I might even venture to say that it is my favorite chapter in the whole Bible. It certainly is my "life verse". I strive to be more and more like the noble woman of character depicted in this chapter. I have far to go but my hope is that each and every day brings me one step closer to my goal.
Lately I have been feeling sort of...well...I guess you could call it "frumpy"? Not quite frumpy...but just like I don't take care of myself as well as I ought to. I don't make myself as beautiful as I could for my husband. I wear shorts and a t-shirt most days (although alot of my t-shirts are pink...which happens to be a fairly feminine color) and I just feel like I could be more ladylike in my dress. I know there are many ladies who wear skirts everyday and I thought to myself, "why not?" I can certainly wear a skirt most days, right?
So with the decision having been made I am now in the process of transition. I don't have enough "every day" type skirts and with the price of clothes (for the style I like) I can't afford to go out and purchase brand new skirts. Yesterday I bought some fabric yesterday to make some skirts. I made one last night and I am quite pleased with it.
I am actually wearing this skirt as I type this post. It is much prettier in real life than the picture says it is. I think I am going to have to find some patterns to make undergarments though. I need a slip for this skirt and the slips I have are not long enough for my taste. They only come to my knees. I think it would be neat to sew my own slips (as well as other undergarments) and add my own lace and trimmings. I could even crochet some. But that is a dream that might or might not take place.
Back to the skirt. I went all out when selecting my fabric yesterday. I bought enough fabric to make 4 skirts (more to come later as I have plans to spend the weekend sewing away to my heart's content - James will be gone for the weekend) and I was a little "choosy" with them. I took a certain amount of money with me and I knew I couldn't overspend so I was careful in my selections. I wanted to make some heavier skirts for my fall/winter wardrobe but I didn't want them to be too heavy so they would incumber my movements. Remember that these are every day skirts meaning I need to be able to clean my house, change diapers, dance with Chloe and such in them. I picked out the patterns first (because they were on sale) and then got the fabric. I choose two denim materials for the hard work skirts (like days that I will clean the house or garden or something) and then I choose two prettier fabrics for days when I go visiting with friends or run errands. (the latter is what the skirt I made last night is for). I used a suede-like fabric that I believe is called "suede-cloth" but don't quote me on that. (my memory of these sorts of details doesn't work quite as well as I would like it to) I just love this fabric. It is soft and feminine but it will hold up well. I love the stitching detail on it too.
I started explaining to my husband just how much I loved this skirt and why. (from the financial standpoint because thats all a man wants to hear, right? How much did this cost him???") I figure if I were to find a skirt like this (that I LOVE) in a place like JC Penney's I would pay...oh...so around $50. Right? Because, as many of you already know, the clothes that we absolutely LOVE never find thier way to the sales racks. And if they do they are either small enough to fit a toothpick or large enough to fit a beached whale. If I went into Ann Taylor (which I have done a time or two because I love the clothes in there and I love drooling over them as well) I can estimate that this skirt would probably cost anywhere from $200 to $300. (I was flabbergasted at the prices when I first walked into an Ann Talor store. I actually choked, sputtered and immediately walked back out. It was only later that I learned how to walk in and drool without looking at the price tags.)
So, with those prices in mind, I calculated the cost for my "designer" skirt. The suede-like fabric was $9.99 a yard and I got 2 yards of it. That means $20 for the fabric. But it was on sale for 30% off so I got this fabric for $14. Not bad. Not bad at all. Then the price of the pattern was $1.99 so that makes my total cost for this skirt $16. You can't even find those kind of prices on the sale racks. It is a bargain skirt that I simply ADORE!
I also made a nightgown for Chloe yesterday.
I bought the supplies for this nightgown (as well as fabric for 6 more) a couple of months ago. I find it amusing that the pattern companies write on thier pajama patterns "not intended for sleepwear". Ironic, isn't it? What else would you do in pajamas???
I had intended for this nightgown (and the rest that I will be making) to be Chloe's winter pajamas but after I started sewing it yesterday I realized that the flannel I was using was quite thin and I might want something thicker once it gets cooler. I let her wear it to bed last night. Her bed is next to the air vent and she gets quite cold so this nightgown is perfect.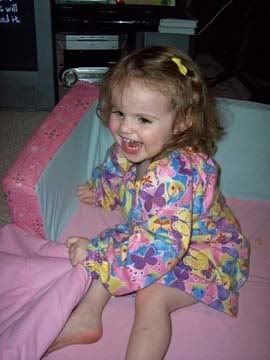 Chloe was so tickled pink with her new pajamas. She went and climbed into her couch/bed thing we bought her for Christmas and called the pajamas "Pee....why" (which means Pretty Butterfly for those of you who don't speak "toddler")
Well, now I must be off. Its time to brush teeth and for me to cut out some skirts and dresses. Yay! Hopefully I will have more sewing projects to show you later today!!