And I am too! A very good girl. I posted this morning about my desire to forget about duties and chores and routines and to just spend the day scrapbooking and doing whatever I felt like doing. Well, I DIDN'T! I actually spent the entire day on my feet working like a mule. Really. I cleaned the house (like I am supposed to every Monday...including scrubbing the tub and toilets and dusting the furniture) and I planted some flowers I bought yesterday. I transplanted some roses, because...check this out...
Yes. It is quite obvoious that I have no clue what I am doing here whatsoever. My brilliant idea for having an all-inclusive garden in a 60' by 2' space sort of backfired on me. The tomatoes and herbs are doing well. But I guess these cucumbers and melons want alot more space. They completely choked out the roses so I am in the midst of an emergency transplanting session. I have one rose left that I am unsure of where to put. I am debating whether to put her on the other side of the yard? or by the shed (kind of welcoming people to the shed entrance...kind of romantic. I could pretend its a little cottage...especially since we painted it green with white trim.) Anyways. Back to the rose. I could also put it in a pot. A giant pot. That might be neat. So this will give the cukes a lot more room to spread out. They are currently climbing the fence which I have a friend who suggested just leaving it to see what would happen. Well, I think if it turns out to be the cantaloupe that is climbing the fence and not the cucumbers, we will have some major issues with weight.
The basil really took off too.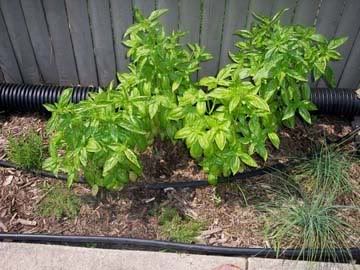 Luckily I had enough presence of mind to plant them the appropriate distance apart. They still took off like wildfire and I am now scouring the internet for recipes that call for basil. My girlfriend I scrapbooked with this past weekend showed me some basil leaves she had dried so I thought I would try that today as well. (it smelled so heavenly dried). So, not knowing what I was doing, I picked some leaves I thought might do well and I placed them on a cookie sheet with some paper towels.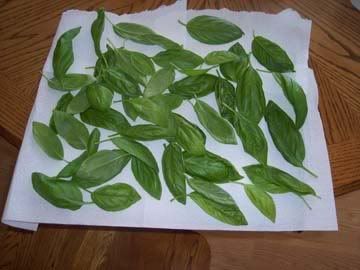 Yummy. I can't wait to eat this with something. I also found a
pesto recipe
that I will be trying soon...very soon. Just gotta pick up some pine nuts. Wanna know something else I did today? I baked 9 loaves of bread. Yup! That's right. NINE LOAVES OF BREAD. What on earth am I going to do with 9 loaves of bread, you ask? Well, James goes with some people from the church on Monday nights to feed the homeless downtown. I thought it might be nice for them to have some homemade bread. This isn't your sandwhich and lunchmeat type bread though. I made the
Amish Friendship bread
which is more of a tea bread. But, they seem to like it. I started this thing a couple of weeks ago and let me tell you, if you want to have bread coming out your ears then this is the recipe for you. Your supposed to give away "starter babies" to your friends for them to make thier own bread with. I didn't do that. I kept it. Well, last time I made it, I didn't make ALL of it and so I had extra starter this time around. 9 loaves didn't even use all the starter I had. BUT (and that's a BIG but) I used 18 eggs, 12 cups of flour and loads of other ingredients to make these 9 loaves so I figured I was done for the day.
What does every good girl deserve after a day of hard work? (because I was literally on my feet all day!!!!) I asked James to run to the store for me to pick up some flour since I ran out and I needed more to finish my loaves. Well, he returned a bit later and brought the bags into the house. He went back out for more and as he was coming in the door again he said, "I got you some white flour for your bread and some red flour for your heart."
Isn't that the sweetest??? What a dear husband I have to buy my two dozen roses while out shopping for flour and sugar and canning lids. I am truly blessed to be the helpmeet to such a wonderful man. Truly truly blessed.
Have a great evening everyone. I am off to bed.