It didn't start out so small. Honestly. I didn't even mean for things to get like this. It began in such a state of largeness that I had no idea it would become so small. But then you all know me by now... (I like the small/tedious things in life. Weird, I know.) If ya'll remember, I have been sewing a few skirts and such lately. I crocheted a couple more yesterday.
This is the same pattern as the skirt I crocheted Wednesday. This fabric is a corduroy and I absolutely love it. It is a heavier skirt that will be perfect this fall/winter. While sewing the two "winter" skirts, I realized that I may have been jumping the gun a bit. It is summer-time and I don't really have any summer skirts I can wear for everyday use. So...I made one in a light cotton fabric that I have had for a while.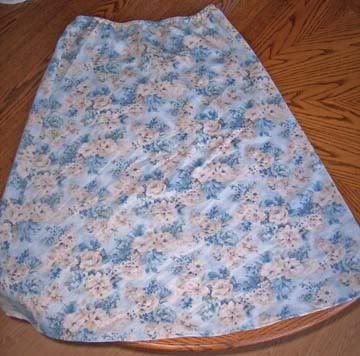 I used a different pattern for this skirt. The pattern looked harder than the first skirt I did, but it was actually easier. WAY easier. I have a couple more to make this weekend from some fabric I have on hand. I have enough of this blue rose fabric left over that I can probably make a dress for Chloe AND her dolly. Speaking of dolly...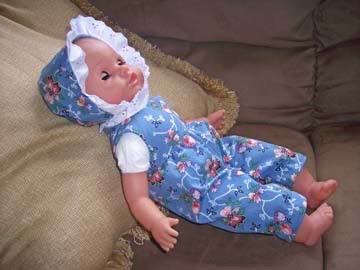 ...I went ahead and made a little romper for her. I thought it would be a great idea to make some doll clothes from my scraps so I went out last night and bought a couple of patterns. (because patterns are on sale this week at JoAnn's) I couldn't wait so this morning I went through my fabric tote and found this fabric that I salvaged from an old out-dated shirt. I got the shirt for free from the Airman's Attic (for air force members...like a thrift store but free) a few years ago to make yo-yo's with but I never got around to it. It makes a cute baby doll romper though, doesn't it?
So, I made a couple more.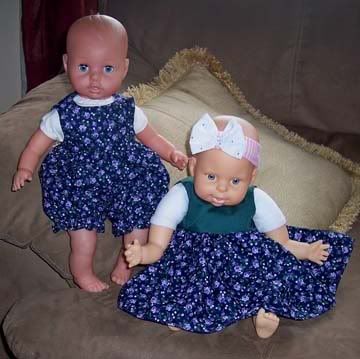 I played with the pattern a bit on these. I used different bottoms with the same bodice...a skirt and some shorter pants. Pretty cute. I gave the dolls to Chloe to play with and she enjoyed the new outfits for all of the 15 seconds it took her to get them OFF the baby. Then she proceeded to carry her baby dolls around naked for the next hour. (she even tried taking off her own dress a couple of times but I quickly made her put it back on.)
As if those baby doll outfits weren't small enought for a beginner seamstress I got out the Barbie doll patterns and started sewing some clothes for Chloe's Barbies. I gotta tell you...if you want a challenge you should definately try sewing Barbie clothes. I figure if I can get it right in such miniscule then going back to Chloe-size or my size ought to be a breeze. We shall see...because I aim to do just that tomorrow. I have two dresses for Chloe already cut out. I just got sidetracked for a day with the doll clothes.
So here are some Barbie clothes I made.
The dress in that picture was actually quite fun. Challenging but fun! So fun, in fact, that I made another one.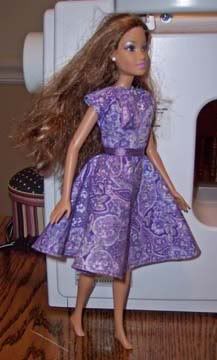 For this one I made a matching jacket to go with it.
I am really enjoying this sewing thing. It is almost as fun as crocheting. Right now I would have to say that it is more fun than crocheting...for two reasons. ONE. Its a novelty. It is new to me and anything new must be conquered. Once the novelty of it wears off I will probably get bored and go back to crocheting. And TWO. Crocheting has become work. What with a business to run now and all...crocheting is work. Oh...don't get me wrong. I still love it. I adore it. My fingers ache to crochet. But for some reason I feel like sewing can be a hobby whereas crocheting is something I work at. Does that make sense?
Well, it is getting very late and I really must be getting to bed now. I sure hope I am able to sleep though. I can hear some sort of car racing going on in the neighbor's house next door. They must be watching a Nascar movie or something because all I hear is car engines. Vroooooom Vroom! Kind of annoying at 12:30 at night, but hey...that's life in the city, right? Someday I will have my farm. (maybe)
Good night ya'll. Talk at you again soon!