Just popping on real quick to show you all some new cards I made today. Yes. That's right. I didn't do anything aside from make cards and play with Chloe today. It was a very much needed break for me...although I think I should have gone to bed a couple of hours ago instead of staying up to watch a movie. (because now I have a silly song stuck in my head and it will most likely rattle around in there for another hour or two before I will be able to settle down into sleep)
Anyways, without further ado...here are the cards I made today.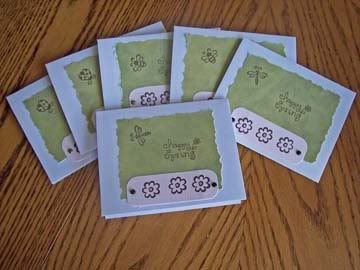 Just some "Happy Spring" cards that can be used to send a cheery note. I made these first this morning to get my creativity flowing. The next set of cards I made I used a stamp I bought for a dollar at AC Moore during the Christmas shopping season. After I bought it I figured I would probably never use it but then the inspiration hit this morning and wa-la... (the card is missing something though. I am thinking a giant snowflake to one side of the ribbon)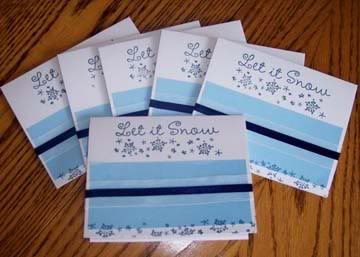 After that little bit of inspiration I made a run to a wonderful scrapbooking paper supply store I have seen in a long long long time. Boy...it was so hard to keep it under $100. So very very hard... I found this new stamp in a style that I have been dreaming about trying. The stamp itself was 50% off so I talked myself into buying it. It is one of those stamps that you use for a background. The thing is huge. Check out the cards I made with it.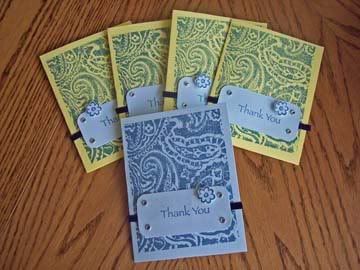 I have to tell you...this stamp is not all its cracked up to be. (not that I have heard any "cracking up" regarding it or anything) It was extremely difficult for me to get the thing centered on the card. In fact, if you look closely (please don't!) at the cards you will see that some of them are entirely crooked. ENTIRELY! BUT...the good news is...I bought some little eyelets at this wonderful scrapbooking supply store to tide me over until my order from Miss A comes in. I played with my new little gadgety-tool that sets them into the paper so nicely. Ohhhh...this was so much fun. I want to play with it some more. Just gotta wait for the inspiration to hit for more cards. The next couple of cards I made didn't call for eyelets.
This is my favorite that I made today. It is sooooo elegant. I will be giving this to my parents for the wedding anniversay next month. I ran out of cards after this one though so I only got one made. Then I had to resort to using card stock to make the rest of the cards. (novel idea. Sometimes my brilliancy amazes even myself) I even added a special little touch to the inside of this card.
I used the same stamps but changed the layout and design a tad bit on the next cards. I like it better with the pink card stock but I like the first design better. Still, these aren't half bad. I tried a new technique I learned from Miss A called "masking". I enjoy this. You take a piece of paper and place it over the part of the card you DON'T want to stamp on and then you stamp on the area. When you pull the paper away only the portion where the paper wasn't covering will be stamped. This is how you can get a partial image on a card. I tried it with the leaves of the rose stamp. Its the same stamp...just masked. So it looks like its coming out from underneath the box but its not really. Pretty cool, eh?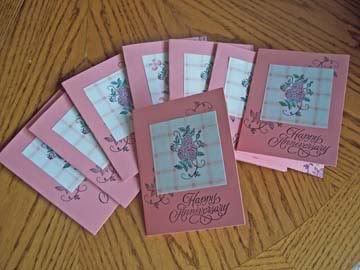 I find myself wanting to make more and more and more cards. But alas...life must go on. I have no clue what we are doing tomorrow but I can pretty much guarantee that I will NOT be making cards. I got away with it for one day so I dare not hope for another. We might go to a park tomorrow with a beach we can go swimming on. I sure hope so. Or else I would like to venture up to Gettysburg. We shall see. Have a wonderful day everyone. (or night...or whatever. I am too tired to care at this point) Good night ya'll.