Isn't it nice to be able to get a new toy for yourself every now and again? Rarely do I spend alot of money all in one place on one thing for myself. I always say I can't afford that...but then I will spend the same amount of money on a bunch of little things that add up to the large amount anyways. So, I asked myself, "Why not? Why not splurge and buy a little something for myself?" And I did. I had a 40% coupon for AC Moore and I went and bought myself a nifty little gadget yesterday.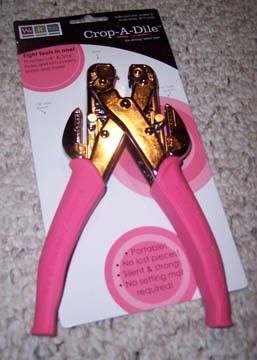 Many of you probably have no clue what this gadget does. Some of you might, but I am going to assume that most of you are looking intently at the picture trying to guess its purpose. Well, I will tell you. It is called a Cropadile. Yup. Rhymes with crocodile. (clever, eh?) This little sucker costs a pretty penny but with a 40% off coupon, I couldn't resist. I just had to have it. What does this thing do??? Funny you should ask.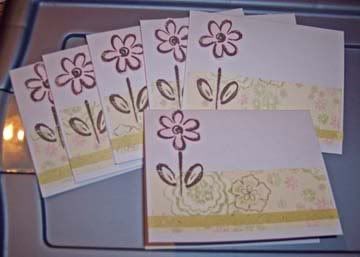 See that card there??? I made that tonight while I was playing with my new little toy. (actually, there are
six
cards there but more on that later) Do you notice the little flower on the card? That flower is actually attached to the card with a miniature brad. The brad was inserted into a teeny tiny hole punched out by that handy-dandy cropadile. Now that is not all this cropadile can do...oh no...that is not all. But alas I have not the rest of the embellishments neccessary to put this to good use. Once I get my hands on some though, I will be able to set eyelets into my cards and scrapbook pages along with other cool things I have yet to discover. A new toy is always fun.
So, I ordered some pretty eyelets from Miss A (the pastor's wife) tonight at the stamping party and must anxiously await their arrival in a couple of weeks. At the party tonight, Miss A showed us how to make a few cards. I actually liked the cards we made this time although I probably would have chosen different colors. They are so cute though.
Too cute. I took the idea from one of the cards and came up with something of my own with some scrap paper I have left over from scrapbooking. I have so much paper scraps that its about time I start making cards with them.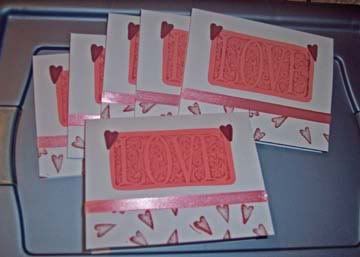 One thing I learned to do tonight was to glue ribbon onto the card. This is a very clever little trick that uses a glue stick, a card and a length of ribbon. Little did I know until tonight that you can use any kind of ribbon. Ha!! What an ingenious idea!! Being new to card-making I just naturally assumed you had to use the "special" (meaning...expensive) ribbon that you see next to the rubber stamps in the craft store. Nope! I can use all that ribbon I buy for 25 cents a spool on sale at JoAnns. Woooo Hoooo! Jackpot. I have a huge box of ribbon. (because I love ribbon, of course)
Anyways, to explain my ealier comment about the 6 cards. I am making cards to give as Christmas presents to the family and so I need 6 of each card. Each person will get one of each kind I make in the next few months. I hope they like it because I am really enjoying making them. This is going to be fun. I guess this is my new craft this year. I thought I was going to learn to make paper and possibly learn calligraphy but that isn't happening yet and I highly doubt it will now that the year is halfway over. But, with the introduction to this rubber stamping thing with Miss A, boy oh boy...that's all I gotta say. It suits me. It suits me to a "T". Okay. Its time for me to get to bed. Have a wonderful evening everyone!