My secret pal finally got her package today and I am so glad because now I can show you all what I have been working on the past two months. (well, not everything since some of what I have been working on is designs for testing and those I can't show you) But I can show you some doilies!!! When I learned that my secret pal would like to have some doilies, I thought "what better partner to make them for her than I?" Because I am thoroughly addicted to doilies and I can't seem to stop myself from crocheting them.
Without further ado, I give you DOILIES!!!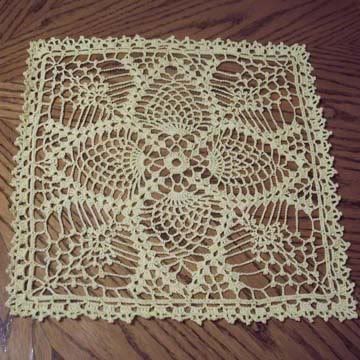 This doily is called Four-Square Pineapple and can be found in the Leisure Arts Little Book called Pineapple Doilies. She was made with Aunt Lydia's size 10 thread. It was my first attempt at a square doily and I must say that after blocking a trillion round doilies, it proved a little challenging to block a square one. (Its still a little lopsided I do believe.)
This doily is called Sunny Morning and is from the SouthMaid book called Special Doilies for Special Times. I used Aunt Lydia's size 1o thread for this doily. This pattern book is special to me because it is the very first doily book I ever bought when I was first married. My very first doily I ever made came out of this book and I don't think I have made a doily from it again until now. So, I made two from this book...
This is the second doily I made for my secret pal from the same book. She is called Woodland Lace and is on the cover of the book. I used some SouthMaid size 10 thread for this doily and I have to say that once this thread is used from my stash I have no desire to add any more to it. It is one of the worst threads I have ever used. (there has been worse, but I don't recall the brand) I love this dolies name...Woodland Lace. It is so fitting. And anything with the word "lace" attached has got to be beautiful, right??? (I love the word lace...its one of my favorites)
Ahhh...you knew it wouldn't be long before one of these popped up, right? I just HAD to make a Patricia Kristofferson doily for my secret pal. What doily collection is complete without a PK doily? (not a single one) This doily is called Timeless and is made with Aunt Lydia's size 10 thread. This doily was fun to make but I was sort of tired while I was crocheting it and had to frog a couple of rows a few times...one row I ended up frogging 3 times because I just wasn't reading the instructions. I was pretty tired. I ended up going to bed and then finishing it in the morning. Now you all know what comes next, don't you? Its a PK doily and what shows of a PK doily better than nothing else???
That's right. A fun shot!!!! (my regular shots probably wouldn't have done too bad at showing off the doilies had I not had two cups of coffee just minutes before snapping the pictures. I can see now that my hands must have been shaking pretty bad to get such blurry photos.)
And last but definately NOT least, we have Delightful. This doily was truly delightful to crochet and I saved her for last because she is the BEST of the bunch. I crocheted her with some size 50 thread that was gifted to me last summer. She turned out so lacy and dainty, I just love her. This doily was extrememly hard to part with. But she was made with my secret pal in mind so I resisted the temptation to keep her all to myself and I sent her away to bring a smile of joy to my secret pal.
And just who is my secret pal? She is the person who I have become quite good friends with over the past 2 months. We have so much in common and are sisters in Christ to boot. She is none other than
Lea (minwifeof4boys).
I had so much pleasure in getting to know her and I hope she had just as much pleasure getting to know me.
Now it would seem that after crocheting all those doilies, I would be plumb sick of them. But I'm not. I suddenly have an urge to go crochet some for myself (gosh, its been a long time since I have made myself a doily) but alas, I have work to do and doilies for myself must wait. Ohhhh....my fingers are itching for that thread though...