No. I didn't scrapbook with jam, nor did I scrapbook any pictures of jam either. (at least not yet...that will be coming later. MUCH later!) I decided that a good thing to do when you have too much to do is simply find something to distract yourself. Then you can get lost in a new activity and not worry about everything on your mile long to-do list. An ingenious idea, although still in "tial mode". There are a few kinks to work out. (like what to do the next day when the to do list is longer and you didn't do anything about it the day before...that causes alot of guilt, so now I have to figure out what to do about that)
Anyways, with all that I have to do, I thought it might be fun to make some jam. So, Friday morning I headed over to the local fruit/veggie stand and picked up some strawberries.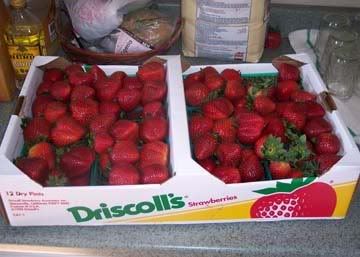 Now that is
alot
of strawberries. I made the mistake last time of not getting enough so this time I bought
more
than enough. (ya think??) But never fear. With a toddler addicted to strawberries like I am addicted to sugar we didn't have anything to worry about. She ate approximately one and a half pints of strawberries that day. (its amazing she didn't get sick)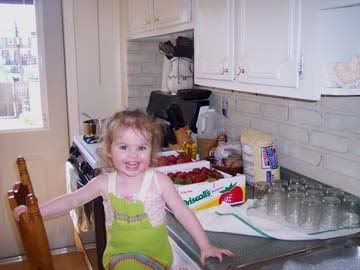 I figure there is only one time a year when we will be making jam and so why not let her indulge herself. It will give her such pleasant memories of "helping" in the kitchen and I want that so much for her. (sort of like my mother letting us lick the beaters for the electric mixer whenever she made cookies or icing or something. Sis got one beater and I got the other and sometimes we shared the bowl or else mama got that one.) I was suprised that it actually worked though. I actually made JAM! My very own jam and my first try too! Every single jar sealed and set and did everything else it was supposed to do. I think this batch will be used as gifts for Christmas and such. I want to make some pint jars of jam for ourselves. I will working on that this evening after I pick up more lids and pectin. I found some jars at Elijah's barrel at church yesterday so YAY!! Free Jars!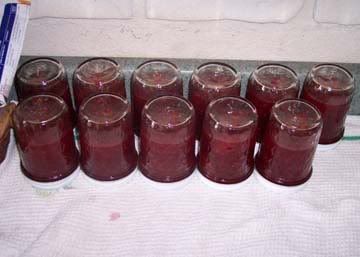 Instead of working on all that I had to do Friday on Saturday I went scrapbooking. Oh. But firstm before I get into that. You all are probably wondering how my little adventure went Saturday morning. Yout might recall my asking for some prayer last week for my giving the devotion at the Ladies Prayer Breakfast on Sat. Well, let me give you a little background to this. I am NOT a public speaker. I like to write. I do NOT like public speaking. I am extrememly self-conscious and fairly shy...especially around new people and ESPECIALLY in large groups. I tend to just listen to everyone else talk. So a couple of months ago, Miss T asked me to give the devotion for the prayer breakfast and I politely (as politely as I could without sounding harsh) told her that I don't speak well in public. I told her it wasn't my cup of tea. I even told her that I would be willing to write her a devotion for her to read, but I just didn't feel comfortable speaking in front of a bunch of women I don't know. She tried to ease my feelings by letting me know since it was summer that very few people would likely show up and she asked me to pray about it. Well, after praying about it, I felt that God was telling me to do it just this once because maybe, just maybe I could grow from it.
Well, I prepared a little devotion and I was petrified. I went to the restaurant and sat down and watched as lady by lady entered in the room. So the other two prayer breakfasts they had only 5-6 people had shown up and didn't Miss T tell me that there would probably be less than that? Well, we got up to 8 and then 9 and then 10 and my heart was racing...literally racing. I started shaking already. We had a total of 14 ladies show up, most of them I have never meet before. I WAS SACRED STIFF! Miss T had told me I could read my devotion so when the time came I placed my piece of paper on the table in front of me and I read the entire thing without looking up even once. I knew if I looked up and saw all those faces staring at me I would get lost and not be able to recover eloquently. Needless to say, it sounded like I was about ready to cry the entire time I read the devotion. My voice was shaking worse than I have ever heard it shake. Thank goodness I wasn't holding the paper in my hands or I would have dropped it. My shoe almost fell off from my shaking so bad. I looked a complete fool. But I did it for the glory of God and I got through it and I hope I am never asked again to give a devotion like that. I don't think I can do it.
What better way to relieve the stress of the morning by scrapbooking the rest of the day. Yup. Saturday was scrapbooking at my friend's house. Miss B and I were the only ones there. Yay! That was kind of fun and different although I think I talked too much. (I do that when I am comfortable with a friend. I talk WAY too much. I need to work on that) Anyways, I got quite a bit done, so much so that I had to do a couple more pages when I got home that night. Here is what I got done this weekend.
Just so you know I thought I would point out why there isn't any writing on any of my pages. I do my journaling on the pages after the album is completed. This way I can sit down with the whole mindset and no distractions and I can write better that way. I used to try to write at the crops and with all the chatting going on my mind gets distracted and I will have a sentence half-written and I'll forget what I was going to write. That has happened to many times to count, so I don't write any more. The page above is when our friends from England came to visit. These pictures are the morning they left to go back home. I miss them terribly. Miss R was a very good friend to me. The best actually.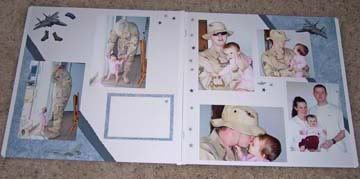 A few days after they left from their visit for Christmas, James deployed to Afghanistan. (if ya'll remember this last year, he had two months of training and got to Afghanistan, spent a day there and then came home because his father was sick and dying. He never went back. But we didn't know that at the time so I took these pictures thinking I wouldn't see James for another 7 and a half months)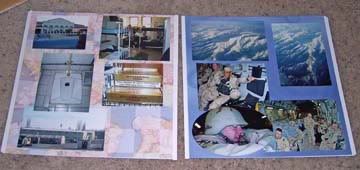 Here are some of the pictures James took while he was gone. I love the pictures of the urinal (in the floor) and the boxes of cigarettes with the "health warning" on them. James took a couple of pictures like this that I found funny so I had to include them in the scrapbook. I don't know if you can see the actual pictures very well but the mountains are the mountains of Afghanistan. I thought these were beautiful. Absolutely beautiful. (from the plane...I probably wouldn't like them up close and personal...too hot for me there.)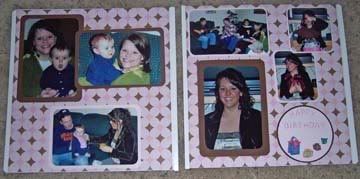 A friend's birthday party. I made her the slippers (sandel type slippers) and the purse. That is actually the very first purse I designed and I designed it for her. She loved it.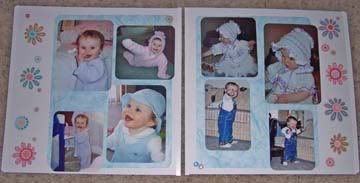 Just some pictures of Chloe. I am trying to cut down on the amount of pages in my album (since I am working on ablum 2 for our stay in Louisiana) so I made this sort of a collage of "Chloe pictures". Turned out cute.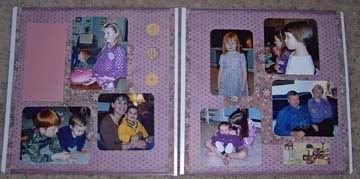 While James was gone to "afghanistan" I went home to stay with my parents for that 7 months (turned 2 months). It was nice because I got to be at one of my neices birthday parties. That is one of the hard things about military life. We miss out on so many family times with everyone like birthday's, family get togethers...all that jazz. It was nice to be there for this one.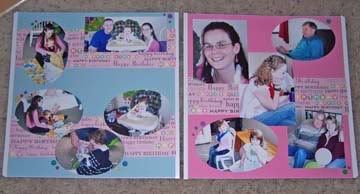 Chloe's first birthday. I am trying to do pages that are different now, showing more creativity. I am getting tired of having a pretty paper as my background with the pictures backed in a color. Too many of my pages are that way so this one I went with something different. I love how it turned out. I didn't write "Happy Birthday" on the page anywhere but I think the point comes across with the paper choice. I will, of course, journal about it being her first birthday and the people that were there and all.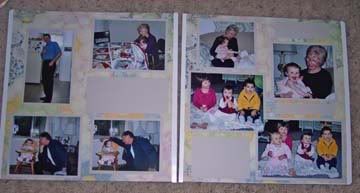 Just some pictures of family while I was staying up there. By this time I knew I was going home and not staying the full 7 months so I just took some random pictures every day.
Upon arriving home James and I spent alot of time doing yard work. We knew we would be selling the house in a couple of months so we planted flowers and took out a stump and all. (many of you might start recoginizing these pictures since they are only from last summer and I have already talked about these events in posts from last summer.)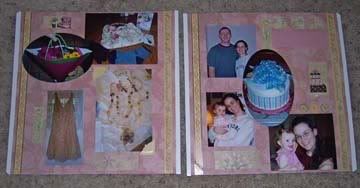 The last page I worked on this weekend was my birthday page. I do a TON of birthday pages and I find myself getting quite bored with them. (same with the whole "Christmas Eve/Christmas" thing. How many Red and Green pages can you do? So, I am trying to come up with creative ways to display these types of pages. I think this page turned out elegant. The picture doesn't do it justice at all.
Well, I am off now to do something. Don't know what yet. I really should clean the house today or work on my site (got some bad links and pages that need added) or crochet on some items or about a billion other things. I only feel like scrapbooking though. Is it bad to take some days off from "work" and just scrapbook? Is it going to kill us if I don't vacuum the floor and clean the bathtub today? I have also been quite headachy this weekend and extrememly tired so I don't really want to do anything. I have a book that is calling me...and I really could use another cup of tea. Oh. What to do, what to do! I'll figure something out.
Have a wonderful Monday everyone!!