It came!! It came!!! Oh how much fun to recieve a lovely and thoughtful package in the mail. Today I recieved such a package from my Secret Pal Cookie Monster. This was not your ordinary package either. Nope. It was a "reveal" package and in it I recieved a long, lovely letter with my secret pals REAL name at the end. I am so tickled pink to find out my secret pal is
Tracey
! She also has a blog
here
.
I have enjoyed getting to know her as Cookie Monster and I am sure that I will love getting to know her as Tracey. We have so much in commen.
But now onto the package. And boy...what a special package this was too. I can't begin to express the gratitude I have for such a lovely package. Each item was so carefully chosen (and/or made) and she even included a two page typewritten letter describing each thing in the package.
First thing I grabbed out of the box was a ball of what appeared to me to be thread but upon opening it I realized it wasn't thread. It was thicker, something more the thickness of...say...Red Heart Lustersheen. Well, come to find out (after reading her letter) that this ball of yarn is recycled SILK yarn. Oh boy!!! I have never worked with silk before and ohhhhh...I can hardly wait. It is even my utmost favorite color in the world...antique rose. What to make, what to make? I have no idea. Maybe I will spend the evening petting it and asking it what it wants to be. Definately something for ME!!!!
Next I pulled out what appeared to be two sets of knitting needles. These didn't look like any knitting needles I had ever seen before and upon further investigation I found out that Tracey
made
these needles herself.
How special is that???
So, now I am thinking that maybe I need to make myself something with these new bamboo knitting needles and my new silk yarn. Maybe a dainty little purse? Or a scarf??? I know know. Maybe I can even try my hand at lace knitting...wouldn't that be adventurous??? I think I am up for an adventure.
Then I pulled out two little packages of miniature flower pots. I am told that these would make a lovely little fairy garden. I think that is exactly what I am going to do...maybe plant some little chamomile and lavander flower seeds in them for Chloe. What a unique idea.
So, then I pulled out the little white purse you see in the picture above. This is a thread ball purse...for when I am crocheting with thread. I believe the purse hangs from your wrist? I can't wait to try it. I am tired of my balls of thread falling between the couch cushions or being threadnapped by little fingers who like to run around the room, unwinding size 8o thread as she goes.
Inside this little bag I found a bunch of little surprises. First was something called an abacus-style stitch counter. I have never heard or seen anything like this before. They are so pretty and yet useful. How clever is that??? I just love the beads on them too. Also in the purse was a little necklace Tracey crocheted for me. And a little pineapple bag onto which was attached 6 little stitch markers. Two of these stitch markers are fairies. One is a fairy prince and one a fairy princess. Oh how I love fairies...and stitch markers. I use a ton of safety pins...so these will come in handy. You can never have too much of a good thing, right?? (I guess if I had 630 stitch markers that might be overdoing it a tad...)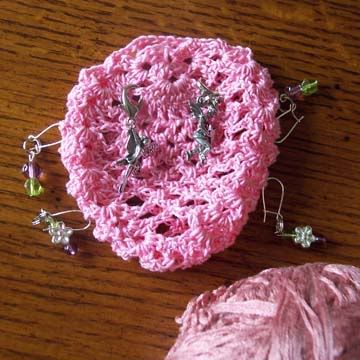 Also included in the package were some flashcards for Chloe. (they didn't make it into the picture because I gave them to Chloe too early and then ended up scattered over the entire living room floor in about 9 seconds.) These will come in handy when I begin to teach Chloe her alphabet. Someday I would like to start working with her on her words too. I can understand most of what she is saying but no one else would have a clue...not a clue. Well...they might understand Beeeee - which is bee and/or fly. They might also be able to figure out that MieK (K is strongly emphasized)means Mickey (for Mickey Mouse) and that Mo Mok means more milk. That last one is iffy though. Poop comes out loud and clear though. But it means poop, or pee or even toot. You have to take it into context...and its also helpful to watch what comes out to get the meaning.
Anyways, I then pulled out the cookbook for Bread. I love bread. I love kneading it, baking it, buttering it, smelling it and eating it. If there is anything else you can do with bread, I love that too. I can't wait to try some of these recipes. now, I don't own a bread machine, nor will I ever...but my most favorite bread recipe is a bread machine recipe and I simply do all the kneading myself. So, I am positive I can do the same with this book. And just to prove how much thought my secret pal put into this package, she went though and added a stickie note on each recipe she really likes with why she likes it. I will have to try those first. (I am really drooling over that chocolately, walnutty something or other)
The last thing I pulled out of the package was a little fairy stamp. I am really getting into rubber stamping this year (thanks to the pastor's wife who happens to sell them) and so this is a perfect addition to my collection. I will have to make a thank you card for Tracey using this stamp. Wouldn't that be fun?
Thank you Tracey from the bottom of my heart. You have been such a special secret pal and it has been a privilage getting to know you. I hope we can remain friends too.
Now I must be off. I have been hearing nothing for the past 10 minutes except "MOM!" answered by "what?" to which the reply is "MieK, Miek". I have two Mickey dvd's next to me at this time that have one by one been selected from the stack in the basement and bought up to my lap. So, I leave you with a picture I am sure you all probably knew was coming. What did all this secret pal stuff come in??? (hint - some might classify it as a box) And what happens to all boxes that enter into this household??? (hint - they become the property of Chloe)
All boxes must be test driven no matter the size.