I have already posted pictures from the first half of my four day sewing spree, so now its time for me to post the rest of the story. (just to prove to you that what I am spending today doing is worthy of my time - more on that later in the post.)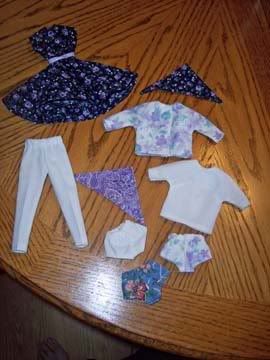 What we have first are more Barbie clothes. I have no idea why I am so fascinated with Barbie. I have been since I was a girl. Not that I had a ton of Barbies or anything. Maybe that is why I am fascinated with her. I only had one little Barbie family and one Skipper doll as a girl. And my favorite thing to do with them was sew them clothes. I didn't have a sewing machine, mind you...I did all my sewing by hand. I guess that is where my "designing" started.
Anyways, all Barbies need panties so I made her some to go with her dresses. You would think that those would have been the hardest of the bunch to make but on the contrary, they were the easist. In fact, they were so fun that I think I shall make more in the future. (after I finish our winter wardrobes, of course. Right
Ladysnow
??)
I couldn't stop with the doll clothes though. I had to make more for the larger dolls while I was at it.
Chloe sure is going to have the best dressed dolls around. These were fun to make but I think I like the sunsuit I made the other day better. Onto bigger and better. I made a dress for Chloe.
A simple dress that wasn't very simple for me to make. I don't know why it is...it is harder for to sew a big thing than it is for me to sew a doll dress or Barbie outfit. Its like that with my crochet too. I can crochet with thread so much easier than I can with yarn. Weird, eh?
And now for the best project of all. Something for myself.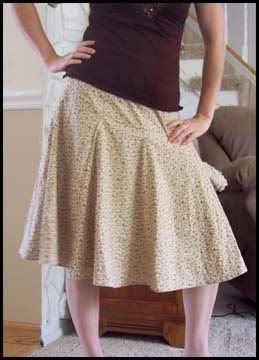 I am totally and completely in love with this skirt. I adore it. I love the fabric (cream with rose-colored roses and olive green leaves) and I love the style. I just love this skirt. In fact, today is the second day I have worn it in a row. I love it that much.
But after all that sewing I needed a break so I whipped out my knitting needles and some Paton's Grace I had in my stash and am now working on a sweater for Chloe. It is from the book
Total Baby Knits
by Candi Jensen. I have the back of the sweater finished and hope to have it completed by tomorrow or the next day.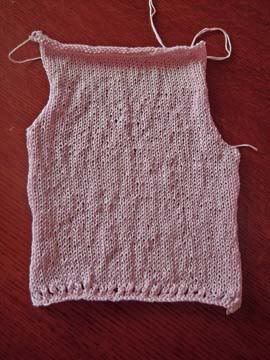 Well, I must be going. Lots to do and not enough time in the day. Have a wonderful afternoon everyone. Kiss someone you love today and tell them you love them.