We almost went to the beach on Saturday. By almost I mean that we got up early, packed up the car, went to the gas station, bought some food for lunch, drove to the beach only to be told there was a festival and we couldn't get in. The beach was closed to the public. So...we drove the 45 minutes BACK home to spend the day sulking.
One of the things James picked up (for lunch) was TONS of bottles of aquafina. (I don't know how many people he thought lived in our family but we had enough water to hydrate the entire beach population.) Now the problem lies in the fact that we didn't make it to the beach and we now have this load of water on our hands. I figured it would be wise to save it for the next time we attempt a beach visit but it would seem someone has other intentions.
Chloe has taken it upon herself to hydrate everyone in our household with aquafina water. We are never without a bottle of water nearby. Whether it is being handed to us or being placed in close proximity to our location, we will never forget to drink our water as long as this cooler remains in our kitchen.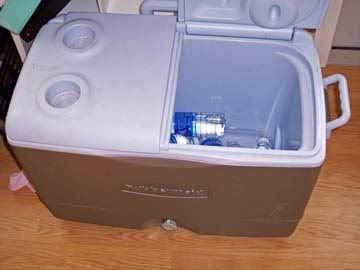 When I say that everyone gets a dose of Chloe's hydration methods...I do mean
everyone
. She came down the stairs this morning calling out to me, "Mick...MICK. Mama...MICK!!!!" (which means Mickey.) I thought she wanted to watch Mickey (her favorite movie) but no. She appeared around the corner with an ear-to-ear grin and both her Minnie and Mickey dolls in her arms. (they both are "Mick") She then walked over to the table (which is completely covered in sewing materials) and set them down in thier individual chairs saying, "Eat. Eat." (no translation needed there)
Then I looked over and saw this....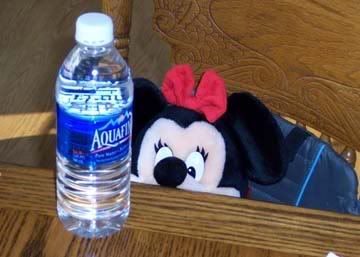 ...peering at me from across the table and I began giggling.
I got up to investigate further and saw this...
I just had to share this with you all. My little laugh for the day.