I am really done for now! I should have stopped myself but alas...I didn't. Or I couldn't. Or something like that. Hey! I wonder...do scissor go dull? How long would it take, I wonder, for...say...some nice, new Gingher scissors to go dull? Why? (you ask?) Well, because I spent the better part of yesterday and today cutting out patterns. TONS of patterns. And I haven't even scratched the surface of the
Winter Wardrobe Challenge
(That could be because I keep making SUMMER things...could be...)
Anyways, check this out.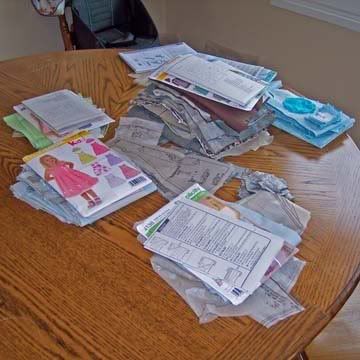 Do you have any idea what that is? Any idea at all? That is a whole lotta sewing projects, that's what it is. My but I am going to be one busy seamstress this week. In that pile there are about 5 dresses for Chloe, a nightgown for Chloe, two skirts for myself, a couple of doll dresses, some Barbie clothes (did you doubt that??? I bet not.) and also a knit shirt for Chloe. (to go with her jumpers that were included in the "dress" total)
So, I hope to get this all sewn up this week since I am working at the Bible School next week at church. Check back later for some finished projects. (a few have a special little something about them that I am going to have fun telling you about.)
Have a wonderfullyishness type of day!!