I haven't told you this yet, but I recently joined a new forum. Okay. The forum is not new in itself, just new to me. You may have been wondering where my recent craze (addiction) for sewing came from? (aside from the fact that after many years of pleading and begging James finally bought me a new
sewing machine for Christmas
this past year) Well,
Sewing Mamas
really has helped me along in the "sewing inspiration" area. (as if I needed any help...I truly think I could be inspired by a piece of lettuce or a pine tree...funny, eh?)
Anyways, while browsing on this sewing forum one day, I came across a project done by one of the mamas. She had taken a sheet and made the cutest little outfit for her daughter from it. I was inspired!!! So, Sunday after church I headed over to Elijah's barrel. (our church has a
free
"thrift store", of sorts, (sort of like a missionary barrel) that we can shop at) I picked me out a few sheets and spent the rest of the afternoon cutting out patterns.
Here is the sweetest little girl's dress I made from two of the sheets I picked up.
Isn't that the most adorable thing you ever did see? Okay. Never mind that they are old and used. It makes the cutest little summer play dress for Chloe. I am not a big believer in having a ton of clothes. Especially for children who grow out of them while your washing the dinner dishes. I bought Chloe 10 dresses for this summer and she rotates through them about once a week. Well, they are getting a little ratty-tatty so I thought it would be nice to make her some new ones.
I know I am supposed to be working on the
winter wardrobe
now if I am to make it in time for winter, but I just couldn't resist. And you can't make cute dresses from sheets for winter. (too thin)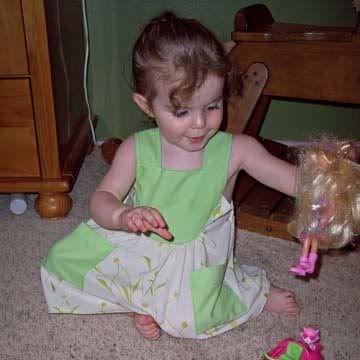 About this pattern. It is Simplicity 9008 and is no longer available. I actually found this pattern at a thrift store before I was married. I assume it is quite old because when I bought it, it was quite old and that was about 10 years ago. Why would I buy a baby pattern before I was even married??? I have no clue. I didn't even own a sewing machine. Actually, I think it came in a set of patterns and I wanted some other patterns that were in the set. (like something I will be showing you in a couple of days...gotta get the fabric for it though...but it is sooooooo cute. and 70's-ish. I can hardly wait!)
Anyways, I am quite pleased with how it turned out. I have another something to show you but that will have to wait. A little clue... mine is finished but I am still working on Chloe's. (and I am using sheets again)
Have a great-fully wonderful day! It is a
beautiful
day! Let us rejoice and be glad in it!!!