Arggghhhh!!! I hate it when I do this. HATE IT! I ran out of yarn in the middle of a project. UGGG. Now I have to sit and wait for the order I placed yesterday to come in so I can finish the project.
What's worse, this particular project is for a customer and now she will have to wait for it as well. Thank goodness she wants the dress for Thanksgiving. I still have plenty of time to get it to her, eh?
Wanna see my progress though?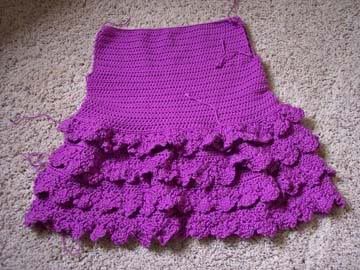 I have at least two more ruffles to go on the skirt. I actually altered this dress a tad bit from my original design. I increased the skirt section so it would be fuller. I also added length to each ruffle so there wouldn't be so many ruffles. (which means I use less yarn...more ruffles means more yarn)
I also didn't order enough tan yarn so I am halfway done with the shrug.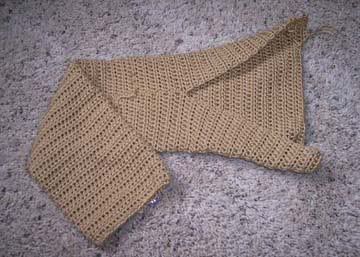 But...the good news is, the hat is done. Completed. Finished. Well, all except the weaving in ends part. But you all know me and weaving in ends. I will put it off until the last possible minute. Most likely I will be weaving them in as I place them into the shipping box. *rolling eyes*
Isn't that caramel color yarn just delicious? I have spent a good portion of this afternoon licking my lips. I even snuck a snickerdoodle from the cookie jar. Only one though...I am practicing self-constraint. The name of this yarn color is willow (
Knitpicks Shine Sport yarn
) but personally, I don't think willow describes it. Willow, to me, depicts more of a green willow-y sort or color. (think
weeping willow
here). I think this yarn should renamed something like delicious. Or delectable. Or lip-smaker. Or howabout
Ummmmmm
. That would actually be a perfect name for it.
Ummmm
. Maybe the yarn companies should hire me to name their yarns. That would be a pretty cool job. Heck! I would even do it for free.
So, now the decision must be made. What am I to do with the rest of my afternoon? Should I do chores around the house? No...never. Can't do chores in the afternoon. That would be...well...
ridiculous
. I just don't do chores in the afternoon. Okay then. What else is there? Oh...I could start a new project. But wait! I have so many projects I need to finish...how can I possibly fit room for one more project in my workbasket? I could always work on a WIP. Now that's an idea. But then my pattern release for
testing
is coming up in about 3 weeks and I don't have any patterns ready. Maybe I should crochet on one of my new designs. I guess this is what I will do then. Now to decide which design to work on. The apron set, the dress ensemble or the Pink Collection. (that's a surprise) Oh brother...here we go. I'll just go work on something and tell you about it later. Bye!