God is good. There is nothing more I can say. He is good. I can't begin to comprehend his goodness. I am in awe of it today as I sit and think about all that He has blessed me with in my life. A great husband, a darling little girl, a yummy cup of tea, crochet supplies and playdoh. What more could a woman want? (Some sugar cookies might be nice but that might be asking too much, or is it?)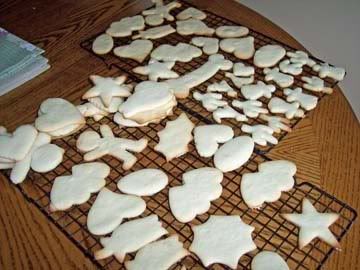 I thought it might be fun to make sugar cookies with Chloe today instead of our regular day of playdoh which we usually have every Friday. She enjoyed pressing the cookie cutters into the dough but unfortunately she has become so used to playdoh that she didn't grasp the concept that each "cut" should be made seperately instead of on top of each other. I spent a few minutes teaching her to space them apart a ways to make individual cookies and then she had a ball. (of course she then tried to take each shape and wad it into a "ball" like she usually does with playdoh so I got my workout this morning trying to get each cookie onto the cookie sheet before it got demolished)
Now sugar cookies must go into the fridge for an hour so what else to do while we wait but get out the playdoh. Lately, I have been struck with the notion that I need to be "teaching" Chloe more instead of letting her go at things on her own. So, I got out the flash cards with the playdoh.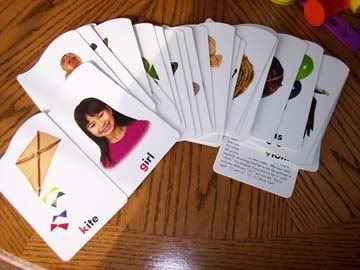 What on earth do flash cards have to do with playdoh? (aside from the fact that Chloe totally LOVES these flash cards, I mean) Well, I had Chloe pick out a flash card and then I created a playdoh version of the image.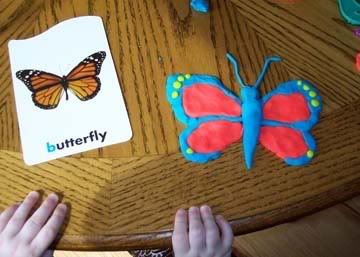 Pretty good, isn't it? I could probably sell this stuff to art galleries and make a fortune. Its art, right? (come on...someone would pay money for this, wouldn't they? I have seen some pretty crazy stuff for sale) Anyways, I figure once Chloe is a little bit older and grasps the concept of this little game, she can do the same thing. I would pick a card for her and she would try to re-create the image. Could be fun. Or could be torture. Never know.
It was James birtday this week so I took him to Outback for dinner. (our favorite restaurant of all time) He got a picture of me while we were there so I thought I would share it with you all. I am usually the one holding the camera so we don't have a ton of pictures of me. This one turned out pretty okay so here I am...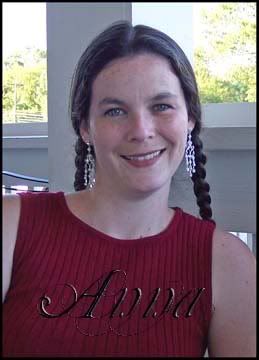 Still look like I'm 12 too. Guess I could quit wearing braids down my back...that might help.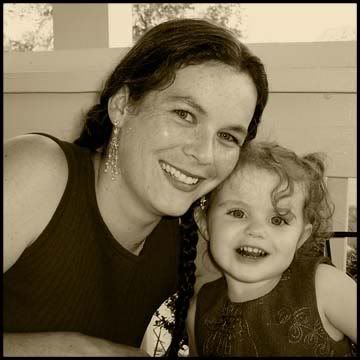 And speaking of goodness, I recieved the loveliest little package in the mail yesterday from my secret pal over at the ville. I wasn't supposed to have a pal this round, but somehow Smee got onto the computer one night and worked behind Lori's back so I could have one. (yippeee)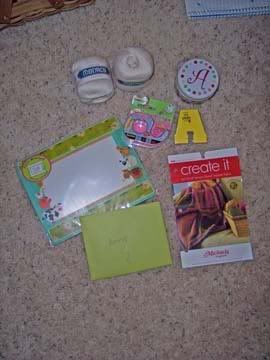 There is a little candle in a cute tin with a letter A on the cover. How cute is that? Also there is a little stickie note package in the shape of an A. Is there a theme going on here??? The tape is so cute. It has Happy Birthday written on it with little pictures. I have never seen anything like this in my life. What will they think of next? So, I am wondering what to do with this tape? I could wrap a gift in white paper so the tape would show up...that would be cute. Okay, there is also a mousepad in there with a spot to put a photo in it. I am thinking James and Chloe??? Together!!! But look...there is THREAD! I got THREAD! And this isn't just any thread. Its Monoco thread. We looked it up on the internet (well, James did) and we found out that its from the Philipines. How cool is that??? Anyways...I am seeing a hate for Chloe with this thread...or a special doily. Maybe a PK doily??? Thank you to my secret pal for the lovely gift. I appreciate your thoughfulness.
As you can see, I am one blessed lady. Thank you Jesus for all the blessings you have bestowed upon me today! I love you. I am off to enjoy my cup of tea today.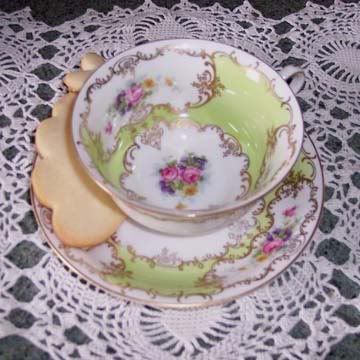 Today is Cream Earl Grey tea in my lovely teacup I bought in England. I am going nibble on some yummy sugar cookies, the perfect accompaniment to my afternoon tea. Have a lovely day everyone! It really is a glorious day to rejoice in the Lord!