And just so you don't miss it, I am telling you about it. Get on over to JoAnn's this week for
butterick patterns
. They are on sale for $1.99. I am still waiting for a $.99 sale on patterns but those aren't as common as the $1.99 ones.
And, you all know me...when there's a sale, I just gotta get new patterns. Today I picked out nine.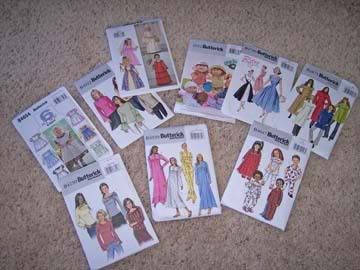 I also bought more fabric. Okay. I didn't actually need more, but some of it was on sale and some of it was for specific projects that I want to do. (like the whole winter wardrobe thing...haven't gotten very far on that endeavor yet)
The bright pink fabric above will make a couple of shirts for Chloe to wear with jumpers. The brown and dark pink fabric will be shirts for me. Which shirt? This one.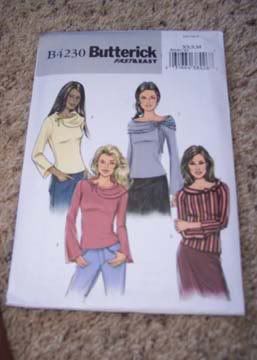 Cute, eh??? And modest. I am really trying to be modest in my clothing but its so hard to find cute things that are modest. This one fits the bill. (unless it turns out to be lower cut than it appears in the picture...that has been known to happen before. I seem to remember my mother struggling with this problem)
But now! For the exciting part. I got a cute...cute...TOO cute pattern for Chloe.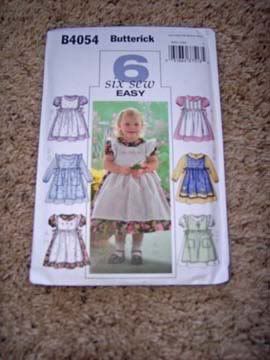 And do you wanna know what fabric I am going to use to make this cute dress? We have enough for three dresses here. First, every girl needs pink.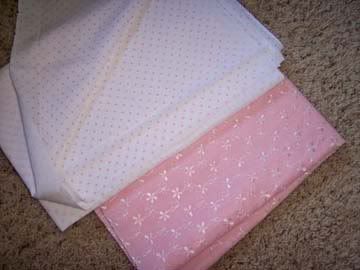 I think the polka dot is going to be the pinafore and the "pretend" eyelet is going to be the dress...or was it vice versa, I don't remember. Oh well. It will pretty darned cute when it is finished regardless which way it goes. That being said, check this out. This one will be even cuter.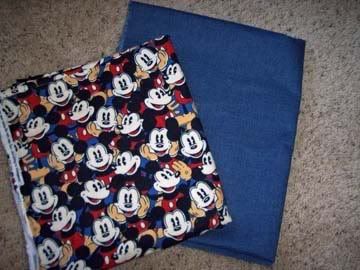 Ahhhh...the kid does love her Mickey. They had three fabric choices for Mickey and all of them were boyish. I decided to go for it anyways. The ruffles and pinafore on the dress will be enough to "girlify" it, I hope. Oh boy. You should have seen Chloe's face in the store when we pulled this off the shelf. She even tried to carry the bolt around with us as we browsed. (good thing it was only the 45" wide or she wouldn't have done as well as she did - which was about 5 seconds worth of toting, then it went into the cart)
But I do believe that this next fabric is going to make the CUTEST dress ever worn by a child. Yes, indeed. I don't think it gets any cuter than this...
That would be a red fabric with tiny white polka dots and the pinafore will be...nothing else than...RAGGEDY ANN! What did I say??? Cute, right?
So, once I get the next round of testing ready and also the dress I am crocheting for a customer, I have plans to get out my sewing machine and sew to my hearts content. Yay! I can hardly wait. I am having a hard time convincing myself not to drag it out right now though. I gotta keep on crocheting though. Almost done, almost done.
Have a wonderful day everyone. Its almost fall!!