Lately I have been asked by members of our church to serve the church in different ways and I am unsure of how to say no. I want to serve the church, don't get me wrong. I believe that part of my ministry to my children is for them to see us (both James
and
I) serving the Lord in our church and to join in with us in that service. But there are choices that must be made.
I have been asked this week to help with
Awanas
. We quickly came to the conclusion that this was not best suited for me. (Chloe is too young to get anything out of it and I don't believe in leaving her with a babysitter so I can "serve God".)
Then I have been asked to join the choir. I have always dreamed of singing but never had the courage to do anything about it besides joining the highschool choir. But after praying about it I just don't feel peace in my heart about it. I rely on that peace a bit in my decision making process. I figure if God wanted me to do this, he would give me a peace in my heart after I have prayed it over. When all I feel is turmoil or torn, I doubt it is from God. At least for the time being. That's not to say I will NEVER join the choir, but for now, its not where God is leading me.
But the question still remains...how can I serve the Lord in my church? Today I got a revelation of sorts. Ideas starting coming to me and then, after talking with a girlfriend, more ideas came up. As many of you already know, James goes to feed the homeless with some others from the church every Monday night. I like to bake. I decided today that this will be part of my ministry from my home. I will bake cookies, breads or other such goodies for James to take with him on Monday nights. Each member of our family will have a part in it. (including Chloe because you all know she helps me in the kitchen every day)
So, today I spent the afternoon baking. Wanna see what I made???
Cookies. Two kinds. I think those men (and woman) down on the streets can really appreciate some good homemade cookies. I am sure they don't get them very often. Last time I sent some homemade bread they told me the homeless guys really loved it. It makes me happy to know that I am serving Christ by making these cookies. I may not be down there witnessing to them or even meeting them in person but because I took the time to make them, they will be showered with the love of Christ. I made Snickerdoodles and Oatmeal Scotchies. (the kind with those extra-yummy butterscotch chips in them)
The rest of my baking today was for my family. I made some bread because we are completely out.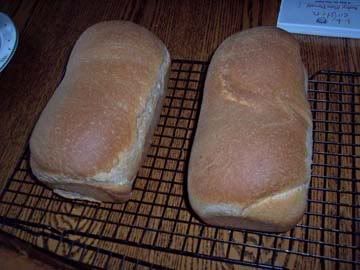 Here we have some cornbread which we enjoyed for supper. Don't mind the brownish tint to my cornbread. I use mostly whole wheat flour in this house. I keep a touch of white all pupose flour for special occaisions when you want your cookies to be the "right color" or something but other than that, I bake with whole wheat flour. I like to think that I am getting a little something healty in my chocolate chip cookies. LOL. The cornbread isn't really affected by it either, if you use the right kind of flour. I have found that some store brands of flour actually smell like chicken feed and taste like dog food. Not pleasant for homemade goodness. But if the right kind of flour is used, you can't really tell the difference. (well, maybe YOU can but I have been doing it for so long that I can't really. It ALL tastes good.)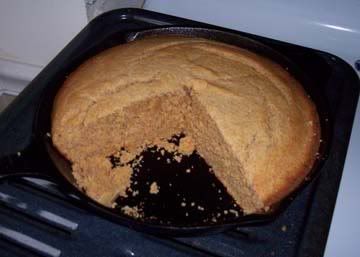 One thing I like on my cornbread is molasses. Weird, huh? But boy is it good. Ten times better than honey-butter. Oh ya!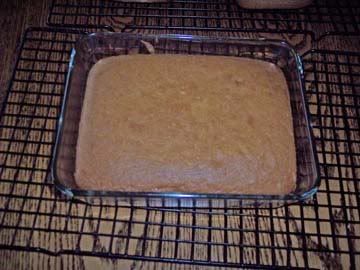 Tomorrow is James birthday so I made him a cake tonight. I will attempt to frost it tomorrow. I am thinking chocolate frosting. He asked for chocolate
something
.
Me: "What kind of cake do you want for your birthday?"
James: "I don't know."
Me: "Well, I need to know so I can bake it for you. Do you want yellow cake with chocolate frosting?"
James: "Just make me something with chocolate in it."
Me: "So, your okay with the yellow cake and chocolate frosting?"
James: "I guess so."
I'm glad because I had half a box of yellow cake in the cupboard. I don't know why I have a box of cake mix, let alone HALF a box but its perfect. It makes a small cake, perfect for two and a half people. That way we won't be eating cake for breakfast for the next week. I will frost the cake tomorrow with chocolate frosting. (homemade) I gotta figure out if I have any cake decorating tools so I can attempt to make something pretty on top of this thing. I have no idea if I have any cake decorating skills. We shall soon find out.
Another idea that were shared about a "stay-at-home" ministry I can do for our church was to build and maintain a website for the church. I have learned alot in building
my own website
and I think I can do a church website justice. I just need to get up the guts to call the pastor or his wife and mention this idea to them.
We could also make baskets of goodies filled with things like homemade breads or cakes or cookies and maybe some of my handiwork (like doilies or such) and a book or something. James, Chloe and I could deliver these baskets together to members of our church who we think might need a little uplifting. I could even make cards for this. I really liked this idea. I could cater the baskets to the individual and thier needs. Like a widow, someone who just had a baby or recently was in the hospital (or is still in the hospital). Just whomever we feel needs a little encouragement.
I also thought we could go as a family and visit older people in the church who maybe can't get out as much. I went this morning to visit such a lady and she adored having us there. Especially Chloe. For some reason, older people LOVE being around babies and children. It brings back so many memories for them. James could work around the yard (because thats the sort of thing he enjoys doing for others) and I could either work around the house like cooking meals or cleaning or something or I could just sit and visit with them. They tend to get so lonely. The lady I visited yesterday said that a couple of times, just how lonely it was for her. She rarely gets visitors and her children don't even come to see her but maybe once a week. Can you imagine living by yourself and not seeing anyone for days? She can't drive or go anywhere unless someone takes her. My heart breaks for people like that. I wish I could go visit her everyday. Anyways, it would be a wonderful ministry opportunity and I think my children (or Chloe for now) would benefit greatly from participating in such a ministry.
Well, I hope you all have a wonderful evening. Take some time to think how you can bring a smile to someone this week. You never know how much you will touch thier lives by something simple. Even just a note to say I am thinking of you can bring joy and cheer into someone's life.