Wow. I got an award today. How sweet of
B
to give this lovely award to me. I am honored.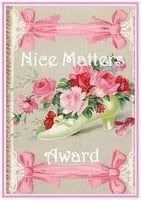 "This award is for those bloggers who are nice people; good blog friends and those who inspire good feelings and inspiration. Also for those who are a positive influence on our blogging world. Once you've been awarded please pass it on to 7 others who you feel are deserving of this award."
So now I have to choose 7 people to give this award to. Oh...how hard this will be. Hmmm...
1. Of course I have to give it back to
B
. She is a very nice blogger and she leaves comments on my blog all the time. I also found out today that not only are we sisters bu we are kindred spirits as well. She loves Anne of Green Gables too and anyone who loves Anne of Green Gables is a kindred spirit.
2. Next I would have to give this award to
LadySnow
. She truly is another kindred spirit and also a very good friend of mine. Her blog inspires me to be a better mother, wife and master of my house.
3.
Christine
is another blogging mother who deserves this award. I love to read her blog as she strives to be the godly mother and wife God has called her to be. She is a treasure.
4.
Minwifeofboys
also deserves this award. She is a godly woman who encourages me in my walk with the Lord and whom I KNOW prays for me and that is more than anyone could ever hope for. I admire this lady of God.
5.
Heart
was one of my prevous secret pals and we found out we are sisters in Christ and that we have alot in common. I think she is very deserving of this award.
6.
Busyhsmom
is another godly woman deserving of this award. She has 7 children that she homeschools and trains to be godly men and woman for the Lord. What an ispiration.
7.
Debra
is one of my oldest computer friends and also the lady who built my first website. She also has lots of kids and strives to be the woman God created her to be. I admire Debra's strength as she faces lifes challenges and am honored to be able to call her my friend.
I am truly blessed to have such good internet friends. God really does use this internet for His glory as he brings people closer to his heart through it. These woman challenge me, inspire me and encourage me to be a godly woman. Thank you all for everything. I love you all and can't wait to meet you all in heaven. (if we never meet on earth)