Last Tuesday (not last night) was stamping night at Miss A's house. Boy, do I love those nights. I come away with this insatiable need to create cards. As my small stamp collection grows, my stamping gets better. (meaning - I like the cards) So, when I recieved my new set of stamps I just had to try them out.
Many times!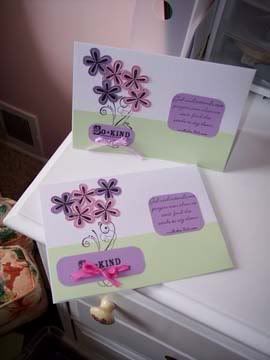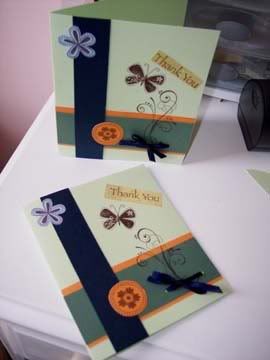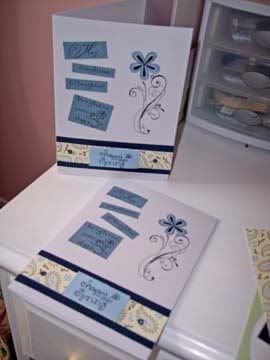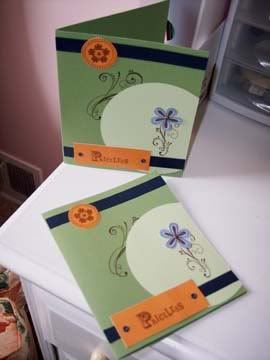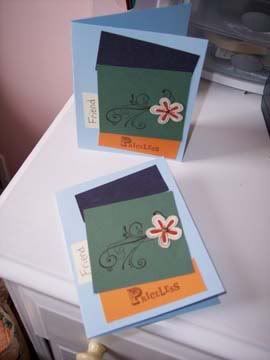 So, there you have it. One Wednesday afternoon of stamping and I have loads of cards to give away. Some of these are going to my secret pal for the ville's secret pal swap and some are going to family.
While I was making these cards I got the idea of selling them. I could totally make sets of cards and sell them on
my website
. Everyone needs cards and with Thanksgiving and Christmas right around the corner, I think they would be a huge hit. You never know.
I mentioned this idea to James and I even suggested that maybe all the money I make from the card sales could be thrown back into buying more stamps. (because, quite literally, I want more than half the stamp sets in
the catalog
) He thought this was a great idea. So...now I just need to finish up everything else on my long to-do list and I can get started on this new endeavor. Its not like I need another endeavor. Not at all, but hey. The idea of more stamps sure is pleasung and this would be a great way to fund that desire. So, we will see. We will see.
Have a great Wednesday everyone. I am off to plan my menu for the next week, write my grocery list and do a bit of
zone cleaning
. I might even have a WIP to show you later...and some new, yummy yarn. (not new as in just released, but new-to-me)