I was deeply saddend when a friend (
Miranda
) informed me that my utmost favorite yarn in the entire world is being discontinued. At first I didn't even believe her and thought she was seriously pulling my leg. It was no joke! Paton's Grace cotton yarn is
being discontinued
.
(that page states it although the
Paton's Grace website
does not)
In light of this bad news, Miranda shared with me a link to some yarn she finds comparable to my lovely Paton's Grace. I ordered some. Let me explain.
I recently recieved an order for my
Thanksgiving Harvest Ensemble
to be crocheted for a size 5T for a customer. Her daughter picked out the color and I ordered it from
Lustersheen
. (since that is what the dress was made in) Well, when I recieved the yarn, the color didn't look anything like what it did on the internet. So we had to start over. I decided to try this new yarn that Miranda suggested. It arrived this past weekend and I spent about an hour Tuesday night winding balls.
It is important to note that I recently went yard saleing and found 3 baskets the lady sold me for $1. I was ecstatic. Elated. Perfectly happy. One of them was perfect for storing potatoes in so I could keep them in my kitchen. Well, the other two baskets have been toted around the house by a certain toddler because I have no other use for them. Finally, Tuesday night it dawned on me. I could use one of them as a little workbasket. I have a larger workbasket that fits tons of WIPs in it but it is chuck full and if I add one more project to the pile it will fall out on the floor or get lost in the bundle.
So, this little basket is perfect. It fits one little project in it and the neccessary supplies like scissors, tape measure and pattern. Isn't it the best?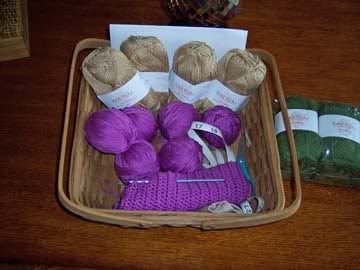 It even has two little handles that come up so I can tote this basket around the house to whatever room I want to crochet (or knit) in. Its perfect and I am pleased with it.
Now, back to the yarn. As you can see in the picture above, the purple is already wound into balls. I had great pleasure in winding this yarn. You wouldn't think that one could have fun winding balls of yarn for an hour. But this yarn sure made the daunting task pleasurable. This is one of the softest yarns I have ever laid my hands on. (aside from synthetic yarns which I consider "fake" yarn and I am beginning to get to the place where I refuse to use them...call me a yarn snob, I know. But that's just the way it goes) This yarn is automatically better than my second favorite yarn, lustersheen for the simple matter that it is cotton and lustersheen is "fake". Lustersheen is the BEST "fake" yarn you can find. It almost feels like real cotton sliding gracefully through your fingers.
The yarn above is called
Shine Sport
and is put out by
Knit Picks
. I have linked to Knit Picks in my sidebar for almost two years now but I have never actually ordered yarn from them. Not any more. This yarn really is almost comparable to Paton's Grace. While I think nothing will ever compare to Paton's Grace, this Shine Sport will soon become my favorite yarn. (because Paton's Grace will be no more)
I started the dress project Tuesday night. (and was going to continue on it yesterday but as mentioned in my previous post, my good intentions were waylaid by the flood) I worked on it some more this afternoon and have gotten the bodice done.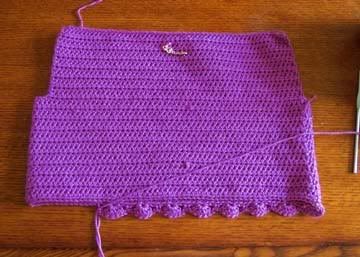 I have to say after working with this yarn I am utterly in love. I would be in heaven if I could cuddle up for a good read in a sweater made from this yarn. Maybe I will have to design one. (like I will ever have the time for
that
) But it does make me anxious to try out the other yarn I got with my order.
That is a lovely olive green wool called
Telemark
and I have plans for a sweater with it. Then I was thinking today that it might be a little fantastic to have a sweater AND skirt set with this yarn. The design is in my head too. (stitch technique and everything) I just need to crochet it. Oh...how wonderful it will be. I can't wait. I have never crocheted with real wool before and I am anxious...yes...very anxious to try it.
But first things first. Gotta finish the dress and then work on some projects for my secret pal and then work on some designs for my Oct 1 release. THEN I can design a new sweater/skirt set for myself. Maybe in a couple of weeks??? That's a noble goal. High, but noble.
Okay, I am off now to crochet more. Break time is over. (and my tea is getting cold) Have a great evening everyone!