It is official. I AM Suzy B. HomeMaker.
I have been called by that name many times in my lifetime. (well, only in my 9 years of marriage, actually) While I secretly harbour proud thoughts in my heart (or mind, since that is where most thoughts occur) whenever someone mentions this noble title in conjuction with my name, I must say that I actually didn't consider myself accomplished enough in homemaking to be worthy of such a name.
Until yesterday.
I have done many things that might be considered "Suzy HomeMaker"-ish. Cooking my food from scratch. Making homemade bread, cookies and cakes. Making Christmas gifts. Knitting. Crocheting. Running my own business from my home. Gardening. Vacumning. Dusting. Hanging the clothes on the line. Using cloth diapers. All those things are lovely, but doing them didn't make me feel like Suzy HomeMaker.
Until yesterday.
As my sewing machine was plugging away making 3 little dresses for Chloe, it hit me. THIS is Suzy HomeMaker. SEWING!!! In my mind, sewing is what makes Suzy HomeMaker...well...Suzy HomeMaker. Now I can proudly say, "Yes, that's me!" when someone calls me by that noble woman's title. And someday...yes, someday, I would like to meet the original Suzy HomeMaker (for I KNOW she is a real person) and I would like to show her the following projects. (or at least pictures of them)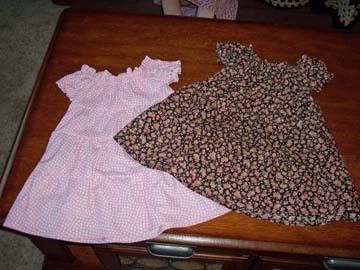 I made 3 of these dresses yesterday in assembly line fashion. They are a very easy dress but a tad bit time-consuming from all the gathering. I don't mind gathering though. I actually kind of like it (aside from the time-consuming part) because the seams don't HAVE to match up. I get to MAKE them match up by gathering them to fit. Ahhh...how simple. I hate it when seams don't match up and then you have to make a "pretend" gather where there isn't supposed to be a gather. So when the pattern calls for gathering, I breath a sigh of relief knowing IT WILL MATCH UP!!!
So, the pattern I used is
Simplicity 5695
The pink fabric in the dress above was actually bought FOR this pattern. The other fabric was leftover from a skirt I cut out the other day for myself. I just love having matching clothes. Call me weird, I don't care. Its motherhood. Does weird, sappy things to you.
Anyways, the skirts aren't going to be made until at least next week. But the other dress I made Chloe is on her today (yay...no more naked bottoms peeking out from under dresses) so I snapped a picture of her.
I can hardly wait to get more sewing projects done, but alas, the crocheted dress for my customer must be finished so I will be working on that today. Hopefully I will get it done today so I can show it to you all. No promises though. We all know what happens when I promise something. Have a great day everyone!